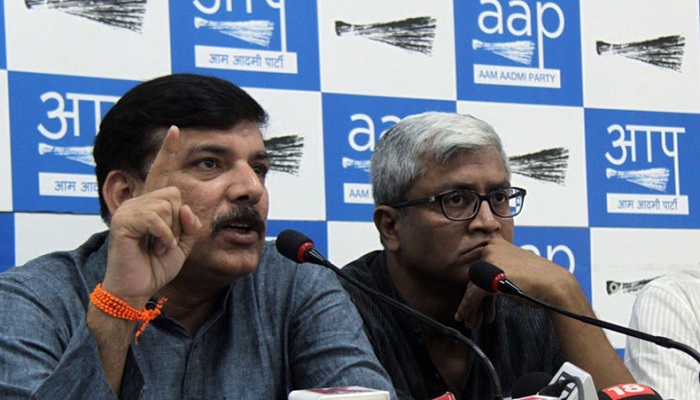 A day after Congress vice-president Rahul Gandhi's dramatic attempt to visit Madhya Pradesh's Mandsaur, and his brief arrest, leaders of Arvind Kejriwal's Aam Aadmi Party (AAP) headed for the district where violent farmer protests escalated after five were shot dead on Tuesday in police firing.
Mr Gandhi took a bike to reach the Madhya Pradesh border after his convoy was stopped in Rajasthan. Defying police barricades, he finally set out on foot until he was arrested by the police in Madhya Pradesh's Neemuch and held at a guesthouse for four hours. After his release, he met some of the farmers who have been on a protest to demand better prices for their produce and loan waivers.
AAP spokesperson Sanjay Singh alleged that farmers had been forced to protest in Maharashtra and Madhya Pradesh because of the "apathy" of the ruling BJP at the centre and the two states. He also tore into Union Agriculture Minister Radha Mohan Singh and said: "On one hand farmers are shot dead and the minister says yoga kijiye (practice yoga), everything will be fine".
The AAP leader also targeted Prime Minister Narendra Modi. "If anything small happens in Europe, Afghanistan or Pakistan the first person in the world to tweet about it would be our Prime Minister Narendra Modi. But he (PM Modi) hasn't uttered one word on the death of six farmers," Mr Singh said, adding, "As far as I know, the debt of farmers in Maharashtra is Rs. 30,500 crore. When you can waive Rs. 1,14,000 crore of loans taken by corporates, why can't you waive farmers' loans?"
While speaking to reporters at the Rajasthan-Madhya Pradesh border yesterday, Mr Gandhi, too, lashed out at the Centre and the Madhya Pradesh government. "He (PM Modi) can't provide the right price for their agricultural produce, can't give them a bonus, can't give compensation… He can only give them bullets," he said.
"We will put pressure on the central government and get the loans of farmers across the country waived," added the Congress leader.
He also claimed that farm loans were waived in Uttar Pradesh due to pressure exerted by the Congress party.
Mr Gandhi has demanded a comprehensive inquiry into the killing of the five farmers and said they should be designated "martyrs" "When soldiers die on the border, they are given a lot of respect. But when a farmer dies, he is not given due respect," he said.