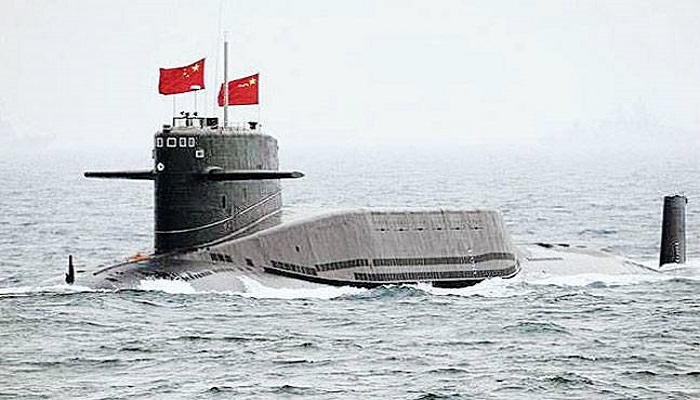 In an aggressive move, China has deployed a submarine in the Indian Ocean Region – as the month-long stand-off in the Doklam plateau between the Indian and Chinese People's Liberation Army continues.
Wading through the Indian Ocean now is a Yuan class – conventional diesel electric – submarine which is better that the ageing Indian Sub. And this is not the first, but the seventh submarine to be deployed in the area.
The submarine is being supported by Chinese Naval Ship (CNS) Chongmingdao – the Chinese Navy's submarine support vessel.
Indian assets picked up the submarine entering the Indian Ocean Region recently.
The Indian Navy has underlined the heightened Chinese People's Liberation Navy activity in the Indian Ocean Region to South Block.
Chinese warships and submarines in Indian Ocean Region appeared three years ago 2013-14 – ostensibly for anti-piracy operations in the Gulf of Aden.
But from a modest beginning of a flotilla of just three warships – two destroyers and a support ship – in 2013 and 2014, more and more Chinese warships are prowling in the waters around India.
Recently, Indian satellites and naval assets have picked up at least 14 Chinese Navy warships in the Indian Ocean Region.
These include the latest Luyang-III or the Kunming class stealth destroyers. Armed with surface-air and long range missiles the Chinese warships are projecting power far away from the Beijing's backyard but in India's immediate vicinity.
The silver lining – India is constantly monitoring the movement of Chinese warships courtesy Indian satellites and long-range maritime surveillance platforms.
The Indian Navy's long-range surveillance platforms like the US made P81 has been watching and recording movements of the Chinese Navy in the Indian Ocean.
'Over the years, we have augmented our capabilities manifold. More force multipliers are being added. We have the region covered as well,' a senior officer said.
The first Chinese nuclear submarine was picked up in December 2013. The Shang Class – a nuclear-propelled submarine – was deployed for almost three months in the waters around India till February 2014.
It was followed by Song Class – diesel electric – submarine for another three months between August and December 2014. The Song Class followed by another nuclear vessel – a Han Class nuclear submarine.