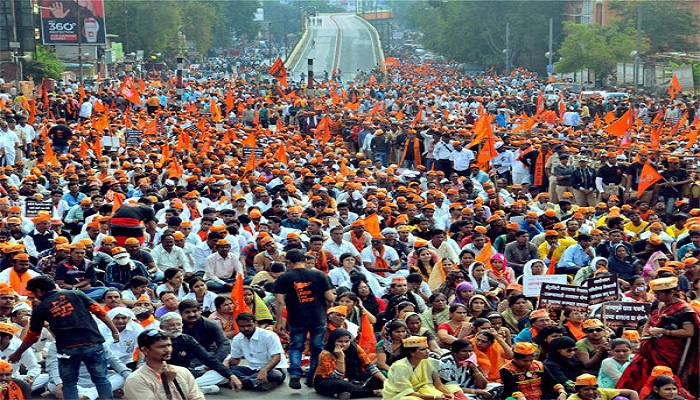 The streets of Mumbai, the country's commercial capital, turned into a sea of saffron today as nearly 10 lakh Marathas hit the road with a long list of demands that are headed by reservation in jobs and education. The protesters also want farm loan waivers and amendments to the SC – ST Act.
Over the last 24 hours, the city had been holding its breath – extra security has been deployed, traffic advisories have been issued and schools have been shut as a precautionary measure. Though the march was over a five-km route in posh south Mumbai, the city had turned a traffic nightmare since yesterday as protesters poured into the city. Traffic snarls were reported from adjacent Thane, Raigad, and Palghar districts.
The upsurge of the Maratha community – to which a huge section of Maharashtra politicians belongs — had started last year. But the members of the largely agrarian community contends that the politicians had not done much for them. The youth of the community feel with quota and other advantages, the Dalits and backward castes have made advances, while they have been left behind.
The protests, which had started in a sporadic manner, snowballed and became organized following the rape of a girl by Dalits in Kopardi in July. Within months the silent, non-political marches, led mostly by women, had drawn the nation's attention.
By September, nine huge rallies – called Maratha Kranti Morcha – had been held across the major cities of Maharashtra, including Mumbai, Pune and Solapur.
The largest of them was held in Ahmedabad on July 23.
Today's procession – silent and orderly – started from Byculla in south Mumbai at 11 am. It is expected to end at Azad Maidan, after which a delegation is expected to meet Chief Minister Devendra Fadnavis with a list of their demands.