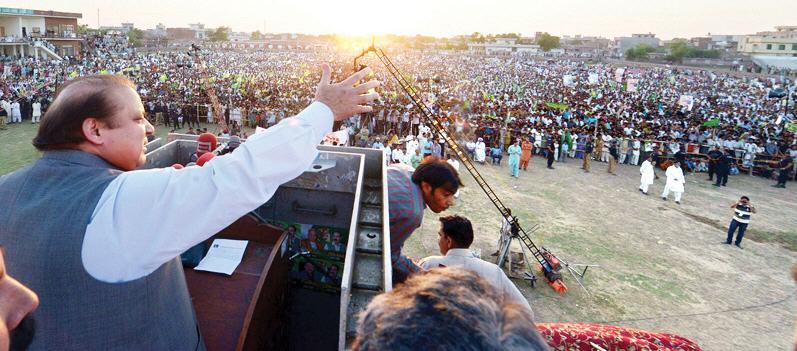 Thousands of people attended a rally and procession in support of former Pakistani prime minister Nawaz Sharif yesterday as he embarked on a show of political power following a Supreme Court decision to disqualify him from office over undeclared assets.
Sharif launched the so-called "caravan" procession from Islamabad to his eastern hometown of Lahore, despite the concerns of advisers about security.
Big crowds of supporters thronged the capital to join in the rally and set up camps along the route he was expected to take.
"Nawaz Sharif is still our prime minister," said worker Niaz Ahmad, who wore a lion look-alike costume and chanted, "Lion, Lion!" referring to the election symbol of Sharif's political party. Backers of Sharif danced and showered his vehicle with rose petals as the procession took nine hours to reach Rawalpindi from Islamabad.
The event remained largely peaceful, though Sharif's supporters assaulted the crew of two local TV stations, which have been critical of him during the months of court proceedings, police official Hafeez Khan said.
Sharif, 67, resigned during his third stint as prime minister after the Supreme Court ruled on July 28 that he should be disqualified.
The court also ordered a criminal probe into his family over allegations stemming from the "Panama Papers" leaks of international offshore companies. Pakistan's new prime minister, Shahid Khaqan Abbasi, a close Sharif ally, said the former leader was alert to security threats.
Shahbaz is now likely to replace his brother as party chief because the ousted premier can no longer lead a political party as Pakistani law bars convicted or disqualified persons from such roles.