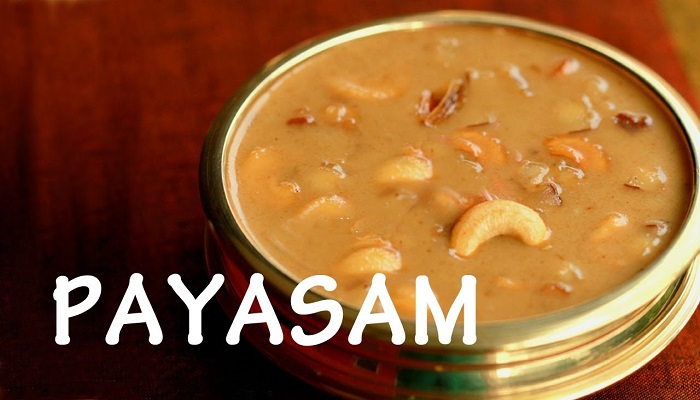 Come Onam, every Malayalees in the world celebrate it with much fun and vigour.
This also the time when we Malayalees entertain our taste buds with variety of vegetarian dishes and sweet savours.
Here are a list of some variety of payasams that you could try for payasam.
CHAVVARI PAYASAM
INGREDIENTS
Sago/Chavaari – 1/4 cup
Powdered jaggery – 1/4 cup
Cardamom – 2-3 nos (powdered)
Cashew – 2 nos (fried in ghee)
Cloves – 1 – 2 no ( fried in ghee)
Ghee – 1tsp
Coconut milk – 1/4 cup
Milk & water – As needed
METHOD
Take a kadai and add a tsp of ghee. Fry the cashews and cloves. Set aside. In the remaining ghee , fry the chavaari for 5-7 minutes in low flame till it puffs up slightly .( the size of the sabudana gets bigger and becomes crispy). Do it in medium flame. Please make sure you don't burn it. Now cook the roasted sabudana with water till it turns transparent.
Make sure the sabudana is not over cooked and turns mushy instead it should be visible & separate. You should not see white colour in the sago. It should be completely transparent.
Then in a wide mouthed bowl take the powdered jaggery and add water to cover it. Melt the jaggery to make a syrup and allow it to boil till the raw smell disappears.
Add this syrup to the cooked sabudana and mix well. Let it boil for sometime. If the mixture is very thick, add some water and boil it. Don't add Milk at this point because it will curdle. Always milk should be added after removing from the flame. Then add the roasted cashews, cloves and cardamom powder.
Remove from fire and add the coconut milk. Add some boiled milk to make it watery.
CHAKKA PRADHAMAN
INGREDIENTS
Ripe jackfruit pieces – 12 nos
Grated Jaggery – 1/2 cup
Grated coconut – 1 cup or readymade coconut milk powder – 4-5 tbsp or Milk – 1 cup
Water – 1/2-1 cup
Cashews – few
Roasted coconut pieces – 2 tbsp
Ghee – 1-2 tbsp
Salt – a pinch
METHOD
Wash the jackfruit pieces, remove the seeds & brown colored skin. Then grind the it to a paste. Add some water while grinding but don't worry even if its coarsely ground. It tastes good to have those pieces while drinking the payasam.
Take the grated jaggery in a wide bowl and add 1/4 cup of water to cover it. Melt it to make the syrup. Strain it and take the syrup in a bowl.
To this, add the ground jackfruit pulp. Add 1/2 cup of water. Mix well and allow it to boil well till raw smell of jackfruit and jaggery emanates completely. Add a tsp of ghee at this stage. It takes 5-10 minutes. Keep the flame medium. Check for water and add more if necessary. Take care else it will burn.
In the mean time, take 3 tbsp. of coconut milk powder and mix in 1 cup of water to make thick first milk and prepare second coconut milk by adding 1.5 tbsp. of coconut milk powder in 1 cup of water. Set aside. If u are using fresh coconut, grind 1 cup of coconut adding 1 cup warm water, strain and take thick milk. Again add 1 cup of water and take the second milk.
Add second milk to the payasam and allow it to boil well for few minutes.
Lastly add the first coconut milk and give one boil. Do not boil for long. Check for sweetness and add more sugar or jaggery syrup if needed.
Heat ghee in a pan and roast the cashews and chopped coconut pieces till golden brown. Add it to the payasam and mix well.
MAMBAZHA PRADHAMAN
INGREDIENTS
Ripe Mango – 1
Thick coconut milk – 1 cup
Cardamom pwd – ¼ tsp
Jaggery – ½ cup
Ghee – 2 tsp
Coconut bits -3 to 5 tsp
Cashew nuts – 5
METHOD 
Peel and chop the mangoes to small pieces. Blend it in a mixer to thick mango pulp. Keep it aside. Scrape the coconut and grind it with little water and take thick coconut milk. Keep the cardamom powder ready. Break jaggery to small pieces and keep separately. Slice the coconut to small bits. Shallow fry in ghee until it turns crisp and light brown.
Now sauté cashews to golden brown in the same pan and reserve.
In a kadai / add the jaggery with little water and allow to boil with stirring.Remove the impurities. Keep stirring at frequent intervals.Turn off gas and add cardamom powder and coconut milk. Stir in well.
Add ghee roasted cashew nuts and coconut bits. Serve warm.