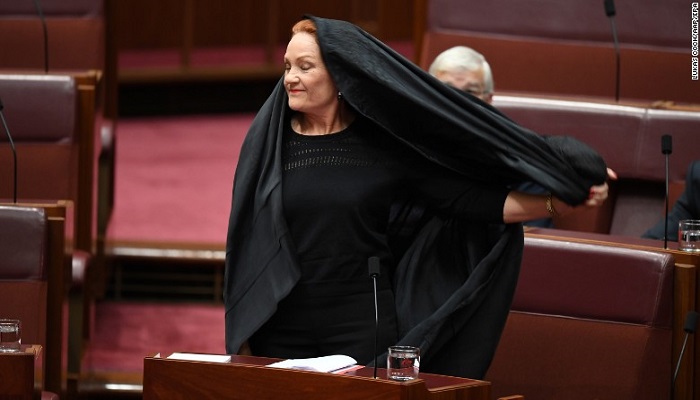 Australian Senator Pauline Hanson for her strong stance against Muslim immigration has been widely condemned for wearing a burqa to Parliament House. The unfazed politician has long called for a ban on the burqa "saying the central issue is the "right of others to see a face." Amid unrest from her fellow senators, Hanson dramatically took off the veil, saying "I'm quite happy to remove this because it's not what should belong in this parliament."
Hanson then asked Attorney General George Brandis, if "in light of what is happening with national security… will you work to ban the burqa?"
Brandis, a member of the governing Liberal National coalition, received a standing ovation when, close to tears, he tore into Hanson for mocking the Muslim dress.
"Senator Hanson, no, we will not be banning the burqa. Senator Hanson, I'm not going to pretend to ignore the stunt that you have tried to pull today by arriving in the chamber dressed in a burqa, when we all know you are not an adherent of the Islamic faith."
He told Hanson to be "very, very careful" of offending the "religious sensibilities of other Australians."
"To ridicule that community, to drive it into a corner, to mock its religious garments is an appalling thing to do," he said.
In a speech to Parliament, Hanson referred to terror threats as one reason for her proposed ban. Australia's terrorism threat level is currently listed as "probable," on a four level scale between "possible" and "expected."