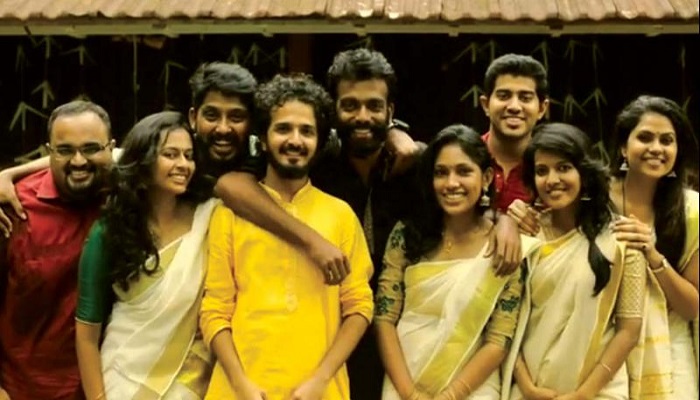 While everyone decided to get on the bandwagon and sing the same old song during last year's Onam celebrations at Infosys, a group of techies decided to do something different — they composed their own song. Onam is a huge deal in Infosys.
Last year was special for Anoop Balachandran and his team, thanks to their own composition. But this year's Onam is set to be extra special for them as they brought out a single video album featuring the song they composed.
Anoop, who is a project manager at Infosys and the composer of the song Nirapunchiri, gives a sneak-peak into how the song was created. He says,  "Infosys Thiruvananthapuram has this annual festival called 'Utsav'. It is organised every year during Onam and it comprises a number of events and competitions."
"For the event, the entire office is divided into four teams. Last year, the team I was part of was called 'Maveli Express' and for the Onapattu competition, all the teams usually sing one of the popular Onam songs. So our lyricist Kiran and I got together and thought we need to do something different. It may not be great, but it would be different. That is how we created this song. We ended up being the champions of Utsav last year. The idea was to create something simple with a happy vibe."
On how they decided to make it a video, Anoop elaborates, "I celebrated my birthday this May and some of my previous teammates, who are currently working in different parts of the world, got together and sent me a poster titled Nirapunchiri. Back when we had composed the song, we had it at the back of our minds that some day we might do something more about it. So when I received this poster it was like a motivation. Something clicked and I said why don't we go ahead and do it!"
Anoop says the idea was to promote their talent. "If you look at it, all of the people feature in the video are either employees or ex-employees of Infosys.
Onam is a time when families come together and with time, friends too become family. We wanted to show that part," he says.
The video released last week and was launched by actor Indrajith Sukumaran.
Anoop adds " From the past few weeks, we were all meeting and sitting together to make this work, it was bliss for us.Now that it's out we are extremely happy".