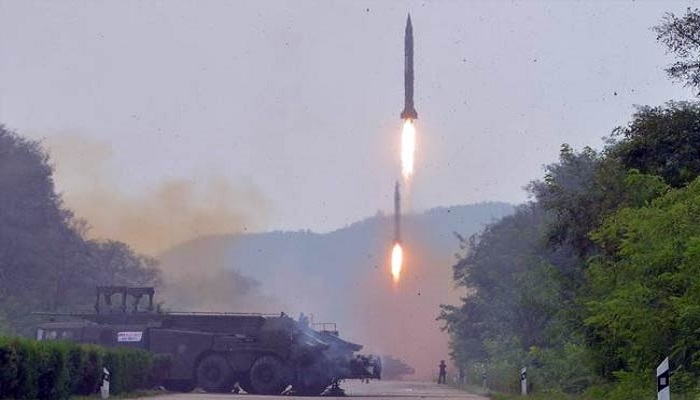 North Korea launched a ballistic missile today morning that flew over the northern Japanese Island of Hokkaido. The move is seen as a bold, defiance in Kim Jong Un's five-year-long rule and one that will reignite tensions between Pyongyang and the outside world.
The UN Security Council is expected to hold an emergency meeting in response. North Korea has conducted a flurry of missile tests recently, but this is the first time it has fired what is thought to be a ballistic weapon over Japan.
The missile was launched at 5:58 a.m. Japanese time from a site at Sunan, north of Pyongyang. Sunan is the location of the country's main international airport and the arrival point for outside visitors to the country. Missile launches and nuclear tests are banned by the United Nations Security Council. But Kim has pressed ahead unrelentingly. 
This missile appears to have been a Hwasong-12, an intermediate range ballistic missile capable of flying 3,000 miles, easily putting the U.S. territory of Guam within reach. However, the missile flew east, over Hokkaido and into the Pacific Ocean, rather than on a southward path toward Guam.
Japan's upgraded missile response system swung into action, sending emergency alerts through cell phones and over loud speakers shortly after 6 a.m. local time, warning people on the potential flight path of the threat and advising them to take cover.
In Japan, the prime minister was visibly agitated by North Korea's actions. "Launching a missile and flying it over our country was a reckless act, and it represents a serious threat without precedent to Japan," Shinzo Abe said after an emergency national security council meeting.
North Korea's recent missile tests had been carefully calibrated to go nearly straight up and land in the sea between the Korean Peninsula and Japan, rather than overflying Japan. Still, the latest launches, coming after North Korea last month launched two intercontinental ballistic missiles theoretically capable of reaching the mainland United States, underscore both Kim's defiance of the international community and his determination to press ahead with his missile program.
"North Korean missiles have a habit of breaking apart in flight so if this happened and parts of it landed in Japan, even if it was not North Korea's intention, this would amount to a de facto attack on Japan," Denmark said.
This missile appeared to have broken into three during flight, but all of the parts landed in the sea.
The launch poses a further challenge, in particular, to President Donald Trump, who has made North Korea a favorite rhetorical target. The White House did not immediately respond to the latest provocation, but analysts said it marked a worrying escalation.
U.S. intelligence agencies were monitoring the site and had seen signs of the impending launch hours earlier, when they spotted Hwasong-12 missile equipment being moved into place. The Hwasong-12, known to American agencies as the KN-17, is fired from a road-mobile launcher – usually a modified truck – making it easy to move around the country and launch at short notice.
North Korea has sent a missile over Japan before, in 1998. Part of a North Korean rocket also flew over Japan in 2009, although Pyongyang claimed it was a satellite launch and it gave Japan notice before the launch.
This time, there was no notice.
The missile flew over Hokkaido at 6:06 a.m., traveling 733 miles to land in the Pacific Ocean east of Hokkaido's Cape Erimo at about 6:12 a.m.
The U.S. and Japan have so few options to respond to these ballistic missile tests short of negotiations that would have North Korea agree to halt these launches in return for a modification of future military exercises. This is why North Korea is such a problem – there are no good options.
The launches mark a dangerous new escalation from Kim's regime. Kim – who has ordered the launch of 18 missiles this year alone, compared to the 16 missiles his father, Kim Jong-un, fired during 17 years in power – has defied international calls to stop his provocations.
Missile launches and nuclear tests are banned by the United Nations Security Council. But Kim has pressed ahead unrelentingly.