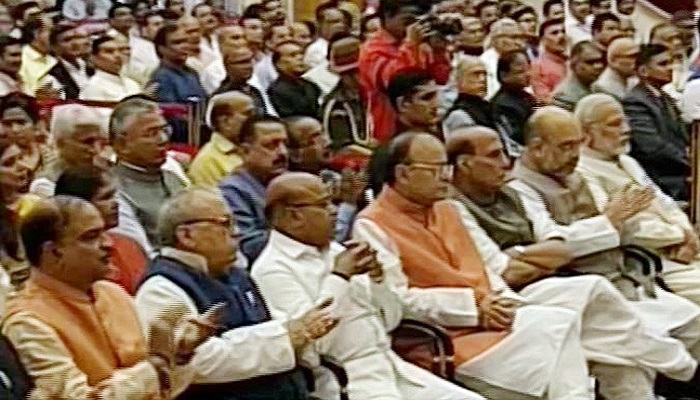 At least nine new ministers have been inducted in PM Narendra Modi's Union Council of Ministers. The new faces sworn-in by President Ram Nath Kovind are Ashwini Kumar Choubey, Shiv Paratap Shukla, Virendra Kumar, Anantkumar Hegde, Raj Kumar Singh, Hardeep Singh Puri, Gajendra Singh Shekhawat, Satya Pal Singh, and Alphons Kannanthanam. Apart from these, four ministers of state (MoS) have been promoted to the Cabinet rank. They are: Piyush Goyal, Nirmala Sitharaman, Mukhtar Abbas Naqvi and Dharmendra Pradhan.
Here are some interesting things you should know about the nine new ministers:
Hardeep Singh Puri
Hardeep Puri is a former IFS officer of 1974 batch. Puri is known for his distinguished work in foreign policy and national security. The former IFS officer currently serves as President and Chairman of Research and Information System for Developing Countries (RIS) think tank. Earlier, he had served as the vice-president of International Peace Institute, New York.
As a minister, Puri will bring in a distinguished four-decade career in diplomacy. The former diplomat has even served the country as the ambassador and Permanent Representative of India to the United Nations, Ambassador to Brazil and the United Kingdom and Permanent Representative of India to Geneva.
Alphons Kannanthanam
Delhi's 'Demolition Man'Alphons Kannanthanam is a former IAS officer from Kerala. Kannanthanam belongs to 1979 IAS batch, Kerala cadre. Kannanthanam made headlines during his tenure as Commissioner of Delhi Development Authority when he earned the name of 'Delhi's Demolition Man' for leading a drive to clear 15,000 unauthorised constructions.
Satya Pal Singh
A distinguished former IPS officer, Satya Pal Singh represents Uttar Pradesh's Baghpat Lok Sabha constituency. He currently serves as Member of Parliamentary Standing Committee on Home Affairs and Chairperson of the Joint Committee on Offices of Profit. Satya Pal Singh had earlier served as Police Commissioner of Mumbai and is known for leading police crackdown on organised crime in the maximum city.
Raj Kumar Singh
Raj Kumar Singh represents Bihar's Arrah Lok Sabha constituency. Currently, he serves as the Member of the Parliamentary Standing Committees on Health and Family Welfare, Personnel, Pensions and Public Grievances and Law & Justice. He is a former IAS officer from 1975 batch, Bihar cadre. Singh earlier served as Home Secretary of India. The retired IAS officer has served as Defence Production Secretary and Joint Secretary Home. He has also headed Home, Industries, Public Works and Agriculture among other departments in the Bihar Government.
Shiv Pratap Shukla
Shiv Pratap Shukla is a Rajya Sabha lawmaker from Gorakhpur, Uttar Pradesh. The MP currently serves as a Member of the Parliamentary Standing Committee on Rural Development. He is also a four-time MLA from Uttar Pradesh. Shukla has also served as a Cabinet Minister in the Uttar Pradesh government for eight years.
Ashwini Kumar Choubey
Lok Sabha MP from Buxar, Ashwini Kumar Choubey is also a member of the Parliamentary Committee on Estimates, Standing Committee on Energy, and Central Silk Board. Choubey is a five-time MLA from Bihar. In Bihar Cabinet, Chaubey has served as Minister for Health, Urban Development and Public Health Engineering.
Virendra Kumar
Virendra Kumar represents Madhya Pradesh's Tikamgah Lok Sabha constituency. Kumar has seen a distinguished career in Public Service as a six-term Lok Sabha MP. He currently serves as the Chairperson of the Parliamentary Standing Committee on Labour. In his earlier roles, Kumar served as Chairman of Joint Committee on Office of Profit and a Member of National Social Security Board, Member of the Parliamentary Committees on Labour and Welfare, Member Welfare of Scheduled Castes and Scheduled Tribes.
Anant Kumar Hegde
Anant Kumar Hegde represents Karnataka's Uttara Kannada Lok Sabha constituency. Hegde currently serves as the Member of the Parliamentary Standing Committee on External Affairs and Human Resource Development. Hegde holds the distinction of being a 5 time Lok Sabha MP. The lawmaker has worked in the role of multiple Parliamentary Standing Committees including the likes of Finance, Home Affairs, Human Resource Development, Commerce, Agriculture and External Affairs.
Gajendra Singh Shekhawat
Gajendra Singh Shekhawat represents Rajasthan's Jodhpur constituency in Lok Sabha. Shekhawat is a Member of Parliamentary Standing Committee on Finance and Chairperson of the Fellowship Committee.