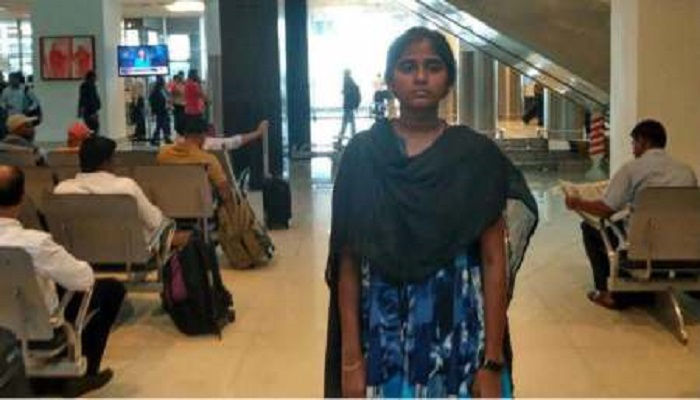 Protests spiralled across the state on Saturday, a day after S Anitha -a Dalit girl who scored high marks in Class XII -ended her life apparently over her failure to land an MBBS seat as she could not crack the national eligibility cum-entrance test (NEET).
Almost all shops and commercial establishments in Senthurai, her native place, and Ariyalur town remained closed as a mark of respect to the deceased girl. Students, activists of Tamil outfits and political parties staged demonstrations at various places across districts. In Chennai, students and politicians protested at 23 places leading to the arrest of at least 735 people, including 100 women, who demanded justice on the NEET issue. The agitators burned the effigies of Prime Minister Narendra Modi at two places in the city. In Ariyalur, activists of Students Federation of India (SFI) burnt effigies of the Prime Minister and chief minister Edappadi K Palaniswami alleging that they were anti-Tamil and against Tamil people.In Coimbatore, a group of students staged a protest on the newly constructed bridge at Gandhipuram threatening to jump from the bridge if police tried to arrest them. The police calmed them down and allowed them to conduct the protest for 15 minutes. Later, 15 of the students were arrested.
The cremation of the body had to be delayed late into the night after around 300 youths belonging to various Tamil outfits encircled it preventing the villagers from commencing the last rites. They demanded an immediate solution to the NEET issue. Following this, a Rapid Action Force (RAF) team headed by Inspector General of Central Zone V Varatharaju was deployed around Anitha's house. The body was later con signed to flames at a crematorium in the village in the presence of a large number of people including DMK working president M K Stalin, VCK leader Thol Thirumavalavan and DMDK leader Vijayakanth.
Arayalur wore a sombre look throughout the day with political leaders, activists of Tamil outfits and students making a beeline for the ground at her village, Kuzhumur near Senthurai taluk, where her body was kept for the public to pay homage. District collector K Laxmipriya, political leaders including AIADMK deputy general secretary TTV Dhinakaran, CPI state secretary R Mutharasan, Dravidar Kazhagam leader K Veeramani, DMK Rajya Sabha MP Trichy N Siva, film directors Pa Ranjith, Gowthaman, and music director GV Prakash joined hundreds of others to pay their respects.
In another incident, around 15 youths climbed atop an overhead tank located at Kuzhumur village and threatened to commit suicide by jumping down if they did not get immediately get a reply from the State and Union governments on the matter. In Coimbatore, members of Thanthai Periyar Dravidar Kazhagam, Dravidar Viduthalai Kazhagam, and Dravidar Kazhagam attempted to conduct a rail roko at the Coimbatore railway junction. However, the city police managed to prevent them at the entrance of the first platform. Lawyers covered their eyes with black clothes and took out a procession from the main entrance of the integrated court complex to Red Cross Building. In Chennai, CPI (M) activists protested in front of Tarapore tower on Anna Salai led by its leader G Ramakrishnan while VCK cadres protested in front of DME office in Kilpauk. Protests were also reported on Wallajah Road, Saidapet, opposite to multispecialty hospital, Neelankarai, and other places. Police personnel was deployed in large numbers on Marina Beach to avoid students and people gathering there to replicate a jallikattulike protest. In some WhatsApp groups, people had sent mess ages to launch Marina2.0 on the NEET issue.
A group of members from TPDK, Dravidar Kazhagam, and few other Tamil outfits attempted to besiege the BJP party office at Gandhipuram in Coimbatore before the police blocked them. Around 30 members of Students Federation of India and Democratic Youth Federation of India staged a protest at Kattabomman statue in Madurai braving the rain.Students from Thanjavur, Nagapattinam, Tiruvarur, Karur, Pudukkottai also took out protests against NEET. In Trichy, members of students federation resorted to hunger strike in front of KAP Viswanatham Government Medical College demanding exemption from NEET.
When TTV Dhinakaran arrived to pay homage at Arayalur, activists of Tamil outfits who had gathered there in large numbers raised slogans against him. However, VCK leader Thirumavalavan came to his rescue and accompanied him till he got into his car.