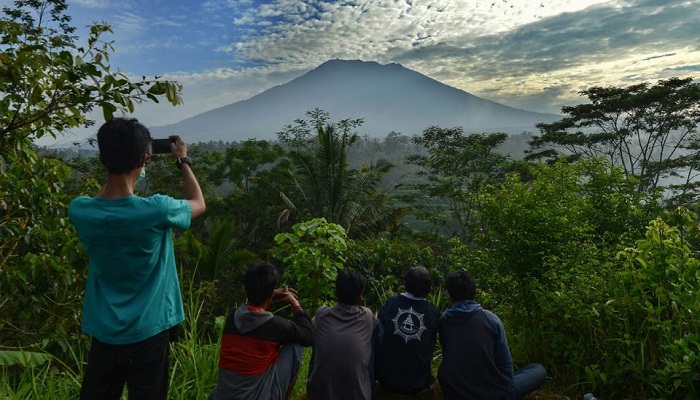 Some 35,000 people were evacuated from their homes near an active volcano in Bali, Indonesia, as authorities warned that it could erupt soon, authorities announced on Monday.
The area around Mount Agung has seen hundreds of tremors and signs of magma rising to the surface since last week, the national volcanology centre said.
Authorities have imposed a 12 km exclusion zone around the mountain and had issued their highest level alert on September 22.
The island's main tourist areas and flights remain unaffected for now.
The centre said on Sunday night that the mountain's "seismic energy is increasing and has the potential to erupt".
It said shallow tremors were detected late August, and first raised the alert from "normal" to the second-tier "vigilant" level on September 14, reports the BBC.
Mount Agung, which is more than 3,000m above sea level, lies in the eastern part of Bali.
Several countries including Britain, Australia and Singapore have issued travel advisories for their citizens, warning of possible flight disruptions and evacuations.
More than 1,000 people died when Mount Agung last erupted in 1963.
Mount Agung is among about 130 active volcanoes in Indonesia – an archipelago prone to volcanic eruptions and earthquakes as it sits on the Pacific "Ring of Fire".