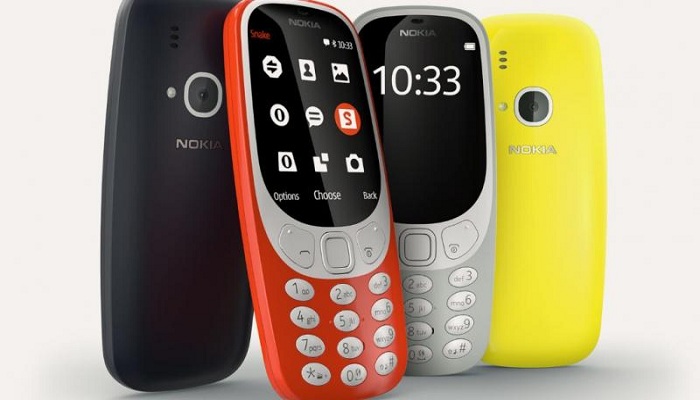 Nokia has launched 3310 3G variant . HMD Global wants to recapture some of the nostalgia around the Nokia brand with the 3310 series. It had originally announced the phone at MWC 2017 in February this year. But one of the criticisms was this was a 2G feature phone with no support for 3G. Now, it looks like the Nokia 3310 variant with 3G capability has finally gone official.
According to reports in Australia media, the Nokia 3310 3G variant was launched by HMD Global chief marketing officer Pekka Rantala. The report by news Australia website also quotes Rantala as saying the company has sold "millions" of Nokia 3310 in over 100 counties.
The Nokia 3310 with 3G will be priced at A$89.95( Rs 4600. The phone will go on sale from October 16. The company is also launching the phone in Singapore today and it will go on sale from October as well.
The report in Australian media quotes Rantala as saying, "We heard very loud and clear that we need to take this seriously, a 3G version was a must." The launch comes even as there were reports and leaks claiming that a 3G version of the much-loved feature phone was on the cards. Previously a tweet from an Irish telecom company had said the Nokia 3310 with 3G support could launch by "late September or early October." However, it has not be confirmed if HMD Global will bring this Nokia 3310 phone to other markets including India.
The only difference with the Nokia 3310 3G variant is the 3G network support. Rest of the specifications remain the same for the feature phone. However, HMD Global does say the 3G version will consume more battery and standby time is now 27 days on this phone.
Nokia 3310's 2G variant is priced at Rs 3310 in the Indian market, though the actual cost might be higher depending on the offline store.  Nokia 3310 has a 'candy bar' design just like the original device, though this is slimmer and sleeker and comes in yellow, red colours which have a gloss finish. There's also the matte colour options of Dark Blue and grey.
Nokia 3310 has 2.4-inch QVGA display, 1200 mAh battery and 16MB internal storage with expandable storage as well (up to 32GB). The phone runs Nokia Series 30+ OS and has FM Radio, MP3 player. There are also pre-loaded games like Snake, etc though this is a newer version of the game. There's also a 2MP rear camera with LED flash but no front camera. In India, Nokia 3310 is a dual SIM smartphone.