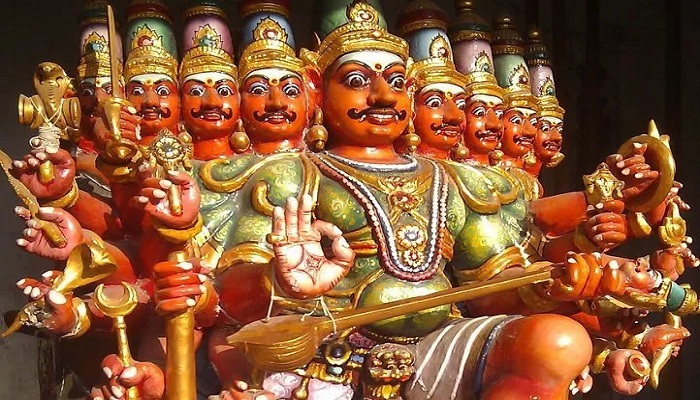 Dussehra marks the celebration of victory of good over evil, of Rama over Ravana. In many parts of India, effigies of Ravana, Kumbhkaran and Meghnada are burnt on this day. However, there are few places in the country where people worship Ravana not Rama on the occasion of Dussehra.
Let us take you through a journey to these places in India: 
Mandsaur, Madhya Pradesh
Mandsaur is situated at the Madhya Pradesh-Rajasthan border. According to Ramayana, Mandsaur was the paternal home of Ravana's wife Mandodari and that makes Ravana the son-in-law of Mandsaur. Hence, he is worshipped and respected for his unparalleled knowledge and devout dedication to Lord Shiva. The place also has a 35-foot tall statue of Ravana. On Dussehra, people mourn the death of Ravana and hold prayers.
Bisrakh, Uttar Pradesh
Bisrakh derived its name after rishi Vishrava – father of Demon King Ravana. Bisrakh is known as the birthplace of Ravana and he is considered as maha-brahman there. It is believed that Vishrava discovered a Swayambhu (self manifested) Shiva Linga at Bisrakh and since then it has been worshipped by the locals as an honour to Rishi Vishrava and Ravana. In Bisrakh, people perform yagnas and peace prayers for Ravana's departed soul during the Navratri festival.
Gadchiroli, Maharashtra
The Gond Tribals of Gadchiroli, Maharashtra worship Dashanan – Ravana and his son Meghnada as Gods. The tribals extend adulations to Ravana during a tribal festival – Falgun. As per Gond Tribals, Ravana was never demonized in the Valmiki Ramayana and Sage Valmiki clearly mentioned that Ravana did not do anything wrong or maligned Sita. It was in Tulsidas Ramayana that Ravana was considered a cruel king and devilish.
Kangra, Himachal Pradesh
Ravana Dahan is also not observed in the beautiful district of Kangra in Himachal Pradesh. As the legend goes, Ravana appeased Lord Shiva with his devotion and austerity at Baijnath, Kangra. It is believed that Lord Shiva granted him his boon here. Hence, Ravana is revered as a great devotee of Lord Shiva.
Mandya and Kolar, Karnataka

There are many Temples of Lord Shiva where Ravana is also worshipped for his unfathomable devotion for Lord Shiva. During the harvest festival, Lankadipathi (The King of Lanka) is worshipped by people of Kolar District in Karnataka. In a procession, along with Lord Shiva's idol, a ten-headed (Dashanan) and twenty-armed idol of Ravana is also worshipped by locals. Similarly at Malavalli Taluka in the Mandya District of Karnataka, a temple of Ravana is visited by Hindu devotees to honour his dedication for Lord Shiva. 
Jodhpur, Rajasthan
The Maudgil Brahmans of Jodhpur, Rajasthan, are said to have come from Lanka during Ravana's marriage to Mandodari. Ravana's marriage to Mandodari was performed at Ravan Kin Chanwari at Mandore. Rather than burning effigies of Ravana, Shraadh and Pind Daan is performed as per Hindu rituals for the Lankeshwar by his descendants – the Maudgil Brahmins of Jodhpur.