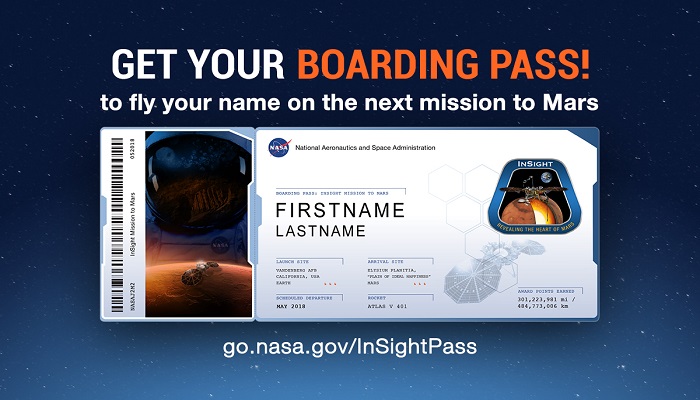 Good news for aspiring astronauts, you can now join NASA's journey to Mars by adding your name to a microchip headed to the Red Planet. And yes — it's for free.
The chip will be part of InSight Mars lander, set for blastoff in May 2018. Submissions will be accepted until November 1, according to a NASA tweet on October 23. As of October 30, 2017, the agency already received more than 2.14 million names, written on digital boarding passes.
This fly-your-name opportunity comes with "frequent-flier" points offer. That will be testament to your personal participation in NASA's journey to Mars — spanning multiple missions over several decades.
The InSight mission offers the second such opportunity for space exploration fans to collect "points" by flying their names aboard a NASA mission. More opportunities will follow said NASA.
After the InSight mission, the next opportunity to earn frequent flier points will be NASA's Exploration Mission-1 (EM-1), scheduled in November 2018. EM-1 will be the first planned test flight bringing together the Space Launch System rocket and Orion capsule in preparation for manned missions to Mars and beyond.
InSight is set to be launched from Vandenberg Air Force Base, California.
According to NASA, InSight will be the first dedicated lander to the investigation of the deep interior of the planet. It will place the first seismometer directly on the surface of Mars to measure Martian quakes and use seismic waves to learn about the planet's interior. It also will deploy a self-hammering heat probe that will burrow deeper into the ground than any previous device on the Red Planet.
These and other InSight investigations will improve the NASA scientists' understanding about the formation and evolution of all rocky planets, including Earth.