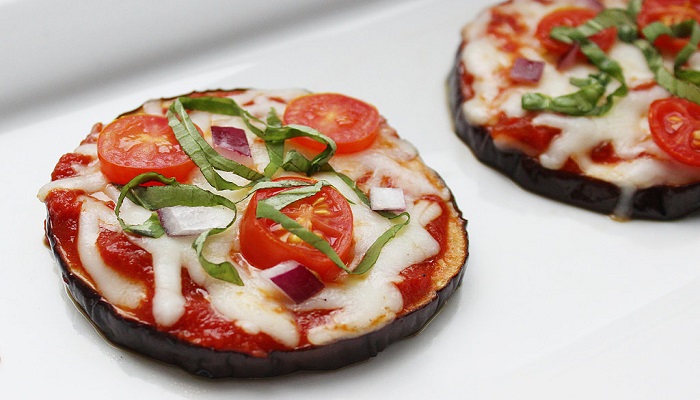 Pizza is one such dish that people like to eat irrespective of the age group they are in. But, pizzas are not healthy in anyway as the base on which toppings are added, is made of all-purpose flour or maida and that is extremely unhealthy. Here is a healthy pizza recipe that we are sure you will fall in love with, as it is cooked using the base of a vegetable, i.e., eggplant.
Thick slices of eggplant are cut and then a topping made with tomato, sweet chili syrup, mozzarella cheese, and basil is spread evenly on this eggplant slice. Eggplant Pizza is then baked to perfection and can be enjoyed on occasions like kitty party, game night, and even potluck. These mini pizzas will be the winner of your party, and people will be asking more of it. You can even prepare this eggplant recipe for your kids' tiffin for a different taste, we are sure your kid will be showering praises on you!
Try this easy recipe and enjoy with your loved ones!
Ingredients of Eggplant Pizza
2 eggplant/ brinjal
1 teaspoon salt
1/2 cup sweet chili syrup
2 leaves basil
8 teaspoon virgin olive oil
1/4 teaspoon ground black pepper
1 cup shredded mozzarella
1/2 cup chopped tomato
 
How to make Eggplant Pizza
Step 1
Start by cutting the eggplants into thick slices and lay in on a paper towel. Season the eggplant with salt, then turn it over and sprinkle the other side with salt. Keep them aside for few minutes.
Step 2
Blot both the sides well with the additional paper towel. It will make the eggplant sweat out the bitterness and would make them sweet.
Step 3
Then with the help of a brush, apply oil on both the sides of eggplant slices. Meanwhile, preheat the oven to 425'F and take out a baking sheet.
Step 4
Place the oiled eggplants on the baking sheet and place it in the oven, bake for 3 minutes. When eggplants turn brown and tender, turn them over and bake for another 3 minutes.
Step 5
Once both the sides are done, take them out and spread 1 tbsp. red chili sauce on each eggplant slice. Then chop tomatoes and layer them on eggplant slices.
Step 6
Lastly, spread shredded mozzarella cheese on each slice. Also, add basil leaves and season it with black pepper.
Step 7
Put the baking sheet in the oven. Bake for 5 minutes, till the cheese, melts completely. Once done, serve immediately.