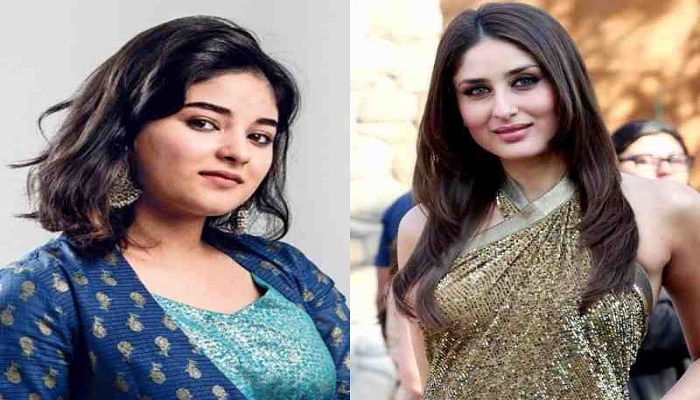 Top Bollywood actors, including Kareena Kapoor, Bhumi Pednekar, and Madhuri Dixit, have condemned the alleged molestation of National Award-winning actor Zaira Wasim.
The 17-year-old actor, known for her roles in films like Dangal and Secret Superstar, was allegedly molested on a Delhi-Mumbai flight on Saturday night. The actor later narrated her ordeal on Instagram via a live video.
Wasim said she was on an Air Vistara flight from Delhi to Mumbai when a co-passenger sitting behind her put up his feet on her armrest. The man was arrested by the police in Mumbai last evening.
When asked about the incident, Actress Kareena Kapoor Khan says women are capable of fighting out of every situation in life. Kareena spoke about women's strengths at the red carpet of the Lux Golden Rose Awards here in Mumbai on Sunday night. She was asked to comment on teenage actress Zaira Wasim's alleged harassment by a middle-aged man during a flight.
"I think women are way more superior than men. We are fighters and whatever the situation might be in our life be it personal or professional we all come out as fighters"
"Like I said before, we call our god Laxmi, we pray to her and she is a woman, and when we talk about our land, we call it motherland… So, women are way more superior. We will fight out of every situation in life," Kareena said.
Kareena was asked who her favorite is in present-day Bollywood. She said: "All the actresses, be it, Alia Bhatt, Deepika Padukone or Katrina Kaif, I think all of them are great achievers in their careers. We all have worked for more than 12-15 years, so taking one name wouldn't be nice because, for me, I think everybody is an achiever."
Kareena also bagged an award for 'I Am More Than You Can See Award' at the ceremony. On the work front, Kareena Kapoor is busy wrapping her first venture with Sonam Kapoor titled "Veere Di Wedding". It will release in May next year.