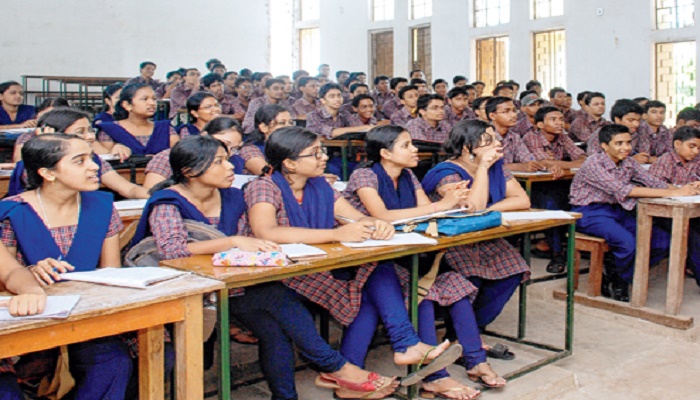 Coming down heavily on private schools and colleges for extended study hours, Andhra Pradesh home minister N. China Rajappa on Tuesday threatened to file criminal cases against the management of the institutes if they were found holding classes after 5 pm.
Addressing a gathering at the launch of inter-state sports event at Ongole district, Rajappa said, "Education stress should come down. Therefore, sports must be given equal importance, which can act as a stress buster for students. There are many institutions that hold post classes 5 pm in the name of extra classes. This should not happen. We will file cases if managements are found violating rules"
Recently Expressing concern over recent incidents of students' suicides in the educational premises, Andhra Pradesh Chief Minister N Chandrababu Naidu warned management of the colleges of stern action, if rules and regulations are not followed as per set standards.
Naidu noted that students are unable to accept pressure, depression, and defeat, as a result they opt to end their lives.
The chief minister said long hectic study hours, no curriculum activity is making 'students a machine' and added that the college management put extra pressure on them in the name of weekly tests and grades.
According to Andhra government, 37 intermediate students, including 29 from major private colleges in the state, committed suicide between 2012 and 2017. The unofficial figures are much higher.
The concerns are also echoed in Telangana. This month, a class IX student from Hyderabad had written a letter to Telangana's IT Minister KT Rama Rao pleading him to take measures to save childhood.
"Sir, I am a 9th class student. My school timings are 8:30 am -5:30 pm. I am also burdened with IIT orientation exams on Monday which spoils our Sundays. Sir, please save our childhood and act tough." he posted on Twitter.
In his reply to the student, KTR immediately said, "This is a tough one for me to respond. I feel your pain & will take up the matter in right earnest as soon as possible with Deputy CM, also education minister, Kadiyam Srihari."
In November, students of a private school in Hyderabad staged protests in front of their school against extended study hours, which were causing them health problems. Students from Gowtham Model school in Chaitanyapuri raised slogans demanding reduction in school timings.
One of the protesting students alleged, "We get up at 5:30 am to reach school which starts at 6:30 am. Then we are forced to attend classes till 6:30 pm. After schools, we have to go for tutorials or complete homework. We go to bed only by 11:30 pm. With such timings, we are even not able to get proper sleep."
The parents and activists also expressed their dissatisfaction over the issue and demanded stringent action by the state government.
Questioning lack of implementation of stricter rules and regulations by the state governments, child rights activist Achyuth Rao said, "Most of the schools work beyond school hours. Due to lack of proper rest, many students are suffering from depression and health issues. The rules are openly flouted since the government has no control over private school managements. The schools are owned by politicians only and therefore words are never converted into action. With commercialisation of schools, we have ignored the health aspect of our children."