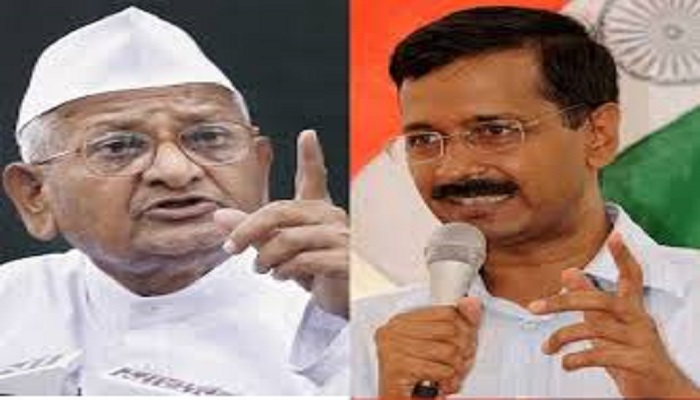 when Anna Hazare had decided to take on the government and fight against corruption, a full of energy and determined Arvind Kejriwal was standing by his side, leading the troops like an ideal general. In 2012, the two powerful figures split after a roller-coaster ride of 18 months in which they came together to run a high-steam anti-graft movement.
Today, the helpless social activist hopes that no other Arvind Kejriwal emerges from his movement again. "I hope no Kejriwal comes out of my movement again," he told reporters here after addressing a public meeting at the Shahid Smarak on Thursday morning.
This isn't the first time when Anna has expressed his disappointment over Kejriwal. Earlier this year, he had said that the Delhi chief minister has dashed all his hopes, while reacting to the Shunglu committee report which indicted the Kejriwal's government for bypassing law, nepotism and financial irregularities.
"I am pained by the Shunglu committee report because Arvind was with me in the fight against corruption. I had great hopes from the young and educated Kejriwal and felt that young people like him will create a corruption-free nation," Hazare had said in a statement issued at his village Ralegan Siddhi in Ahmednagar district.
However, the latest statement from Anna will not only hurt Kejriwal but also the Aam Aadmi Party. After suffering a huge loss in the Punjab state assembly elections earlier this year, the party has struggled to maintain its credibility.
There were reports of an internal feud between the party members including one of its founding members Kumar Vishwas before another key AAP leader Kapil Mishra quit, making stunning allegations against Arvind Kejriwal and Delhi's health minister Satyendar Jain. Amid these controversies, the party decided not to contest the election in Gujarat.
Even though some of its decisions in Delhi have been praised by the people, controversies like pollution, poor air quality, odd-even rule etc have somehow found a way to make headlines. But will this statement from Anna Hazare act as the final nail in the coffin? The jury is still out on that one even as it is undeniable that it is a huge personal setback for Kejriwal.
The 80-year-old activist also accused the erstwhile UPA government at the Centre of failing to act on the Jan Lokpal Bill. "The (Narendra) Modi government later diluted the provisions of the Jan Lokpal Bill. Both the Congress and the BJP are guilty (in this regard)," he said.