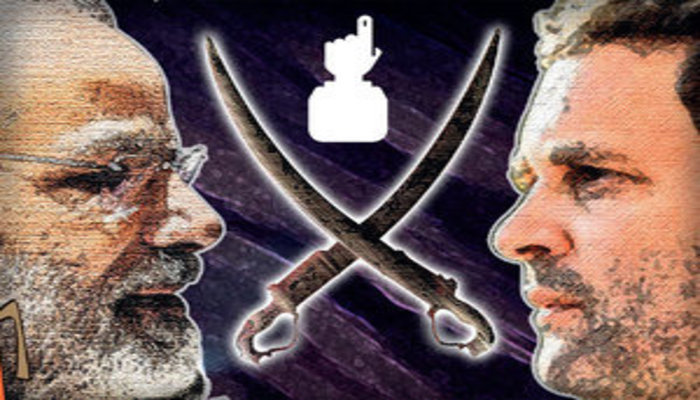 The 14th December 2017 will be the D-day of the 2nd Phase of the Gujarat elections. Let's take a quick look at the data before the elections begin.
The flurry in BJP camp over the past few days and Prime Minister Narendra Modi's attempt to sharpen the electoral pitch has a statistical backdrop: 93 seats going to votes in Phase-II of the Gujarat elections are located in districts that do not constitute BJP's terra firma. Recapitulate the performance of the party in 2007 and 2012 assembly polls. 
In 2007, out of the pre-delimitation 95 seats in the same region, BJP won 56 — down from 73 in 2002. In 2012, BJP lost four additional seats. In contrast, Congress won 39 seats and one was bagged by NCP, its ally then. 
The lone independent candidate to win in 2012 was from this region. Even in 2014 when BJP won all Lok Sabha seats, out of the 17 assembly segments in which the Congress established leadings, compared to BJP's overwhelming 165, 12 were from Phase-II seats. The seats in Phase-II comprise north and central Gujarat. 
Modi's Vadnagar is part of Unjha assembly constituency in Mehsana district, in the heart of north Gujarat comprising districts of Ahmedabad, Gandhinagar, Mehsana, Patan, Sabarkantha, Banaskantha, and Arvalli. If Modi's attempt to invoke the son-of-the-soil sentiment has to resonate anywhere, it is here. 
Mehsana is also one of the two parliamentary seats BJP won in 1984. All this is however passe because this region echoed sentiments of another kind since August 2015 after the onset of the Patidar agitation. The district, dominated by Kadva Patels, is also home to Hardik Patel and he remains barred from entering it. 
During the closing stages of the campaign, he staged a rally at Patan's border with Mehsana. "Saurashtra and Surat have done their job. Now it's the turn for North Gujarat and central Gujarat to do their part," he tweeted. Additionally, Alpesh Thakor and Jignesh Mevani are contesting from this region, which lends the terrain a non-local character. 
Phase-II seats also comprise central Gujarat, the heart of communally polarised Gujarat of 2002 and include Godhra. The region encompasses districts of Panchmahals, Dohad, Kheda, Anand, Vadodara, Mahisagar, and Chhotaudepur. In 2002, BJP won 37 of the 40 seats, but in 2007 Congress performed creditably in the region winning 22 to BJP's 16 while one each was won by NCP and an independent. 
The situation did significantly reverse to BJP's benefit in 2012 suggesting that polarisation in the hinterland had been a one-time affair. This suggests that central Gujarat, despite 10 seats of Vadodara district being part of it, will continue to be a test for BJP. The key to the verdict lies in the rural-urban mix of Gujarat and the perception that while BJP faces strong anti-incumbency sentiment in rural areas, its urban bastions remain largely impregnable. 
The worry for BJP, however, is that of the 93 seats that will now vote, just 21 are completely urban segments while 27 are rural seats. But more importantly, as many as 45 seats are 'rurban' or a mix of rural or urban seats. These seats have a rural-urban 'mix' ranging from 85% rural areas and 15% urban areas to a more balanced 55%-45% rural-urban combination. 
However, the number of seats where urban population almost matches that of rural voters are much fewer compared to those where the rural voters outnumber urbanites. Of these seats, Gandhinagar North has a rural population of just 15-20% while Gandhinagar South is slightly more balanced with 45-50% rural voters. 
Mehsana from where deputy CM Nitinbhai Patel is seeking re-election is also one such seat. The rural-urban divide has potential to be problematic for BJP because of the campaign of Hardik Patel and Congress that BJP has pursued urban-centric development policies. Thirteen seats in this phase are reserved for STs but an additional four seats have a tribal population in the range of 10-20% and this could be a major factor. 
Though Muslims have been largely 'invisible' in the electoral discourse, it would be naive to ignore that seven seats have significant Muslim presence. This ranges from 15-20% in Godhra to as high as 50-55% in Dariapur in Ahmedabad. This is a Congress held seat, among the few which elected a Muslim legislator and he has been re-nominated by the Congress this time. 
Significantly, Vadgam in Banaskantha district from where Mevani is being backed by Congress also has a Muslim population of 20-25%. Talking about the significant presence of a religious community, Ellisbridge and Sabarmati in Ahmedabad have a Jain presence of 15-20%. In 2012, some of the keenest contests were witnessed in seats in this phase. 
Sojitra in Anand was decided by just 162 votes while Kalol in Gandhinagar by 343 votes. Another five seats were decided by margins of less than 1,500 votes. In all, 21 seats were decided by margins of less than 5,000 votes. Tight contests are likely to give shape to the final verdict.