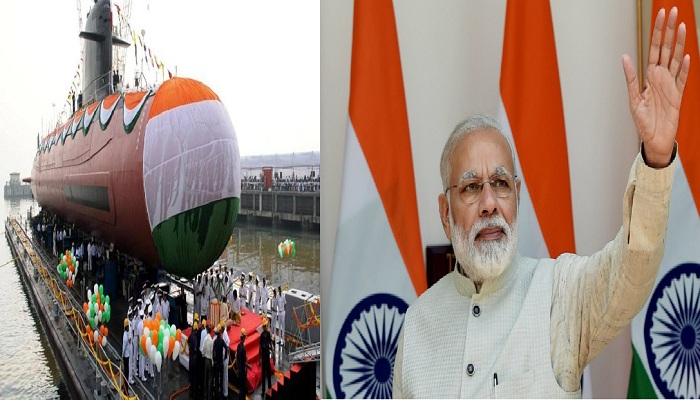 PM Narendra Modi to commission 'INS Kalvari – First Made-In-India Scorpene Class Submarine' Today
INS Kalvari, the first made-in-India Scorpene class submarine, will be commissioned into the Navy by Prime Minister Narendra Modi today.
Six Scorpene-submarines are built by Mazagon Dock Limited in Mumbai as a part of Project-75 of the Indian Navy.
The remaining five boats of the Project 75 would be delivered by the yard to the Navy by 2020. India has just about 15 submarines, a mix of Russian-origin Kilo class vessels and German HDW submarines. China has four times as many.
The Navy is inducting six Scorpene class submarines in a 3 billion dollar contract. Construction for the first submarine, being commissioned today, began in December 2006.
INS Kalvari : Things to know
The Kalvari will be the most modern non-nuclear submarine in the Navy and is powered by an extremely silent diesel-electric motor making it very difficult to detect underwater.
The submarine is armed with heavy weight torpedoes and Exocet anti-ship missiles. The submarine can launch torpedoes both while submerged or on the surface.
The Kalvari has an overall length of 67.5 metres and a height of 12.3 metres. 
The heart of the Kalvari's weapons system is SUBTICS or Submarine Tactical Integrated Combat System suite which processes information from the sonars onboard the submarine in detecting targets which can then be engaged with torpedoes or missiles.
The submarine has an attack and search periscope equipped with Infrared/Low Light Level cameras and Laser Range finders to spot targets on the surface of the sea.
The second Scorpene submarine, INS Khanderi, is currently undergoing trials and is likely to be inducted soon.
Sensitive data on the operations of this class of submarine was leaked and reported by an Australian publication prompting a full-fledged investigation in France.
'Kalvari' means Tiger Shark in Malayalam to reflect its agility, strength and predatory prowess.
The very first Indian Navy submarine also bore the name Kalvari and was commissioned in December 1967. The Indian Navy has been operating submarines (including nuclear attack and ballistic missile submarines) for 50 years.