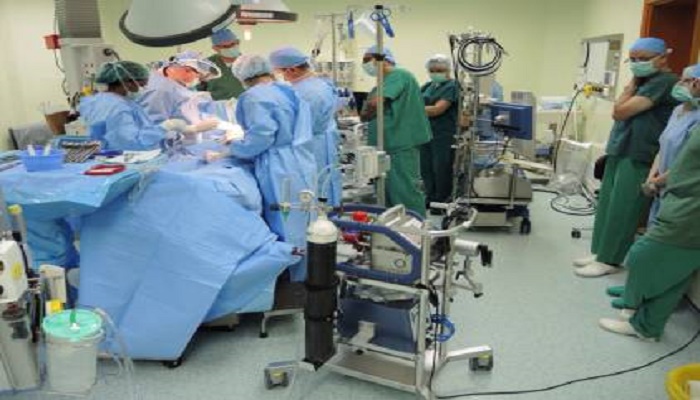 Abu Dhabi hospital carries out country's first full heart transplant. Cleveland Clinic Abu Dhabi team operated on 38-year-old Emirati who was close to heart failure.
Cleveland Clinic Abu Dhabi on Thursday described the procedure as a landmark moment for transplant medicine in the UAE. The 24-member multidisciplinary Heart Failure and Transplant team had prepared for its first heart transplant for the past two years. The six-hour long surgery took place on the evening of December 5 and into the early hours of the following morning.
The surgery was performed by a four-person surgical team that included Dr. Rakesh Suri, Acting CEO of Cleveland Clinic Abu Dhabi; Dr. Johannes Bonatti, Chief of the Heart & Vascular Institute; Dr. Stefan Sanger, Clinical Associate; and Dr. Jehad Al Ramahi, Clinical Associate – all of Cleveland Clinic Abu Dhabi.
In addition to the heart patient, two others received other organs from the deceased donor. One was a child at Seha's Sheikh Khalifa Medical City, who received one of the donor's kidneys. Doctors said all three patients had virtually no chance of survival and had been on transplant lists for some time.
Dr. Al Obaidli, Head of the National Transplant Committee told "This surgery officially has marked the start of our national transplant programme"
Dr. Rakesh Suri, Acting CEO of Cleveland Clinic Abu Dhabi, said: "It is a significant achievement for Cleveland Clinic Abu Dhabi and our transplant team, who have accomplished a historic medical milestone in the UAE. This operation underlines the incredible social impact that our transplant services are having – thanks to one donor, we have transformed the lives of multiple patients and their families."
"The UAE has taken important strides in introducing new legislation to support transplant operations in 2017, and we are very proud that Cleveland Clinic Abu Dhabi is the first and only multi-organ transplant facility in the country. After two years of sophisticated training and preparation, our team was fully prepared to undertake and excel in performing this innovative series of operations," he added.