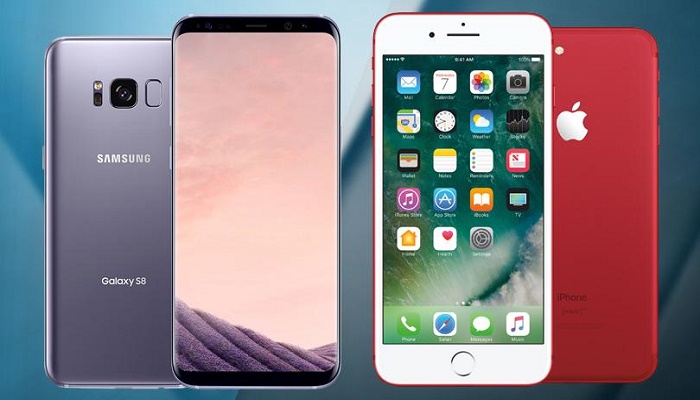 iPhone 7 may how been superseded by both the iPhone 8 and iPhone X.When Apple launched the iPhone 7 last year, we weren't overly impressed. While the build quality and features seemed decent enough, battery life hampered the experience enough to warrant a 3.5/5 overall score. Still, the iPhone 7 remains one of the UK's most popular smartphones, and it'll be top of the list for many looking to upgrade.
Enter the Galaxy S8, Samsung's latest flagship and the iPhone's chief Android rival. With its sloped screen edges, top-spec processor and refined software, it's an Android flagship that most phones are now measured against.
It's easy to claim that smartphones all look the same these days, but the Samsung Galaxy S8 and iPhone 7 are world's apart when it comes to design.
Apple hasn't made any significant changes to the iPhone since the introduction of the iPhone 6 back in 2014. It's still a slim (7.1mm), lightweight (138g) and mostly flat handset, with the exception of a small camera bump.
By comparison, the Samsung Galaxy S8 is thicker at 8mm, heavier at 155g, and boasts a curvy 'Edge'-style screen that wraps around the sides of the phone. So it certainly feels heftier in the hand, which will suit some more than others.
Both phones are waterproof, although the Samsung Galaxy S8 has a better IP68 waterproof certification.The Samsung Galaxy S8 is available in, black, silver, and blue colour options, while the iPhone 7 is available in Jet Black, Black, Silver, Gold, Rose Gold and, most recently, (RED).
In terms of computing power, the Galaxy S8 and iPhone 7 are very different beasts. For starters, the iPhone 7 uses an older Apple A10 Fusion processor, which while not exactly slow, isn't the latest and greatest as far as processor tech goes. The Qualcomm Snapdragon 835 or Samsung Exynos 8895 in the Galaxy S8 is much more modern and more efficient chips.
These are the features more effectively going successfully for Samsung than that of iPhone. But here comes the most important feature which beats iPhone.
Samsung's Galaxy beats Apple's iPhone in creating positive customer sentiments.
A study report says how positively customers of both the brands are feeling about their devices on Twitter. Apple has managed to score a consistent 60 – 70 percent of positive sentiments on Twitter, which is respectable for any brand. However, Samsung has a more dynamic graph over the period of study. The South Korean giant had seen a massive dip in consumer sentiments last fall when the Galaxy Note 7 fiasco took place, which eventually led Samsung to withdraw the handset from the market.
However, the results could change by next year as Apple's 'revolutionary' iPhone X will accumulate considerable months in its shelf life and could appeal to flagship smartphone buyers. Apple is also expected to come with cheaper variants of the iPhone X, namely the rumoured 'LCD iPhone 2018 model' that could gather more interest amongst fans by 2018's fourth quarter. Samsung meanwhile could be unveiling the Galaxy S9, which is expected to be a minor upgrade to the existing Galaxy S8 with a more powerful chipset and new software.
Therefore, if you decide your next smartphone on the basis of customer satisfaction, then you could be better off with a Samsung Galaxy flagship instead of a pricey Apple iPhone.