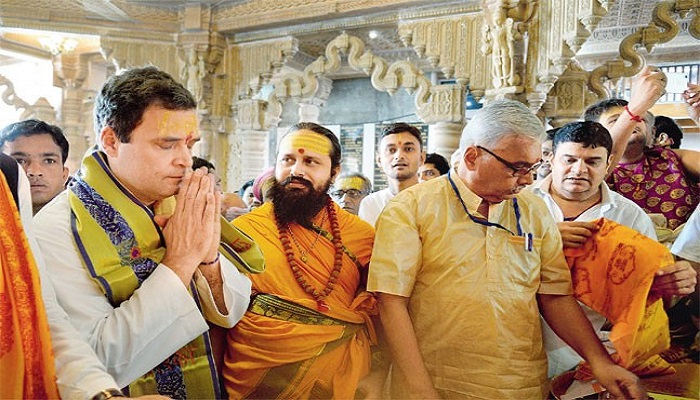 Prior to the Gujarat elections, both Congress President Rahul Gandhi and Prime Minister Narendra Modi had visited various temples. Have these visits benefitted the parties?
During his multiple campaign tours of Gujarat, Congress leader Rahul Gandhi embarked on a series of temple runs. The exercise has proved to be a blessing for his party, which has taken its tally of 61 seats from the previous assembly polls to 77.
Gandhi visited 27 temples across Gujarat in the face of accusations that he was projecting soft-Hindutva.
His visit to the Somnath temple stirred a controversy over his own faith after his name was entered in a register meant for non-Hindus. Gandhi remained undeterred by controversies and mockery. In fact, he even made a temple priest talk with his mother, Sonia Gandhi.
Manish Doshi, a spokesperson of the Gujarat Congress, said: "The BJP mocked Rahulji's temple visits. But the results of the election show that he was able to connect with people."
Gandhi started off his poll campaign with a visit to the Dwarkadish temple in Dwarka. His party lost badly to the BJP's seasoned campaigner Pabubha Manek in Dwarka. Manek was seeking his 7th consecutive term in the assembly. However, Gandhi's later visits to temple towns proved fruitful with the Congress registering victories in 18 such constituencies. Out of the 18 seats Congress won, BJP had won 10 in 2012.
Temples which Gandhi visited and the seats on which Congress succeeded are: Ambaji temple (Danta), Bahuchraji Mata temple (Bechraji), Chamunda Mata temple (Chotila), Swaminarayan temple (Gadhada), Akshardham temple (North Gandhinagar), Vir Maya Mandir (Patan), Somnath, Umiya Mata temple (Unjha), Shamlaji temple (Bhiloda), Ranchhodrai temple at Dakor (Thasra), Kabir Mandir (Dahod), Ranchhodrai temple (Petlad), Unai Mata temple (Vansda), Bhathiji Maharaj temple at Phagvel (Kapadvanj), Khodiyar Mata temple and Sadaram Bapa temple (Radhanpur), Dev Mogra Mata temple (Dediapada), and Valinath temple (Vav).
Gandhi's last temple visit in the campaign, to famous Jagannath temple in Ahmedabad, also bore favorable results. Gandhi visited the temple when the city police did not permit his roadshow. The Congress won the Jamalpur-Khadiya seat, which is a Muslim-dominated constituency.