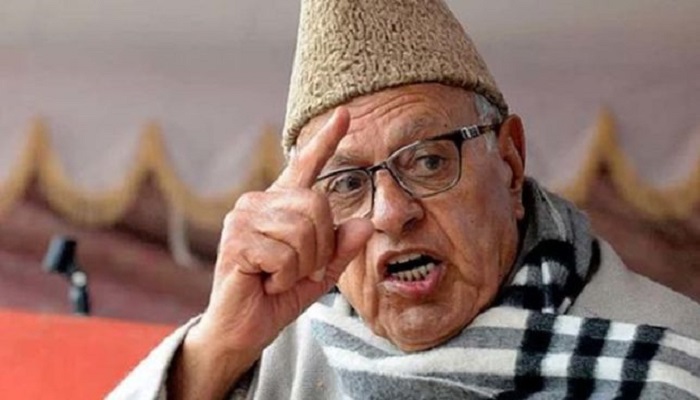 Prior to the Gujarat Elections 2017, Prime Minister Narendra Modi had accused the Congress of meeting with Pakistan. This is the reply of the NC leader.
National Conference (NC) leader Farooq Abdullah on Tuesday dismissed allegations that the Congress colluded with Pakistan to defeat the BJP in the recently concluded assembly polls and stated categorically "Pakistan koi saazish nahi karta."
The former Jammu and Kashmir chief minister's unequivocal defense of Pakistan came when he was asked for his take on a controversy that erupted after Prime Minister Narendra Modi alleged that his predecessor Manmohan Singh and senior Congress leader Mani Shankar Aiyar had met with Pakistani officials over dinner and conspired to influence the state assembly elections.
Scoffing at the PM's charge, Abdullah said that Modi had gone to Pakistan for a meal when he paid a surprise visit to Lahore and attended former prime minister Nawaz Sharif's grand daughter's wedding ceremony. Did the Pakistanis conspire against PM Modi back then, Abdullah pointedly enquired.
He then made the following assertion: "Pakistan koi saazish nahi karta (Pakistan doesn't engage in conspiracies)."
While campaigning for the high-stakes Gujarat assembly polls, PM Modi had claimed that some Pakistani officials and Manmohan Singh met at Congress leader Mani Shankar Aiyar's house over dinner on December 6, further insinuating that it was a plot to interfere in the election.
The Congress hit back at the Prime Minister for deliberately misrepresenting facts and asked him not to use Pakistan in his campaign rhetoric as a poll stunt.
Pakistan's Foreign Office issued a statement on "fabricated conspiracies", asking not to be dragged into India's electoral battles.
Reacting to the state assembly elections which came out yesterday, Farooq Abdullah congratulated the Congress on its performance. He also observed that the party could have won in Gujarat if it weren't for some untimely remarks made by a Congress leader, in what can be construed as a reference to Mani Shankar Aiyar's "neech" comment against PM Modi.
"Not taking names but if some people wouldn't have said certain wrong things Congress would have won in Gujarat, they managed a good show there," the NC leader was quoted as saying by ANI.
The BJP survived a scare to scrape through in Gujarat, a saffron bastion for more than two decades. BJP's win — its sixth in a row — ended up being closer than predicted by most exit polls, as the Congress landed 77 seats to the saffron party's 99.