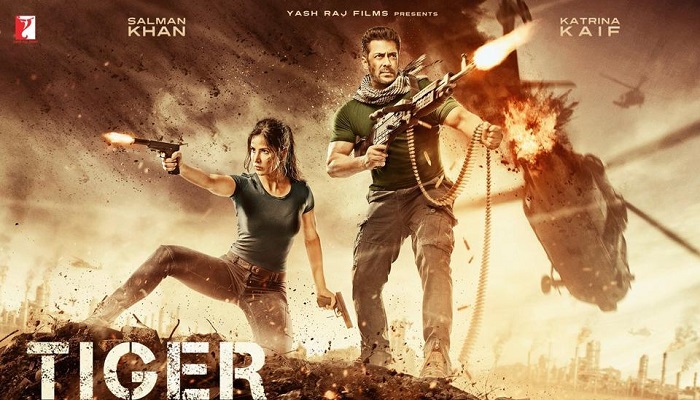 If you can stomach a hyper-masculine spy called Tiger, played by Salman Khan, snarling to the terrorist: "There's nothing more dangerous than a wounded tiger", then you are likely to enjoy this testosterone-charged ride. For those who scoffed at those words and found his threat pulpy, stay away from Tiger's trail.
The Salman Khan and Katrina Kaif starrer is an action-packed sequel to 'Ek Tha Tiger'.
As anticipated and suggested by the movie trailer, Tiger Zinda Hai is high on action – or do we say the entire film is only action, while story and emotions are completely overlooked?
With Salman-Katrina teaming up after over five years, Tiger Zinda Hai is an extension of the real-life incident where in 2014, Indian nurses were abducted by Daesh but later released. But in the movie, director Ali Zafar Abbas, intending to warm India-Pakistan ties, shows both Indian and Pakistani nurses being abducted by a terrorist group in a hospital in Iraq.
Now, both the countries join hands against terrorism and the movie shows RAW and ISI working together to rescue 25 Indian and 15 Pakistani nurses.
The action saga unfolds after India's diplomatic corps pick RAW agent Tiger and Pakistan ropes in ISI agent Zoya for this dangerous mission of rescuing nurses safely from the deadly terrorist Abu Usman, played by UAE-based Iranian actor Sajjad Delfarooz.
Though this film should ideally have been a portrait of the global politics and how religious extremism is sacrificing humanity, all forces in this film are at work to showcase Khan's swagger, brute strength, and espionage tactics. So unless you are a Khan fan, you may find it tedious.
The film seems quite unconvincing and hypothetical in many places. For instance, the way Tiger simply saunters into the terrorist-infested area and rescues the nurses is quite hilarious. Also, a scene when Tiger and his team fearlessly walk into the hospital which is guarded by terrorists and where the nurses are detained is unbelievable. They enter the hospital under the pretext of being treated for burns but surprisingly they don't look burnt or tattered at all!
As the whole incident was quite obvious, seems the director had no story to tell and wraps up the movie with two hours and 15 minutes of thoughtless action, patching up the remaining few minutes with bits and pieces and a song by Atif Aslam.
Jingoism is also one of the obvious threads of Tiger Zinda Hai. Tiger never lets anyone forget about his unwavering patriotism and is on call to remind his mates periodically about what's good for them.
It can get a bit tiring. The twists are also painfully predictable and the ways in which Tiger outwits the terrorists aren't particularly ingenious.
Watch this if you are in the mood to see a stoic, stone-faced swashbuckling superhero, aka Salman Khan, and some supremely well-executed action sequences. Don't go looking for soul, though.
Film: Tiger Zinda Hai
Cast: Salman Khan, Katrina Kaif, and Sajjad Delfarooz 
Director: Ali Abbas Zafar
Run-time: 2 hours 41 minutes
Stars: 2 out of 5
Editing
Scenes appear from nowhere and are not related in many places in the movie.
Direction
Director Ali Zafar Abbas has put up an unimpressive work. The movie is largely about action and the emotion and connection are missing completely. He was just thinking about action so he is not able to get good performances from his actors.
Dialogue
The dialogues are poorly written. Some dialogues seem to take off but crash mid-way, sounding funny or dragging. Also, most of the dialogues are out of place. 20% dialogues are in English which will be a drawback because single screen theatre audience won't be able to understand.
Action
The movie is only about action, action, and action. Though it is an action-thriller, the storyline and plot are missing. It aims to give an adrenaline rush through action alone, which is disastrous
Acting
Salman Khan and Katrina both have done average acting. Sajjad has done a good job. Others are just time pass.
Verdict
It's a waste of time to watch such an unreal movie that one wouldn't know whether it is comedy or action or both or it's a computer game. But if you are a fan of Salman and Katrina and watching them is enough, then it will be good enough.
Check out the trailer: