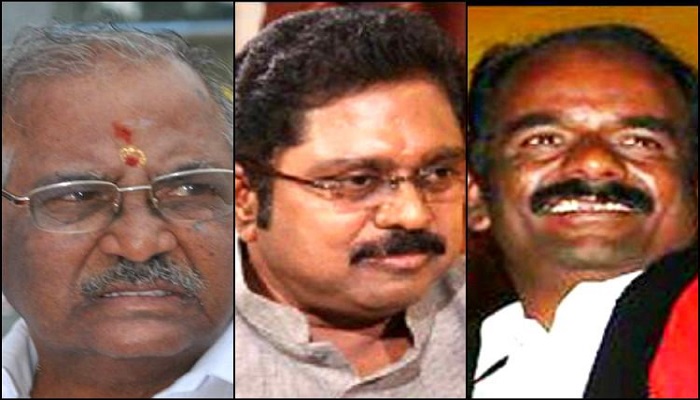 A day after the polling in the RK Nagar Tamil Nadu, the exit polls have been released. How far off the mark will this prediction be?
Sidelined AIADMK leader TTV Dhinakaran is likely to win the by-polls held in Chennai's RK constituency, according to an exit poll conducted by Cauvery TV. The RK Nagar seat had fallen vacant following the demise of former Tamil Nadu chief minister J Jayalalithaa after which the AIADMK plunged into crisis and split into several factions.
The campaign witnessed the top leaders of various parties–Chief Minister K Palaniswami and his deputy O Panneerselvam of the AIADMK, DMK leader MK Stalin and TTV Dhinakaran, who is contesting as an independent candidate, reaching out to voters.
Dhinakaran, who fell out of favor with EPS-OPS faction and also lost the battle for party's 'Two Leaves' symbol, had expressed confidence that he can spring a surprise against the AIADMK's E Madhusudhanan as well as the DMK's candidate Maruthuganesh.
According to Cauvery TV exit polls, Dinakaran would emerge victorious with Madhusudhanan and Maruthuganesh likely to end up at second and third places, respectively.
The exit poll, which saw the participation of 1071 voters, predicts that Dinakaran would bag 37% votes, while Madhusudhanan and Maruthuganesh are expected to get around 26% and 18% votes, respectively. BJP will get 2% and the remaining will get 17%.
The exit poll also came out with some other key statistics. 90% of the respondents said that they were not bribed by parties while 10 % said that they got money from parties. 95% voters said that there won't be any impact on the Jayalalitha's hospital video released a day before polls, while 5% said that it will have some impact. All parties are keen to make a mark in the election which has become a battle of pride as Jayalalithaa represented the constituency earlier. Her death in December last year necessitated the bypoll. The campaign also saw old rivals Stalin and MDMK founder Vaiko share stage for the first time in many years. The opposition is putting up a united show in a bid to snatch victory in this city segment. 
The passing away of the former Chief Minister had left her seat vacant for so long, was the reason for this election.
One day prior to the elections, a video showing the hospitalized former Chief Minister was released, hoping to gain the voters favor.
The counting of the polls will be on the 24th of December 2017.