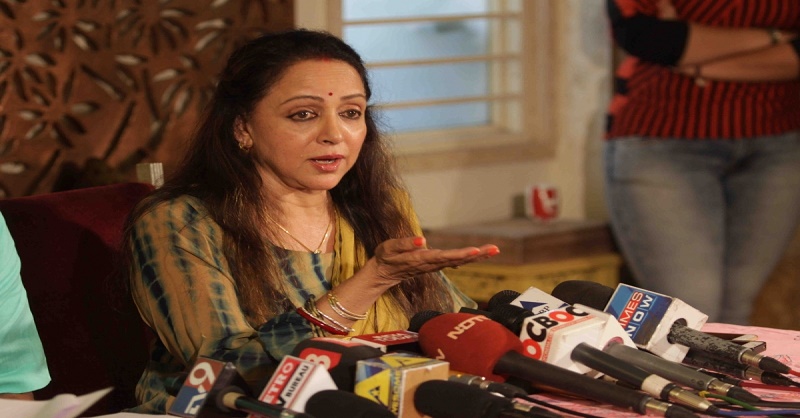 Hema Malini actress comes to BJP MP blamed Mumbai's High Population for the tragedy at Kamala Mills, Mumbai.
"It's not that the police aren't doing their job. They do a great job. But the population is so high. When Bombay ends, another city should begin. But the city keeps extending," she said
"Each city should have a certain limit on population. After that, they should not be allowed…let them go to another city, the next city," the BJP MP said.
Many on social media took offense at what they said were insensitive comments from the Bollywood actor-MP.
At least 14 people including women were killed and 19 injured in the fire.
Hema Malini has forgotten herself that she herself had come to Mumbai from Tamil Nadu to pursue a career in Bollywood, before becoming a huge star and later a politician. A few Twitter users took time out of their precious schedule to remind Hema Malini of this fact.
Here are some of the best tweets:
Says someone who too is an immigrant…#Hypocrite https://t.co/ibXoI5fAqj

— Gaurang Chauhan (@GaurangChauhan) December 29, 2017
Let the stupid woman @dreamgirlhema be the first one to move back to Chennai . Insensitive creature has no heart as shown by her earlier statements too .#KamalaMills #KamalaMillsFire #SackMumbaiMayor

— RajVir Singh (@irajvirsingh) December 29, 2017
Hema Malini blames the growing population.
BMC Mayor says he can't be everywhere.
Arvind Sawant threatens a journalist for asking tough questions.

Along with zero accountability, our politicians have also embraced zero sensitivity. #KamalaMills

— Bhavik Saglani (@DoctorLFC) December 29, 2017
Population is so much, the city is spreading like anything. Some restrictions should be done on the population. Each city should have certain population/limit, after that they should not be allowed. Then let them go to another city: Hema Malini,BJP MP #KamalaMillsFire #Mumbai pic.twitter.com/f3qJJzcBrm

— ANI (@ANI) December 29, 2017
A bit rich coming from @dreamgirlhema someone who's a migrant herself to the city. This ain't China where the govt can control where people live. Still a free society. Can't believe she's an MP! ? https://t.co/hp4puH8G3e

— Rupa Subramanya (@rupasubramanya) December 29, 2017
And then there are such super-intelligent lawmakers to boot with their deep insight into issues.
BTW,why did HemaMalini come to Bombay, eh? pic.twitter.com/m8csUAcy1X

— smruti (@urjourno) December 29, 2017
Is Hema Malini out of her mind? When asked about #KamalaMills tragedy, she had absolutely no sign of empathy on her face, simply blamed the growing population and asked people to move to other cities. This is not the first time, she has displayed such insensitivity.

— Sonam Mahajan (@AsYouNotWish) December 29, 2017
And so much media that screams every night is housed in #KamalaMills
Did they miss the illegalities under the nose or deliberately ignore?

— smruti (@urjourno) December 29, 2017
#BJP hema malini slaps Mumbai residents by alleging population for #KamalaMills tragedy.. Mumbai, you chose them.. congrats

— pooja gupta (@ipg95) December 29, 2017