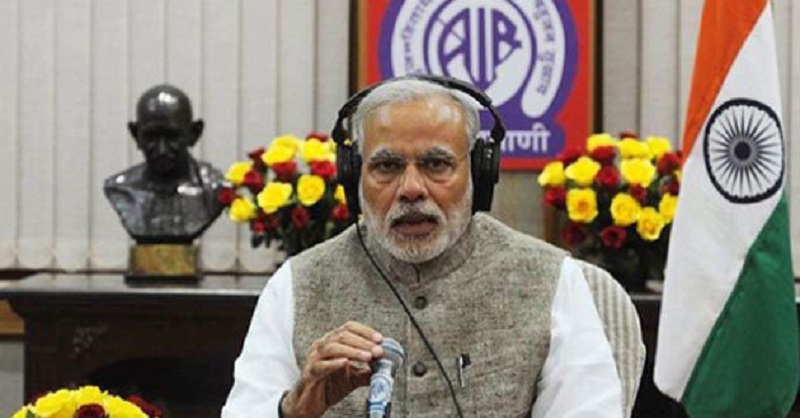 Prime Minister Narendra Modi one of the first schemes on entering his office was the installation of 'Mann Ki Baat'- a radio programme.
Prime Minister Narendra Modi will address the nation via his monthly radio programme 'Mann ki Baat' on Sunday, the 31st of December 2017.
The programme on the last Sunday of every month is broadcast on All India Radio, DD National, and DD News.
This will be the 39th edition of the Mann Ki Baat programme, which will be broadcast on All India Radio (AIR), Doordarshan and also on the Narendra Modi mobile application. People can also give a missed call at 1922 and hear it on their mobiles.
In his previous talk, PM Modi had recalled the contribution of B.R Ambedkar in the making of India's constitution.
"Our Constitution safeguards the rights of the poor and weaker sections of society. Our constitution is a vast document. It's our constitution day. It's obvious that we are reminded of Baba Saheb Ambedkar and his immense contribution towards the construction of a great document. We pay our heartfelt tributes to him," said PM Modi.
The Prime Minister had urged farmers to lessen urea use and exhorted humanitarian forces to unite against terrorism.
Remembering the victims of 26/11 Mumbai attacks. "For over 4 decades, India has been raising the issue of terror. Initially, the world did not take us seriously but now the world is realizing the destructive aspects of terrorism. We must unite to tackle this menace," PM Modi said in his speech which coincided with the 9th anniversary of the terror attack that left 160 people dead.
"India is the land of Lord Buddha, Lord Mahavira, Guru Nanak, Mahatma Gandhi. We believe in non-violence. "Terrorism is a threat to humanity," the PM said. "Every countryman salutes the courage and sacrifice of our soldiers. Armed Forces Flag Day, observed on 7 December, is a day to show our respect to the country's Armed Forces," added PM Modi.
The programme will be streamed on the YouTube channels of the Prime Minister's Office, Ministry of Information and Broadcasting and DD News.
Akashwani will broadcast the programme in regional languages immediately after the Hindi broadcast.
Meanwhile, the Prime Minister's radio programme has emerged as the most trending hashtag on Twitter in 2017 in the news and governance category, followed by #jallikattu and #GST, the micro-blogging platform had said on Thursday.
#Mannkibaat sparked a great deal of commentary all over the year, including a tweet from cricket legend Sachin Tendulkar that went viral.
"#MumbaiRains and #TripleTalaq emerged as some of the top trending hashtags of the year," Twitter had said. Jallikattu, a traditional Tamilian bull-taming sport, was in the spotlight earlier in 2017.
Other trending hashtags were #Demonetisation, #SwachhBharat, #UttarPradesh, #GujaratElections and #Aadhaar.