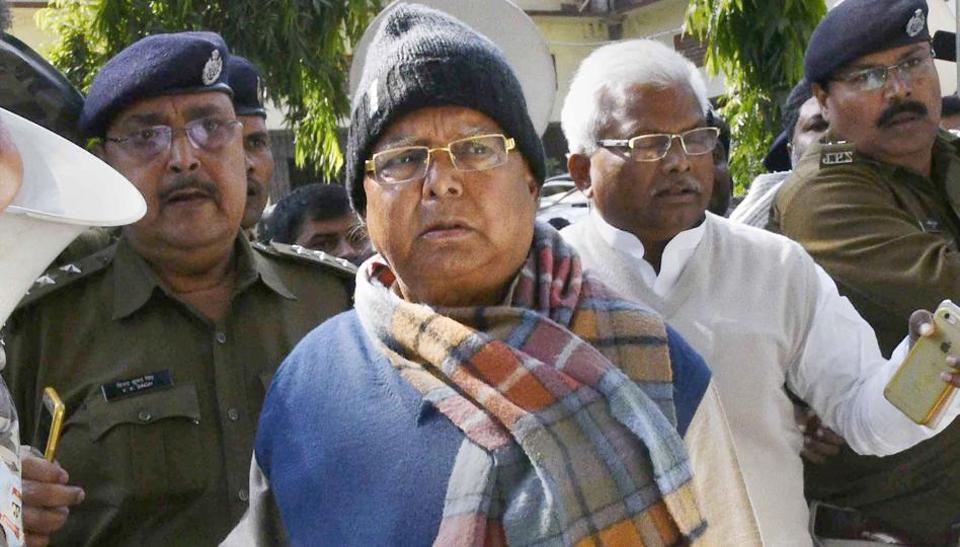 No matter what a friend who sticks with you through thick and thin is a true friend indeed. And Lalu Yadav has some true friends beside him.
Bihar politician Lalu Yadav may have had a premonition that he will be sent to jail in a fodder scam case heard in court last month. Nothing else explains why two of his personal aides made sure they were already in a jail in Jharkhand before he walked in.
Laxman Mahto and Madan Yadav, known to be in Lalu Yadav's inner circle, allegedly had cases of theft registered against themselves, surrendered, and arrived at Ranchi's Birsa Munda jail just hours before the Rashtriya Janata Dal chief's entry on December 23.
Laxman Mahto is known to everyone in political circles as Lalu Yadav's aide and helper, and Madan Yadav is always active when the former chief minister visits Ranchi.
Here is how they allegedly contrived to be with the politician in jail.
Madan Yadav's neighbor in Ranchi, Sumit Yadav, lodged a case of beating and theft of Rs.10,000 against him and Laxman Mahto. When one police station in Ranchi refused to accept the complaint, Sumit Yadav went to another. The moment an FIR or First Information Report was filed, Laxman Mahto and Madan Yadav surrendered in court and were sent to judicial custody.
Lalu Yadav, 69, has been jailed for three-and-a-half years in a case linked to the fodder scam involving the embezzlement of more than Rs. 89 lakh in government funds between 1991 and 1994.
READ ALSO: Fodder scam: CBI Judge decides where Lalu Yadav stays
In 2013, when Lalu Yadav was convicted in another fodder scam case, Madan Yadav used the same trick to get into jail before him. Laxman Mahto didn't have to, as the Jharkhand government was in alliance with Lalu Yadav's party and the gates of the prison were always open to his supporters.
Last week, Lalu Yadav's lawyers pleaded for a lesser jail sentence saying that the politician suffers from multiple heart problems and is diabetic. The lawyers said in court that Lalu Yadav takes 18 medicines every day. The CBI questioned why he was always fit to hold political rallies.
When a national channel spoke to the party chief spokesperson, Shakti Singh Yadav, he evaded the question saying, "Media is targeting Lalu for their benefit. I am not aware that Lakshman and Madan are serving Lalu inside the jail. I don't know anything."
SHO of Lower Bazar police station Suman Kumar couldn't be seen in office since the matter came to fore, while RJD has kept mum over the issue. 
Ruling Janata Dal (United) lashed out at Lalu and RJD saying it shows "his feudal mindset that compelled him to hatch such a conspiracy". Talking to the national channel, JD(U) general secretary Sanjay Jha demanded a probe in this matter. 
Jha said, "It shows Lalu and his party has no regard for the legal process. The way RJD made Madan and Lakshman frame a case against themselves shows they have mastered perjury and fraud."