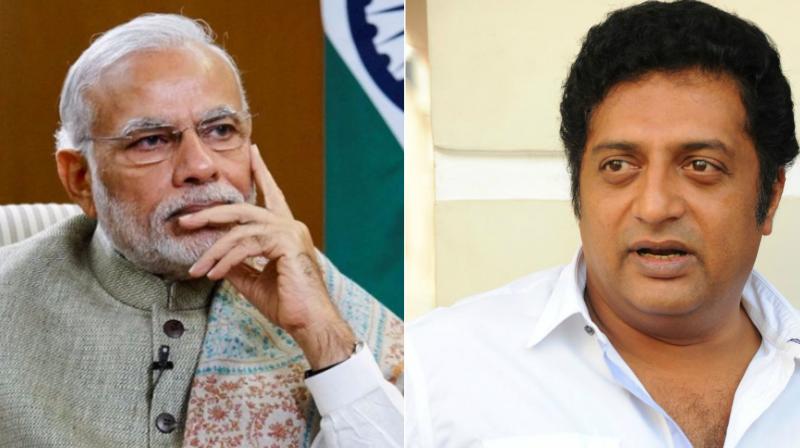 Prakash Raj is a very famous actor who works in both Tamil and Kannada films. His real name is Prakash Rai which was changed to Prakash Raj to suit Tamil audience. This actor from Karnataka has lately been on news for his Modi bashing which got lauded by liberals. He even called Modi a very good actor. His Modi bashing was a respite for the liberals who till then had only one hero, the Dalit activists Jignesh Mewani.
Just after his conclave with Rahul Kanwal of India Today, Raj tweeted against the firebrand Union Minister Anant Kumar Hedge by twisting his speech and accusing Hegde of calling Dalits street dogs. During his conclave with Kanwal, Prakash Raj spoke about a variety of issues from the killing of Gauri Lankesh to the ban on the Sanjay Leela Bhansali film Padmaavat.
There are certain things that I agree with him like,
1. Once a movie is cleared by Censor board then no one should try to stop it.
2. Right wingers crossed all limits by celebrating the death of Gauri Lankesh.
3. The Gaumutra sprinkling by Rightwingers was almost childish.
While he has the right to ask PM Modi why the PM follows people who celebrated the death of Gauri Lankesh, he must understand the fact that one does not endorse anybody's views by merely following a person. I follow abusive politicians like Arvind Kejriwal and abusive journalists like Swati Chaturvedi, but I am not responsible for everything they tweet. To mention that PM Modi is not a true Hindu because of it is taking things too far. We still do not know who killed Gauri. The evidence obtained thus far point toward the involvement of the extreme Left.
Why doesn't Prakash Raj question the CM of his home state for not making any headway in the investigation? Under the Siddaramaiah government, there has been a lot of communal unrest in Dakshina Kannada. Why hasn't Prakash Raj spoken about the death of Paresh Mesta or Bajrang Dal activist Deepak? Were they any less human because they had an ideology different from Prakash Raj? In Karnataka, a lot of honest whistleblowers have been killed, transferred or forced to resign. DK Ravi, Ganapathi, D Roopa, Anupama Shenoy are some such examples. Why doesn't Prakash Raj, a revolutionary activist citizen, question his CM on any of these SIR?
Prakash Raj speaks a lot about freedom of expression then why not he speak about Pithavum Puthranum which has been waiting for clearance from censor board in Kerala for so many years?
Also, read: PM Narendra Modi lists the major three challenges world is facing
Is freedom of expression is only for Left people? Or their freedom of expression stops when it is something that is against them?
What right he has to call Modi and Amit Shah as non-Hindus?
Anant Kumar Hegde, who spoke about modifying the constitution, is also not a true Hindu. It must be mentioned here that the words Secular and Socialist were not there in the original Preamble, as the architect of the constitution BR Ambedkar did not find them relevant. These two words were added by the Indira Gandhi government during the Emergency. The Constitution has been amended 122 times after it was framed, the most recent one being the GST. Lawmakers do have a right to modify the constitution, provided it is passed with two-thirds majority in both the houses. One may agree or disagree, but in the name of secularism, Hindus have always been at the receiving end and have been treated with contempt.
So Mr. Prakash Raj, who according to you is a true Hindu SIR? The CM of Kerala, under whose patronage RSS workers are being killed with eerie regularity? Co activists like Prashant Bhushan, according to whom Lord Krishna was a legendary eve teaser and who is fighting desperately hard to not have the Rohingyas deported even at the cost of national security? The CM of Karnataka, who celebrated the birthday of the barbaric Tipu Sultan, the fanatic ruler responsible for the destruction of many Hindu temples and death of many Hindus? Jignesh Mewani, who has been systematically trying to divide the Hindu community on the basis of caste and has been responsible for the riots that happened in Bhima Koregaon? What does Prakash Raj have to say about his good friend Gauri Lankesh? During her living days, she had the penchant to speak up against Hinduism and Brahmins, in particular, some of which were disgusting to say the least. Prakash Raj has only said that he did not agree with Gauri on some of the things, but can he accept the fact in public that her views and the way she used to express them were in very bad taste?
While one admire your acting skills and the characters you portray on screen, you are just a muddled like anyone from the Indian left. Don't be selective while talking about Freedom of Expression. Look at your own side how the freedom of expression is used only for the selective purpose, for maligning PM of India.