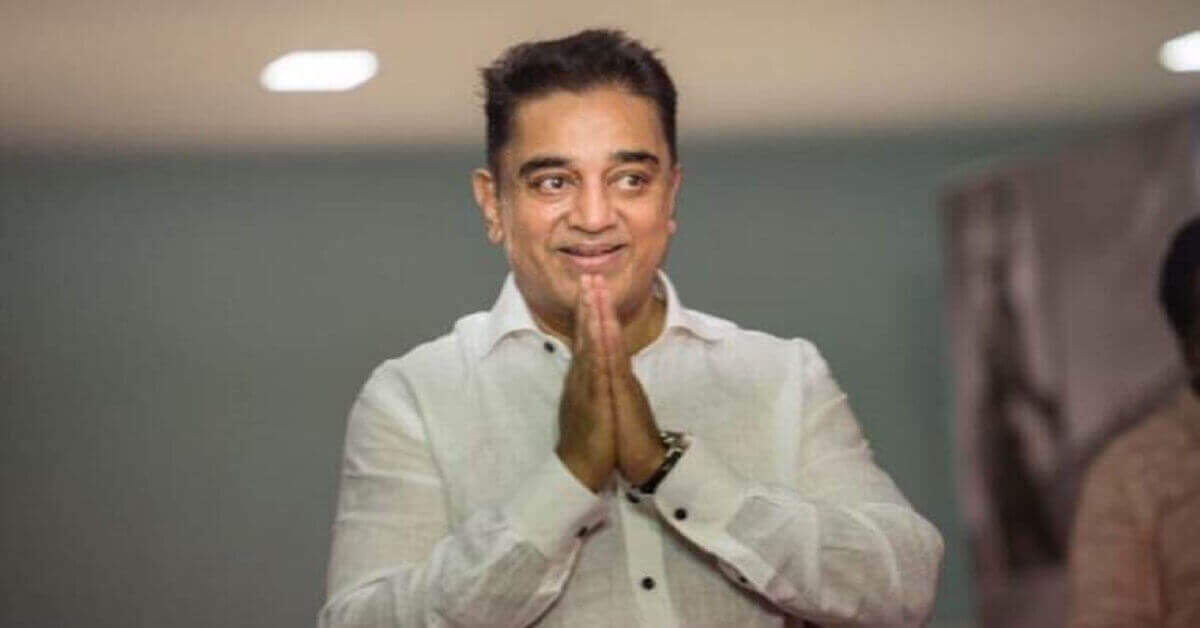 First day, first show. House full.
These words have followed veteran actor Kamal Haasan from his cinematic life to the political life.
With Delhi Chief Minister Arvind Kejriwal sharing the dais, and a congratulatory video message from Kerala CM Pinarayi Vijayan played out on the large LED display on stage, actor Kamal Haasan launched his political party, Makkal Needhi Maiam (People's Justice Centre), in Madurai on Wednesday, projecting himself as a serious alternative to the Dravidian majors in Tamil Nadu.
Explaining where his ideology lay, he said, "People are asking me if I am left or right (in ideology). That's why we have 'maiam' (centre) in our party (name). We will absorb all good things from whichever direction they come."
He promised to strive to offer quality education for all, end propaganda on caste and religious lines, provide uninterrupted electricity supply and eradicate corruption. He also aspired to forge ties among the southern States as a federal concept. "Today is the day to speak up (against corruption) and tomorrow is for action," he said to loud cheers.
READ ALSO: Neta Kamal Haasan started politics in style: MNM party launched
Mr. Haasan, who commenced his political journey with a road show originating from the house of former President APJ Abdul Kalam in Rameswaram, hoisted his party's flag in front of a mammoth gathering here.
He was cheered among others by Delhi Chief Minister Arvind Kejriwal, who saw in the actor the potential to dislodge the Dravidian parties.
Significantly, Mr. Haasan's party did not have the suffix Katchi (Party) or Kazhagam that have become synonymous with Dravidian politics.
"Have you seen my (party's) flag and symbol? It has the map of new South India. Those six hands represent the six southern states. The star in the middle with six pointers represent truth, people, and justice," Haasan said to huge applause.
Explaining his party flag – a white background with six human hands, three each in black and red, forming a circle with a big black star and a smaller white star within it – the actor said, the six hands represented the "new South India", the six southern States, (including Union Territory of Puducherry) and the star denoted the people.
He identified Ambedkar, Gandhi, Nehru and Chief Ministers of Andhra Pradesh, Kerala and Delhi – Chandrababu Naidu, Pinarayi Vijayan (who greeted him via video conferencing) and Kejriwal – and former U.S. President Barack Obama among leaders from whom he could pick up lessons.
Responding to a question, posed in writing in advance, he said he had a solution to resolve the Cauvery dispute through "proper dialogue" and stoking the humanness among the people of Karnataka. "Not only water, we can even get blood," he said, adding, "I am referring to blood donation. People from Bengaluru generously helped Tamil Nadu during tsunami and floods."
Haasan said he is not a leader but a worker – a coordinator who serves people. "I feel we can do a lot to get everyone a good education…equal education for every one of the best standard. That is why I said we need to start the work here. Those who are playing politics in the name of caste and religion, I say to them: stop it. Otherwise, we will do it (stop politics of hate)…and we will become the model (while doing that), leading the way."
READ ALSO: Can Kamal Haasan and Rajinikanth repeat their success stories in politics?
Haasan said his plans to adopt eight villages in Tamil Nadu in the initial stage was a decision to begin that service for the people.
Without naming any party, he took on political outfits that bribe voters: "If you had voted for the right party, you would have got Rs 6 lakh every year instead of Rs 6,000 for your vote once in five years."
Most people projected as leaders of the new party are unknown faces – many of them running Kamal Haasan fans' associations in districts; a few lawyers, and a retired police officer.
Late President A P J Abdul Kalam's close relatives, who had announced their decision to join the new party, praised the actor-politician for beginning his political journey from Rameswaram, Kalam's native place.
Kerala Chief Minister Pinarayi Vijayan, who failed to attend the rally, sent a video message, partially in Tamil.. "He is very dear to me and the people of Kerala," Vijayan said in the video. Calling Haasan a unifying link between Kerala and Tamil Nadu, he said the new party will enrich Kerala too in its fight to uphold secularism, socialism and a pluralistic society.
Delhi CM Kejriwal and senior Aam Aadmi Party leader Somnath Bharti, besides Coordination Committee of All-Tamil Nadu Farmers' Association leader P R Pandian, were the key figures who shared the stage with Haasan.