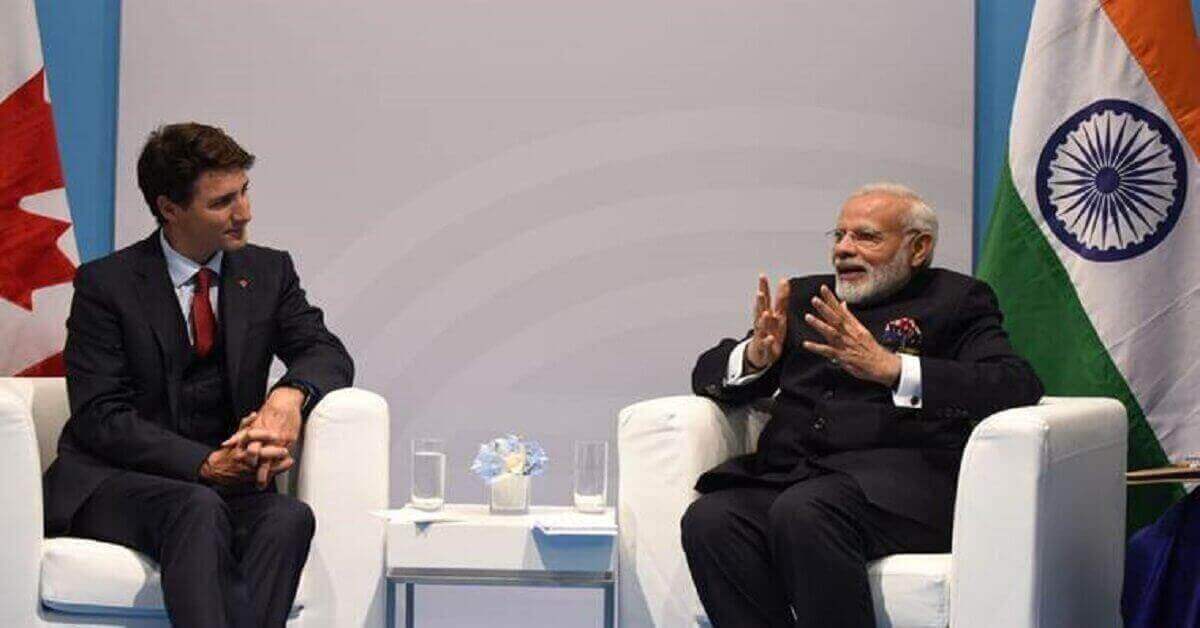 On Friday the 23rd of February, Prime Minister Narendra Modi finally meets his counterpart Canadian Prime Minister Justin Trudeau and gives his famous bear-hug.
The two are all set for their bilateral talks.  
READ ALSO: Red carpet treatment finally greets Trudeau: LIVE UPDATES
Here are the LIVE UPDATES:
14:14 PM
There is no place for those who indulge in communal politics and those who seek to divide the society. We should not tolerate those who pose a threat to our country's unity, integrity and sovereignty: PM Modi
14:13 PM
Justin Trudeau, in briefing with PM Modi, says India and Canada "share common respect for democratic values, pluralism and democracy".
14:09 PM
We seek to uphold democratic traditions, pluralism and diversities: Justin Trudeau 
14:08 PM
We discussed strengthening people-to-people ties. Canada has more than 1.3 million people of Indian descent. We expect the numbers to grow in 2018: Justin Trudeau
14:08 PM
India-Canada partnership must create jobs: Justin Trudeau 
14:05 PM
We have the responsibility to set the right parameters to make the economy benefit everyone, and not just the rich: Justin Trudeau 
14:04 PM
India is a natural partner, trusted friend: Justin Trudeau
13:58 PM
Canada is an energy superpower and can help us meet our growing demands for energy: PM Modi
13:57 PM
India and Canada will deepen social and economic ties. Canada Pension Fund is a large investor in India. We look forward to allowing Canada to double investments in India: PM Modi 
13:57 PM
PM Modi, in joint briefing with Canada's Justin Trudeau, says "can't tolerate people who challenge integrity of our nations".
13:55 PM
We have been successful in cooperating on combating terrorism. It is important for India and Canada to come together in fighting terrorism: PM Modi
13:55 PM
In my 2015 visit to Canada, I went to Vancouver, Toronto and Ottawa and saw that a large number of Indians live in your country: PM Modi to Justin Trudeau
13:54 PM
I am happy to welcome Prime Minister Justin Trudeau to India. This is his first visit to India as Prime Minister. He had visited India in 1983. I am happy that before meeting me you have toured India: PM Narendra Modi
13:51 PM
India-Canada sign key agreements – 6 MoU agreements being exchanged in Delhi.
13:48 PM
PM Modi, Justin Trudeau address joint briefing.
13:08 PM
Ministry of External Affairs spokesperson Raveesh Kumar tweets:
New momentum in the relationship! PM @narendramodi received Canadian PM @JustinTrudeau at the Hyderabad House ahead of the bilateral talks. pic.twitter.com/41Coy83qw6

— Raveesh Kumar (@MEAIndia) February 23, 2018
12:13 PM
Modi, Trudeau hold talks
The Prime Ministers have met at Hyderabad House where they are scheduled to hold bilateral talks. Modi, in a tweet last night, said he was looking forward to meeting Trudeau. The two are expected to cover wide-ranging areas in key sectors of mutual interest.
12:09 PM
Prime Minister Narendra Modi meets Canadian Prime Minister Justin Trudeau at Hyderabad House in Delhi for delegation level talks later.
11:10 AM
Trudeau, Swaraj hold talks
Justin Trudeau and Sushma Swaraj are holding bilateral talks. Their meeting comes a day after Swaraj met a Canadian delegation, including the Canadian Foreign Minister. They held discussions on a wide range of topics including strengthening relations in trade and investment, security and cybersecurity, energy, people to people contacts and other relevant bilateral and regional issues.
10:44 AM
Justin Trudeau meets Foreign Minister Sushma Swaraj in Delhi. The two ministers are expected to talk about strengthening and deepening the partnership between the two countries, tweeted Foreign Ministry spokesperson. 
10:28 AM
Trudeau's visit to India has been mired in controversy. The latest issues to dampen the mood? Canada-based Khalistani activist, convicted in the attempted murder of a Punjab Minister in 1986, was invited to two events organized for Trudeau, in Mumbai and Delhi. After it kicked up a row, the Canadian High Commission in New Delhi said it had rescinded the invitation last night. Meanwhile, a Canadian journalist who protested PM Modi's visit to Canada in 2015, is also part of Trudeau's delegation to India.
10:18 AM
Justin Trudeau and family pay floral tribute at the memorial of Mahatma Gandhi in Rajghat.
Paying homage to the Father of the Nation. PM @JustinTrudeau and family pay floral tributes at the samadhi of Mahatma Gandhi pic.twitter.com/an2QcIpmP1

— Vikas Swarup (@VikasSwarup) February 23, 2018
READ ALSO: Why did PM Modi not hug Canadian PM Trudeau? Will he?
10:05 AM
Prime Minister Narendra Modi greeted Justin Trudeau with his signature bear-hug at Rashtrapati Bhavan in Delhi.
9:36 AM
Trudeau has a packed day ahead in the national capital. He heads to Rajghat now to pay tribute to Mahatma Gandhi. Later, he is expected to hold talks with External Affairs Minister Sushma Swaraj before meeting Prime Minister Narendra Modi.
Taking to Twitter yesterday, PM Modi said he was looking forward to meeting Trudeau. He also tweeted,
I hope PM @JustinTrudeau and his family had a very enjoyable stay so far. I particularly look forward to meeting his children Xavier, Ella-Grace, and Hadrien. Here is a picture from my 2015 Canada visit, when I'd met PM Trudeau and Ella-Grace. pic.twitter.com/Ox0M8EL46x

— Narendra Modi (@narendramodi) February 22, 2018
Replying to his tweet, Trudeau said, "She remembers it well, @narendramodi! It's been great to visit so far – we'll see you today."
9:26 AM
Trudeau given ceremonial reception at Rashtrapati Bhavan
Trudeau was given a ceremonial reception at the Rashtrapati Bhavan. He was received by President Ram Nath Kovind, Prime Minister Narendra Modi and members of the Union Cabinet. He has a busy day ahead.
9:23 AM
RECAP:  Trudeau arrived last Saturday and has traveled to several states in the country over the last week. Today, he will meet Narendra Modi and the two Prime Ministers will hold bilateral talks.