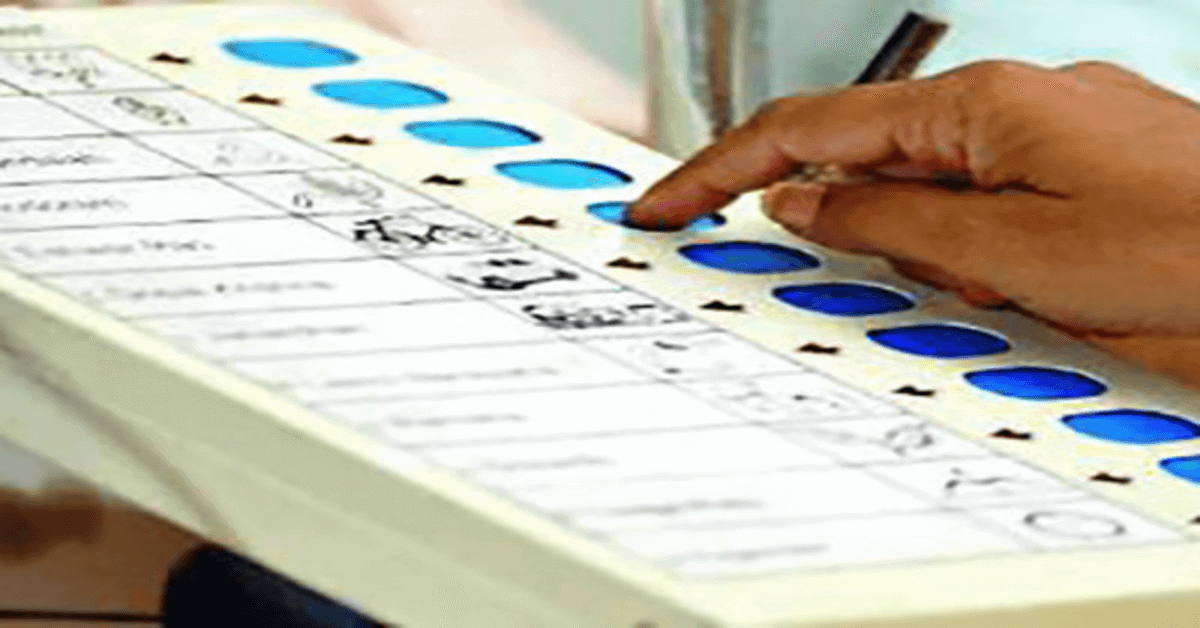 The polling in the states of Meghalaya and Nagaland have been going on for the past 8 hours or so. So how well have these two states fared?
Will the citizens' hopes be fulfilled? Here are the latest updates:
17:45 (IST)
75% polling percentage in Nagaland till 5 pm
17:09 (IST)
Meghalaya chief minister Mukul Sangma positive of win
Chief Minister Mukul Sangma voiced confidence that the Congress will retain power, crossing the magic figure of 31 MLAs. 
"I have full faith in the people. I believe they have full confidence in the Congress. We will cross the magic number," Sangma told journalists after voting at Chengkompara polling station in Ampati segment.
Sangma, the chief architect of the Congress win on 29 seats in the 2013 elections, is contesting from Ampati and Songsak.
Asked whether the Congress had decided on potential partners in case it fell short of a majority in the new house, he quipped: "We do have lots of good friends."
 17:04 (IST)
50% vote in Meghalaya as balloting ends, people still queued up
Over 50 percent of the 18.9 lakh voters exercised their franchise in the elections to 60-member Meghalaya Assembly at the end of voting hours, even as hundreds were still lined up to cast ballots.
"Over 50 percent electorate had cast their votes till 4 pm, with a large number of voters still in queues at various polling stations across the state," Chief Electoral Officer Frederick Roy Kharkongor said.
A total of 18,09,818 electorates, including 9,13,702 women and 89,405 first-time voters, were to decide the fate of 361 candidates, including 31 women and many independents. Counting of votes will take place on 3 March. A total of 31.40 percent of the voters had cast votes till 1 pm.
He said technical glitches in 31 Electronic Voting Machines (EVMs) and 41 VVPATs (Voter Verifiable Paper Audit Trails) were reported from around 180 polling stations.
16:33 (IST)
At 4 pm, 50% of the registered electorate had cast their votes in Meghalaya, says chief election officer
16:18 (IST)
Meghalaya chief minister, NPP chief cast their votes
Meghalaya chief minister Mukul Sangma, who is contesting the Assembly election from Ampati and Songsak constituencies, cast his vote at a polling station in South West Garo Hills district on Tuesday, election officials said. The chief minister cast his vote at the remote Chenkompara polling station in Ampati constituency in the afternoon.
Sangma is seeking re-election for the fifth time from his home constituency in Ampati. "Citizens of Meghalaya do exercise your voting rights in a responsible and judicious manner. Counting on you all for peaceful elections throughout the state," the chief minister had tweeted earlier during the day.
The National People's Party chief Conrad K Sangma cast his vote in Selsella constituency in the West Garo Hills district, a district election official said.
"We have done our best. We have showed the vision for the state. I am confident people will vote for change. It is now for the voters and I hope people turn out in large number," Conrad Sangma said soon after casting his vote.
 16:08 (IST)
North Shillong's Oakland polling station goes all pink
Interestingly, all seven of the candidates in the constituency are men.
15:53 (IST)
Nagaland: 67% polling percentage till 3 pm, says Election Commission
15:51 (IST)
Voter turnout of 46.83% reported until 3:30 pm in Meghalaya
15:42 (IST)
Meghalaya: BJP registers complaint with Election Commission over objectionable advertisement on radio channel
15:36 (IST)
Ex-Meghalaya CM and Nongpoh MLA Donwa Dethwelson Lapang casts his vote at Pahamlapong polling station
15:25 (IST)
Fresh clashes reported in Nagaland
According to a news agency one person was killed and two were injured after clashes broke out near a polling booth in Nagaland's Akuluto between Naga People's Front (NPF) and Nationalist Democratic Progressive Party (NDPP).
15:15 (IST)
Indo-Tibetan Border Police troops guard polling booths in Meghalaya
15:13 (IST)
Around 35% polling till 2 pm in Nagaland
14:46 (IST)
Mukul Sangma casts his vote in Meghalaya
14:43 (IST)
Nagaland AAP candidate alleges malpractice in his constituency 
Akavi Zhimomi, AAP candidate for Nagaland's Ghaspani-I seat, alleges voters fraud in his constituency, reports The Hindu.  He has been quoted as saying that he alerted the Election Commission over "one man one vote" not being practised in many polling stations.  
14:40 (IST)
Arrangements for the polls in Meghalaya
The CEO said a total of 106 companies of the Central Armed Police Forces (CAPF), along with the state armed personnel and police, were deployed across the state, especially in the troubled Garo Hills region.
Tuesday's polling will decide the fate of 361 candidates, including 31 women and 80 Independents, election office sources said, adding that 18.09 lakh voters were eligible to exercise their franchise in 3,025 polling stations in the state. For the first time, 67 all-women polling stations and 61 model polling stations were set up in the state, the CEO said.
State Director General of Police (DGP) S B Singh said 580 polling stations were categorised as "vulnerable" and that strict security measures were in place across Meghalaya to ensure a free-and-fair election.
14:21 (IST)
Over half of the candidates in Nagaland are crorepatis
Out of the 193 candidates analysed in Nagaland, 114 (59 percent) were found to be crorepatis. The average of assets per candidate contesting in the Assembly elections is Rs 3.76 crores. However, there is one candidate, namely Akavi N. Zhimomi (AAP) contesting from Ghaspani-I constituency, who has declared zero assets in his affidavit.
14:19 (IST)
Voter turnout update at 2 pm
As of 2 pm, voter turnout in Nagaland stands at 57 percent. Voting in Nagaland is expected to continue till 4 pm. However, in some remote areas of the state, the polling may be wrapped up by 3 pm. 
14:09 (IST)
Malfunctioning in EVMs, VVPATs delay polling in Meghalaya
According to CEO Fredrick R Kharkongor, polling at many booths were delayed due to malfunctioning EVMs and VVPATs. He didn't give any numbers related to the scale of malfunctions saying they were still collecting information from the ground. He said polling hours will be extended accordingly.
14:03 (IST)
Want more employment opportunity in Nagaland, says voter
A 26-year old voter says she expects more employment opportunities to be created by the next government in Nagaland.
13:49 (IST)
NPF president Shurhozelie Liezietsu says Nagaland peaceful despite imposition of AFSPA
NPF president Shurhozelie Liezietsu says it puzzles him that the Indian government has put AFSPA in force in Nagaland despite the peace in the state. "The Naga issue is different from the problems around. Based on our unique history, we are fighting for our right. We believe we will be able to bring about a satisfactory conclusion to the problem. Nagaland is peaceful despite all the problems in the state. Naga people have been longing for peace for too long. Therefore, imposition of any draconian law is not at all necessary. That's what's puzzling us. Why Indian government has put that draconian law in force in Nagaland."
13:42 (IST)
Average assets of Meghalaya candidates grew by 44 percent
In Meghalaya, 57 MLAs are recontesting in the ongoing assembly elections. The average assets of these MLAs in 2018 is Rs 11.19 crores. Their average growth in assets from 2013 to 2018 is Rs. 3.41 crores i.e. an increase by 44 percent.
13:36 (IST)
Voting to end at 3 pm in some booths in Nagaland
In some remote areas in Nagaland, voting will end by 3 pm. However those voters who are present near the polling booths will be provided coupons so that they can continue voting even after the close of polls.
13:34 (IST)
NPF lodges complaint with EC, alleges BJP-NDPP of violating poll code
The NPF has lodged a complaint with the EC alleging that the NDPP-BJP alliance in Nagaland has violated the Election Model Code of Conduct
The NDPP-BJP alliance "has, through full, front page advertisements in the local daily newspapers today (26 February, 2018), blatantly violated the Model Code of Conduct by way of making a slew of promises", NPF associate press secretary Atou Liezietsu wrote to the CEO, Nagaland.
According to the NPF, these promises include "100 percent funding of Centrally-sponsored schemes for Northeast region (which was earlier in the ratio of 90:10), Rs 5300 crore for infrastructure in the next three years, Rs 10,000 crore for roads in Nagaland, Rs 3000 crore for Dimapur-Kohima railway line, Rs 800 crore for power connectivity, and Rs 1800 crore for Kohima Smart City".
13:21 (IST)
Polling percentage at 1 pm
As of 1 pm, the polling percentage in Nagaland is 56 percent, while it stands at 28.5 percent in Meghalaya. 
13:17 (IST)
ITBP troops guarding various polling booths in Nagaland
13:13 (IST)
People are queuing up in front of polling booth at Baghmara in Meghalaya
13:06 (IST)
Meghalaya BJP president casts his vote
12:50 (IST)
More details on clashes in Nagaland
"At about 11.10 hrs at Akuluto AC 31, two groups from NPF and NDPP clashed and the party people opened fire in which one person died and two were injured. No disturbance to polling process which goes on well. An Additional SP is on the scene. Further details to follow", said Nagaland CEO Abhijit Sinha.
12:48 (IST)
Faulty EVMs found in Meghalaya's Garo Hill 
A national news agency reported that as many as 30 EVMs were found to be problematic in Meghalaya's Garo Hills. But the report quoted officials as saying that the machines faced issues with faulty wiring. 
12:42 (IST)
One dead, two injured in clash in Akuluto constituency in Nagaland
A national news agency is reporting that one person has died and two others have been injured after two groups from NPF and NDPP clashed in Akuluto Assembly constituency in Nagaland. The report also quoted CEO Abhijit Sinha as saying that there was also firing at the spot. 
12:28 (IST)
Despite Fragile Peace, Nagaland Outranks Rich States In Health, Gender Parity
After a decade of precarious peace, Nagaland, India's once troubled north-eastern state, now rivals and even outperforms India's richest states on a number of development outcomes, according to an IndiaSpend analysis of 10 states on 20 socio-economic and health indicators.
However, poor infrastructure and a fragile peace continue to be problem areas as the state–formed on December 1, 1963–heads to the polls on 27 February, 2018.
12:20 (IST)
Mukul Sangma votes in Ampati
Meghalaya's incumbent chief minister Mukul Sangma stands in a queue to cast his vote at a polling station in Ampati from where he is contesting. He is also contesting from a second constituency, Songsak.
12:15 (IST)
AAP candidate poorest in Nagaland 
According to a news agency, Aam Aadmi Party candidate Akavi is the poorest in the fray. Akavi, who is contesting Ghaspani 1 Assembly constituency, has declared zero assets in his name. 
12:10 (IST)
Over half of all candidates crorepatis, JD(U)'s Ramongo Lotha richest with Rs 38.92 crore, finds report
Fifty nine percent of the candidates for the 27 February Assembly elections in Nagaland are crorepatis with JD(U) nominee Ramongo Lotha being the richest with a total wealth of Rs 38.92 crore, an analysis of the affidavits said. The Association of Democratic Reforms (ADR), which analysed the affidavits of 193 aspirants out of a total of 196 candidates, found out that 114 candidates are crorepatis.
 12:03 (IST)
In Meghalaya, political dynasties rule the roost as spouses, scions of heavyweights battle it out
Elections in Meghalaya are to a large extent family affairs. Political heavyweights, along with their spouses and scions, are fighting it out to retain power in Tuesday's Assembly elections in the hill state.
Meghalaya Chief Minister Mukul Sangma, who is contesting from Ampati and Songsak seats, has three family members in the fray from the Garo Hills region. NPP candidates and relatives of former Lok Sabha speaker Purno A Sangma are also fighting the polls from four seats in the region.
11:57 (IST)
Six percent of the candidates face serious criminal charges
In Meghalaya, 370 candidates are contesting elections this year. Out of these 25 (7 percent) of the candidates have criminal cases, while 21(6 percent) of them are accused of serious crimes. This includes the likes of former militant Julias Kitbok Dorphang, who has been accused of sexually assaulting a 14-year-old in the infamous Marvellene Inn case last year. He is contesting as an Independent from Mawhati constituency in Nongpoh.
 11:46 (IST)
11 am voter turnout in Meghalaya
According to a news channel, Meghalaya recorded a total voter turnout of 41 percent till 11 am. 
11:40 (IST)
11 am voter turnout in Nagaland
As of 11 am, the voter turnout stands at 38 percent in Nagaland.
 11:35 (IST)
'Congress is happy with the way polling is being conducted'
Meghalaya Pradesh Congress Committee (MPCC) working president James Lyngdoh says the Congress is happy with the way polling is being conducted so far in the state today, with respect to security arrangements, voter tunout etc. "Everything is going smoothly," he said.
 11:27 (IST)
Congress candidate for Umroi constituency and former chief minister's son, George B Lyngdoh, waits in a queue to caste his vote
11:18 (IST)
17% polling in Nagaland in first two hours of voting
Around 17 percent polling was registered in the first two hours of voting for the 60-member Nagaland Assembly.
Nagaland's Chief Electoral Officer (CEO) Abhijit Sinha said a blast was reported from a polling booth at Tizit village in Mon district about an hour before the voting started.
"A handmade crude bomb was lobbed at the polling booth at around 5:45 am, in which one village council member, Yanlon, suffered minor injuries in the leg," he said.
However, polling is continuing in the said booth.
There were no other reports of violence from anywhere in the state till 10 am, Sinha said.
11:11 (IST)
Meghalaya governor casts vote
10:58 (IST)
Various twists and turns in the run up to Nagaland polls
The run-up to the polls saw several twists and turns — with the Core Committee of Nagaland Tribal Hohos and Civil Organisations (CCNTHCO) demanding a solution to the vexed Naga problem before the elections. The Bharatiya Janata Party (BJP) and NDPP which has forged a pre-poll alliance in Nagaland is contesting in 20 and 40 assembly seats, respectively. However, the ruling Naga People's Front, which was an ally of the BJP at the Centre and Manipur is fighting the elections alone
10:52 (IST)
Kohima voter seeks stable Nagaland government
A 37-year old voter from Kohima hopes for a stable government in Nagaland. He also says that removal of AFSPA would help tourism in all of North East.
10:45 (IST)
NCP candidate from South Tura, John Leslee Sangma, casts his vote
10:33 (IST)
Details of today's arrangements in Meghalaya
Of the 2,156 polling stations, 1,062 are critical, 530 vulnerable and 564 normal polling stations. Over 15,000 government employees will be on poll duty and there will be 177 all-women polling stations across 25 constituencies in the state. Election Commission officials said there are 55 election observers, including 22 general and expenditure observers each and 11 police observers, besides 442 micro observers.
10:28 (IST)
UDP candidate from Meghalaya's Nongpoh constituency, Rona Khymdeit, casts her vote
10:21 (IST)
EVM, VVPAT issues reported due to connectivity issue, says Meghalaya CEO
Meghalaya CEO Fredrick R Kharkongor said faulty EVMs and VVPAT errors were reported at some places due to connectivity issue. "Booth-level engineers have been sent to rectify the VVPAT issues. Wherever there is a delayed start, we will extend the poll timing accordingly, and issue token to people standing in queue." The CEO office is still collating the information on the total number of faulty VVPATs.
 10:19 (IST)
Nagaland CEO Abhijit Sinha confirms 40 VVPATs, 16 control units (CUs) and ballot units (BUs) were malfunctioning
10:17 (IST)
Complaints of malfunctioning EVMs, VVPATs emerge from Meghalaya
Complaints of EVM and VVPAT malfunction are pouring in from all over the state. People had to stand for long at St Anthony's School in Shillong East constituency because of faulty EVMs. While some voters who arrived early at 7 am were still waiting, some had started to leave. An election official said that batteries went down in new machines. "They brought in another one but that too did not work. Can you believe it? Is this what so much of public money is spent for? Till voting day scam in EVM machines or is someone playing dirty? Old people standing in the queue are being made to wait for hours," he said.
 09:58 (IST)
Tensions along Assam-Nagaland border
Voting halted in Ladigarh polling station due to tension along Assam-Nagaland Border under Tamlu constituency in Longleng district of Nagaland.
 09:57 (IST)
Hope people will turn out in large numbers and vote for us, says Conrad Sangma
"We have done whatever we could do to put our vision for the state in front of people. We are hoping that people will turn in large number and vote for us. After the voting for this two days I will take some rest and go and see my daughter in Delhi. She has been there alone for a month. I will come back on the 2nd as 3 March is counting day": Conrad Sangma, NPP Chief, Meghalaya.
 09:51 (IST)
IPR Minister and Congress candidate from East Shillong, Ampareen Lyngdoh, just cast her vote at Laitumkhrah
09:38 (IST)
First polling percentages emerge
While 22 percent voting was recorded in Meghalaya till 9:30 am, the number was slightly lower at 17 percent in Nagaland till 9 am.
09:29 (IST)
BJP determined to form to grow in North East
Buoyed by the formation of governments in Assam, Manipur and Arunachal Pradesh, the BJP is making a determined bid to expand its footprint in the North East. Political observers are keenly watching the BJP's push in the North East, a Congress stronghold, where the saffron party has traditionally been a marginal player.
 09:26 (IST)
Voting only to take place in 118 constituencies across two N-E states
In Meghalaya, the election has been countermanded in Williamnagar in the wake of the killing of NCP candidate Jonathone N Sangma in an IED blast in East Garo Hills district on 18 February. In Nagaland, NDPP chief Neiphiu Rio has been declared elected unopposed from the Northern Angami-II constituency, reported a news agency.
 09:23 (IST)
State CEOs say polling begins in most booths across Meghalaya, Nagaland
The Nagaland CEO Office said that polling started in 1,732 of 2,156 booths in the first hour, reported a news agency. On the other hand, Meghalaya Chief Electoral Officer Frederick Roy Kharkongor informed that polling began in in 2,221 out of 3,025 polling stations in the first hour, the report added. 
09:17 (IST)
Meanwhile, EVM snag hits several polling booths in Meghalaya
Multiple EVM failures have been reported in various polling stations in Salmanpara and South Tura. In this photo from Babupara in Salmanpara, even the second EVM has ceased to work.
09:07 (IST)
Nagaland CM TR Zeliang hopes for peaceful and lasting solution to Naga problem
09:04 (IST)
New information emerges from Nagaland
Sources says a crude handmade bomb was lobbed at Tizit polling station at around 5.45 am, where one village council member, Sri Yanlon, sustained a leg injury. Polling processes is continuing at the station. 
08:57 (IST)
Voting underway in Nagaland's Jalukie
08:53 (IST)
EVM failure reported from South Tura 
EVM failure has been reported in Pechon Memorial High School Polling centre in South Tura Constituency in Meghalaya. Voters are waiting for a replacement.
08:50 (IST)
More details emerge from Nagaland 
The local police has confirmed the news of the explosion.  The bomb explosion occurred at 6.45 am and one man suffered injuries in his left leg, says Nagaland Police. 
08:40 (IST)
Bomb explosion in Nagaland
An explosion has been reported from insurgency-hit Nagaland. A national news agency reports that a polling station has been attacked in Tizit Assembly constituency. More details are awaited. 
08:35 (IST)
Pink booths in Meghalaya
Happy faces at a pink booth, one of 60 across Meghalaya, in Jirang, an ST constituency in Ri Bhoi District, Khasi Hills. Pink booths are manned exclusively by women election officials. There is one in each constituency.
08:31 (IST)
Meghalaya's development indicators falling as insurgency and poor infrastructure impede progress
Meghalaya, a picturesque hilly state in the sub-eastern Himalayan region, nearly matches India's richer states on the best health outcomes. However, insurgency and poor infrastructure impede its progress on other development indicators, shows an IndiaSpend analysis of the state's performance on 20 development indicators in comparison with nine other states and the national average.
This rare matrilineal state–where family descent is traced through the mother rather than the father–is also slipping on gender indices, reflecting a wider change.
 08:21 (IST)
As politicos lure voters with cash, Church's Clean Election campaign goes for toss
In Nagaland, buying and selling of votes is common. It's seen as a major cause of what ails society. Even the Church's Clean Election campaign, which it has been leading for years, has hardly had an impact. Reverend Zelhou Keyho, secretary general of Nagaland Baptist Church Council said, "As long as buying and selling votes exists, our society will continue to have problems."
But Wangto defends himself. "Those elected won't return for five years. They'll eat up thousands of crores of funds meant for the people. So how can accepting a mere fraction of that be wrong?"
  08:18 (IST)
Voting commences in North Tura Constituency
Ten candidates are battling out in this Meghalaya constituency, including AAP's Shalnangh C Marak.
08:15 (IST)
What's in a name? Fondness for English names makes Meghalaya's voter list funny and interesting
Italy, Argentina, Sweden and Indonesia will vote and choose their representative to the Meghalaya Legislative Assembly this 27 February! Well, if you wonder how these countries have voting rights in this hill state in India's North East, you are in for a surprise. Italy, Argentina, Sweden and Indonesia are the names of voters of Umniuh-Tmar Elaka village under Shella constituency in East Khasi Hills district.
 08:11 (IST)
Meghalaya state electoral body's proactive public outreach
The Election Commission in the state has been proactive in reaching out to the electorate — releasing music videos, conducting street-level activities and hosting concerts over the past few months in order to promote responsible and ethical voting. In this video released a couple of days ago, Meghalaya's Chief Electoral Officer, Fredrick R. Kharkongor, illustrates the secure and transparent voting process facilitate by EVMs and VVPATs. 
07:52 (IST)
Prime Minister Narendra Modi urges Nagaland, Meghalaya voters to vote in large numbers
07:51 (IST)
Heavy security in insurgency-hit Nagaland
Five companies of Orissa Armed Police have been deployed to provide security during polling in Nagaland.
07:49 (IST)
Insurgency a major issue in Nagaland
Presently, there is a growing demand among various civil society organisations to resolve the 'Naga political issue', as the Naga insurgency problem is fondly referred to by Naga nationalist groups as well as Naga insurgent outfits in the North East.
07:45 (IST)
Rise in women candidates in both states
Both Nagaland and Meghalaya are seeing an increase in the number of women candidates. In Nagaland, where no woman ever has been voted to the Assembly, five women candidates are in the fray – the highest ever. The number of women candidates in Meghalaya is also the highest this time around with 32 in the fray.
07:43 (IST)
'Will take forward my husband's efforts': Slain Meghalaya NCP leader Jonathone Sangma's wife to contest polls
Krenilla Marak, the wife of Nationalist Congress Party (NCP) candidate Jonathone N Sangma, who was killed in an IED blast last Sunday, said she will contest Meghalaya election from the Williamnagar constituency.
"I will contest the election to take forward my husband's efforts towards the well-being of the people of Williamnagar," the 38-year-old mother of five said last week, adding, "Party leaders came to my house to express their willingness to allot me a ticket."
07:32 (IST)
Voting finally begins in model polling station in Shillong
07:27 (IST)
Polling being held for 59 constituencies of Meghalaya
Assembly elections are being held in 11 districts and 59 constituencies (elections in Williamnagar has been postponed due to the killing of one of the candidates, Jonathone N Sangma) in 2771 polling stations. This is a 24 percent increase in the number of polling booths since 2013 and includes for the first time in each constituency a pink booth, completely by women.
07:25 (IST)
Voting in Meghalaya in number
Meghalaya has an electorate numbering 18,44,785 voters including 9,29,314 female voters and 9,12,849 male voters, with 89,045 from among the age group between eighteen to nineteen. 
 07:24 (IST)
Voting delayed in Shillong model polling station due to EVM issues
07:23 (IST)
On 25 February, ITBP conducted confidence-building marches in Nagaland
07:21 (IST)
Political battlelines drawn in Nagaland 
In Nagaland where the prolonged peace process to find a solution to the vexed Naga political problem has remained a burning issue in the society, the NDPP-BJP alliance is posing a tough challenge to the ruling NPF. The NPF has resorted to painting BJP as anti-Christian during the electioneering while the BJP-NDPP has resorted to flaunting their plans to usher in all-encompassing development in Nagaland besides promising a final solution to the Naga imbroglio at the earliest.
 07:18 (IST)
Why Meghalaya is important for Congress
Meghalaya, in particular, is important for the Congress, where it has been ruling for 10 years on the trot. The Congress has deployed its full force in electioneering to prevent the BJP from making inroads among voters in Meghalaya. AICC president Rahul Gandhi has addressed several election rallies and party workers' meetings in Meghalaya to warn the voters against 'divisive designs' of the BJP.
07:15 (IST)
Congress faces uphill task in Meghalaya, BJP-NDPP appear confident in Nagaland ahead of crucial Assembly polls
The ruling Congress is facing an uphill task to retain power in Meghalaya while the BJP hopes to acquire a share of the power riding shoulders of its new ally Nationalist Democratic Progressive Party (NDPP) in Nagaland even as the two Christian-majority states in the North East go to Assembly polls on Tuesday.
07:04 (IST)
Voting begins in both states
07:00 (IST)
Voting queue up in Meghalaya