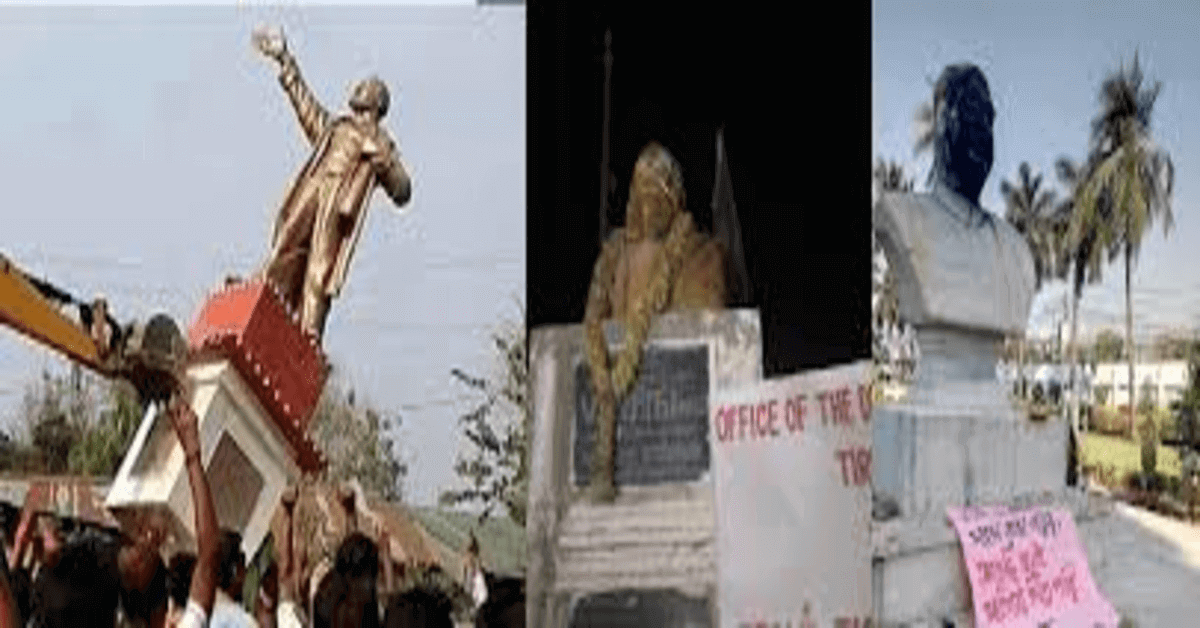 In a series of incidents of statue vandalization which began in Tripura has now a new incident in its tabulation.
Miscreants in West Bengal's Kalighat on Wednesday painted the bust of Bharatiya Jana Sangh founder Syama Prasad Mukherjee black.
Local residents have claimed that students of the prestigious Jadavpur University tried to vandalise the bust and painted its face black. The police have arrested six people after the incident. 
The West Bengal wing of the Bharatiya Janata Party has condemned the incident. 
READ ALSO: Coimbatore vandalization: BJP office and statue destroyed
"BJP West Bengal condemns barbaric act of vandalizing statue of the Bharatiya Jana Sangh Bharat Keshri's founder Dr. Syama Prasad Mukherjee at Keoratola Mohasoshan, Kolkata. We demand very strong action against culprits," Sayantan Basu, General Secretary, WB BJP said.
Yesterday two statues of communist icon Vladimir Lenin were brought down in South Tripura. A five-foot-high fiberglass statue of Lenin was toppled at Belonia on Monday, while a smaller figure was razed at Sabroom two days ago, district superintendent of police Monchak Ipper said.
CPI(M), which recently lost its last bastion Tripura to BJP in assembly polls, blamed the newly-elected party and its workers for the act of vandalism. 
A similar incident was also reported from Tamil Nadu, where a statue of social reformer and founder of Dravidian movement EV Ramasamy "Periyar" was allegedly vandalized in Vellore district.
Meanwhile, the Rajya Sabha has been adjourned due to protest against statue vandalization.
READ ALSO: Vladimir Lenin Statue demolished; Violence escalates in Tripura
The incident, which the police claimed was perpetrated by two drunk men, assumed political significance as it came after a BJP leader indicated that statues of the rationalist leader could be the next to be pulled down after an iconic Lenin statue was razed by suspected BJP workers in Tripura.
 WHAT IS PM MODI'S STAND ON THIS?
Prime Minister Narendra Modi has expressed strong disapproval after the vandalism of statues in Tripura and Tamil Nadu. PM Modi, according to a government statement, spoke to Home Minister Rajnath Singh who has ordered states to act sternly to check such incidents.