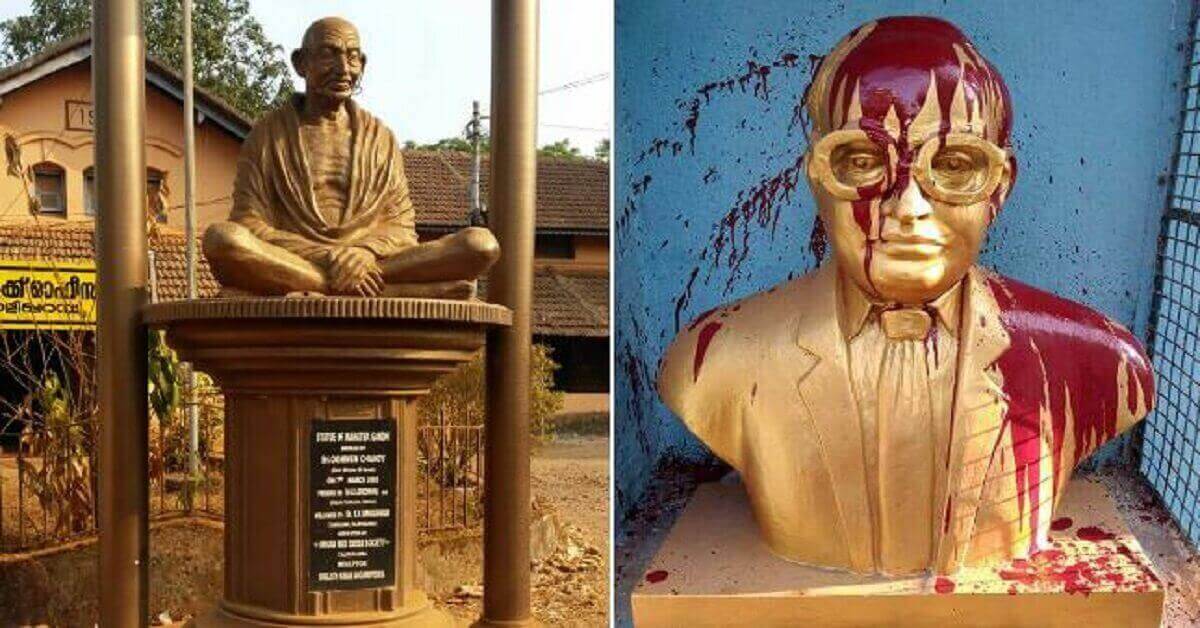 Soon after the attacks against Lenin's statue in Tripura and Periyar's statue in Tamil Nadu, more similar incidents have begun to arise in various parts of the country. It seems that Prime Minister Narendra Modi's strong reaction against such incidents has no effect on these miscreants. Now it has emerged that a statue Mahatma Gandhi and another statue of Dr B R Ambedkar have been vandalized by some unidentified individuals in Kerala and Tamil Nadu respectively.
According to reports, the statue of the father of the nation at Taliparamba taluk office in Kannur district has been damaged by few people around 7 am in the morning. They have broken the spectacles, damaged the garlands and hurled stones at the statue. It has been reported that the police have started the investigation.
ALSO READ: BREAKING NEWS! STATUE WARS CONTINUES IN INDIA
On the other hand, a statue of Dr BR Ambedkar was reportedly attacked in Tamil Nadu. Reports say that an unidentified group of miscreants have poured paint on the statue of Ambedkar at Tiruvottiyur near Chennai in Tamil Nadu.
It must be noted that these unfortunate incidents have taken place soon after PM Modi has condemned such incidents of vandalization. The issue of vandalization started with the demolition of the statue of Soviet leader Vladimir Lenin in Tripura soon after the Left Front's defeat in the state assembly elections. Later another statue of Lenin and a statue of Dravidian leader 'Periyar' EV Ramasamy also became subject to attack.