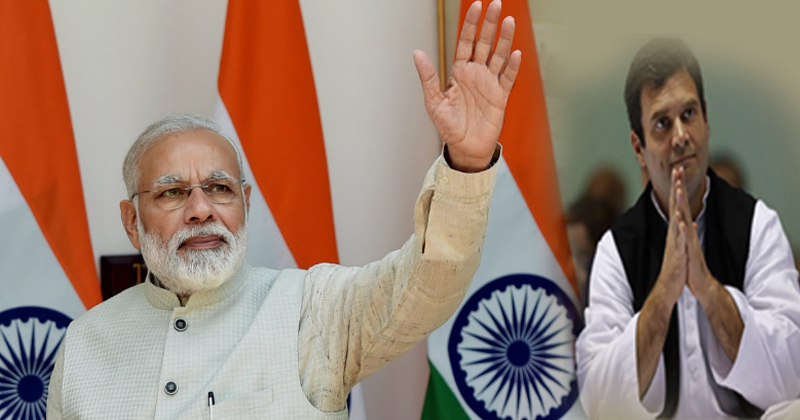 A Bangalore girl has written an open letter questioning #RahulGandhi which is going viral on social media. In her letter, she asks Rahul Gandhi himself to decide whether he can be compared with #NarendraModi.
She starts the letter with Qualities of #NarendraModi
Millions of people follow Narendra Modi as their leader, they accept him as their role model, how many people in our country consider you Mr Rahul Gandhi their role model? The country which doesn't want to recognize itself as dynastic followers elected Narendra Modi, but you represent the same dynasty which was rejected by people. Apart from having a Gandhi tag what is your achievement?
She also questioned Rahul with this "Every year Narendra Modi on his birthday meets his mother and she gifts him with BhagvatGita as an indication to follow the right path. Do your mother also do the same?"
Narendra Modi when he entered the Parliament for the first time touched the floor of the house and called it Temple of Democracy, do you also consider the same? Have you ever respected the Parliament same way? When he resigned as the Chief Minister of Gujarat after becoming PM, he donated 21 Lakhs of his salary amount to the Children education fund of government staff. Have you ever contributed anything to the country, Rahul?
Also Read: Rahul Gandhi accuses PM Modi of leaking users' details from his official app
She continued her questions with "Under PM Modi leadership, in a span of 4 years, 478 terrorists have been shot dead. How many terrorists were killed when your government was in power Rahul Ji?" Since 70 years more than 30% of poor people could not get a gas connection, but Modi in a span of 4 years has given Gas connection to over 5 crore people. Why could not your government do it?
She questioned the Congress family politics as:  Modi doesn't entertain any family favors or nepotism, but your family has dominated the entire party and considers the party as their personal property why? How did Robert Vadra get so much favor when your government was in power?
Also Read: Mamata Banerjee lashes out against BJP and RSS over Ram Navami rally
Mentioned about Developments in India
In a span of 4 years, there isn't one corruption case against PM Modi or his government, can you show the period in your government where there was no corruption? Your party people mock PM Modi as Chaiwala. He accepts that he sold tea, can you accept what your mother sold to become 4th richest Politician ??
She doesn't forget to mention the developments of Narendra Modi. She said he included more than 30 crore people into Jan DhanYojana within 3 years, why wasn't it possible in your 10 years rule? In order to save girl child, PM Modi started Beti Bachao, Beti Padao campaign, what have you done to save girl child in the country, Rahul?
Modi started MUDRA, Life insurance schemes which are benefiting crores of people in the country. How many schemes did you bring in 10 years?
Regarding Defence
The Doklam issue did not start after PM Modi government came to power, it started many years back when your government was in power. But PM Modi made the Chinese withdraw their troops, are you capable of doing that?
Modi took brave decision to conduct surgical strikes in Pakistan, Burma and Bhutan to protect our borders, what did you do to protect our borders during your government?
Leadership Quality
She also appreciates PM Modi's work and leadership. He was invited by US, Britain, Australia, Canada, Bhutan, Srilanka, Afghanistan, Nepal and Japan to address their parliament, how many countries invited you when you were in government?
In just 4 years, PM Modi became the most influential person Times Person in the world, you are in politics since 2004, but what have you achieved?
Narendra Modi in front of 22,000 people in Madison Square Garden declared that we are not a Nation of beggars and snake charmers but a Nation of rulers. Do you have the spine to praise our Nation like that Rahul?
Narendra Modi travels to different countries for the benefit of Nation, can you tell for whose benefit do you go abroad? PM Modi cleared OROP for soldiers, he got bulletproof jackets and helmets for our soldiers, what did your government give them?
She praised the sacrifices of #NarendraModi
PM Modi works for 18 hours a day, he sleeps on flight to save time and money. How many hours do you work for the country, Rahul?
PM Modi has no strong political background, with his mere hard work and commitment and dedication he became the Prime Minister of the country. Are you capable of relinquishing the Gandhi tag and achieving something with your potential?
At the age of 18 years, Modi left his house and joined RSS to serve the country. What were you doing at the age of 18 years, Rahul Gandhi? Every citizen of this country would dream to achieve something like PM Modi, how many would want to follow you and become like you??
She concluded the letter with an advice to Rahul Gandhi
It is not just the Gandhi tag what is required to this country Rahul but a person who can show the will and commitment to take the country forward.
Source Credit: Karunaada Vaani