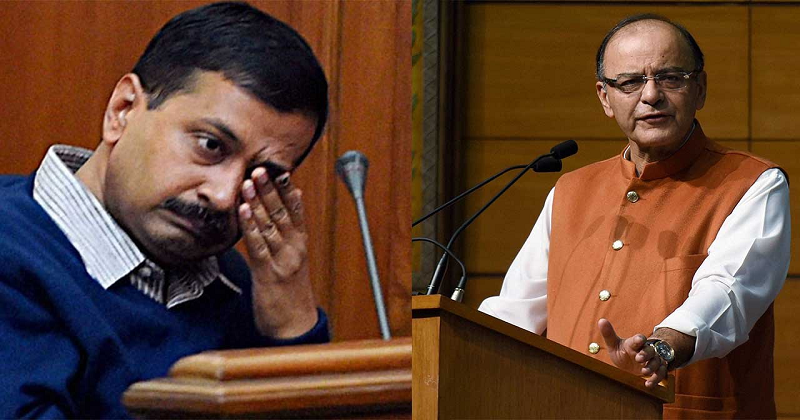 Even though Arun Jaitley accepted apology from Kejarival, still the case will be continued and this is the reason
Finance Minister Arun Jaitley has accepted an apology from Arvind Kejriwal and may drop a defamation case he had filed in 2015 after the Aam Aadmi Party (AAP) chief called him corrupt.
"Though we belong to two different political parties, I believe that we should end the unsavoury litigations between us and service the people of our country to the best of our abilities," said the letter from the Chief Minister of Delhi, who has been on an apology spree to extricate himself from a tangle of defamation suits.
The move by Kejriwal comes as no surprise as he has already apologised to several others, who had filed defamation suits and complaints against him. The joint application was mentioned before Justice Manmohan by advocates Manik Dogra and Anupam Srivastava, who appeared for Jaitley and Kejriwal, respectively.
The court agreed to list the matter for hearing before the appropriate bench tomorrow if no technical objection is raised by the registry.
Jaitley had in December 2015 filed a Rs 10 crore defamation suit against Kejriwal and five other AAP leaders– Raghav Chadha, Kumar Vishwas, Sanjay Singh, Ashutosh and Deepak Bajpai.
They had alleged financial irregularities in the Delhi and District Cricket Association (DDCA) when Jaitley was its president. The BJP leader had denied all these allegations.
He had also filed a separate Rs 10 crore defamation case against Kejriwal after his then lawyer, Ram Jethmalani, had used objectionable words against Jaitley during his cross-examination in the first suit.
Also Read : Arvind Kejriwal writes an apology letter to Arun Jaitley
According to the joint application, apart from Kejriwal, other AAP leaders — Chadha, Singh, Ashutosh and Bajpai — have "unequivocally" apologised for their statements against Jaitley in connection with irregularities in DDCA.
Vishwas has not yet tendered an apology and therefore, the proceedings shall continue against him.
Kejriwal also apologised for Jethmalani's use of objectionable words against Jaitley during his cross-examination. On February 20, Kejriwal had concluded his cross-examination of Jaitley in the first defamation suit.
Vishwas did not move any plea to settle the litigation. So, the defamation case against him will continue. "He (Vishwas) will not apologise and pursue the cases that have been filed against him," his aide Prabudh Kumar said.
After Kejriwal started issuing apologies for the remarks made by him against his political opponents last month, Vishwas had said that he would contest the defamation cases filed against him.
Vishwas has been at the odds with the party leadership for sometime now and shares a very cold relationship with his once "close friend" Kejriwal.