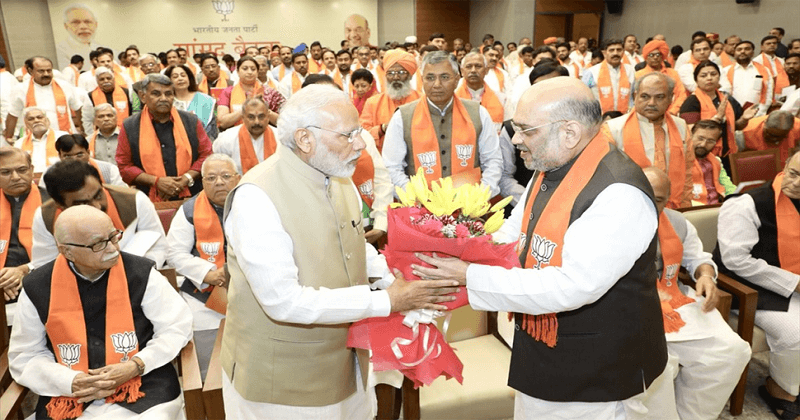 The Leaders commemorating Bharatiya Janata Party's 38th Foundation Day today. Prime Minister Narendra Modi will involve in talks with BJP workers of five Lok Sabha seats and with the presidents of the party's 734 district units through video conference via his NaMo App to mark the occasion.
Apart from this, BJP is holding a big rally in Mumbai today to demonstrate party's strength ahead of crucial Assembly polls and the 2019 Lok Sabha Election. Over lakhs of supporters are anticipated to join the rally today. Maharashtra Chief Minister Devendra Fadnavis on Thursday said that the objective is to show the growth and strength.
Party President Amit Shah has addressed the rally in Mumbai and took on opposition parties who were coming together to counter Prime Minister Narendra Modi in 2019.
The updates of BJP Foundation Day's commemoration
2.52 pm: We have to fight 2019 Lok Sabha election on Modi's work and win: Amit Shah
2.50 pm: Rahul Gandhi, we have only lost 2 seats but you have lost elections in 11 states: Amit Shah
2.48 pm: The fear of the Modiji's flood has made snakes, cats, neolas fighting elections together: Amit Shah
2.47 pm: The countdown of 2019 has begun and all the opposition parties are ganging up against BJP govt: Amit Shah
2.45 pm: This is not the golden era of Bharatiya Janata Party. BJP's golden era will come when BJP will form government in West Bengal, Odisha and 2019 Lok Sabha elections: Amit Shah
2.42 pm: Prime Minister Narendra Modi has materialised the principle of development of everyone: Amit Shah
2.39 pm: Our ancestors used to say that we are not for the consumption of power in politics, we have come to make power a tool in politics and the Narendra Modi government is on the same path: Amit Shah
2.36 pm: PM Modi ensured that the Parliament functions smoothly but the opposition did not let that happen. Today, Parliament was adjourned sine die: BJP president Amit Shah on BJP foundation day, in Mumbai
2.34 pm: In its journey of years, Bharatiya Janata Party has succeeded in creating an image of an organizational, patriotic and good governing party: Amit Shah
2.31 pm: The Bharatiya Janata Party has sacrificed the highest number of workers in the history of India's democracy, I pay tribute to all the sacrificial workers: Shri Amit Shah
2.30 pm: Our party was started with 10 members, today we have more than 11 crore memners: Amit Shah in Mumbai.
2.25 pm: A number of workers have sacrificed for worked the BJP: Amit Shah in Mumbai
2.20 pm: BJP president Amit Shah starts his speech in Mumbai. "Bharat Mata ki Jai, Kashmir se Kanyakumari tak awaaz jani chahiye," party chief Amit Shah says.
2.16 pm: In a spirited speech, Maharashtra Chief Minister Devendra Fadanvis hails PM Narendra Modi's efforts for upliftment of the nation.
2.10 pm: Maharashtra Chief Minister Devendra Fadanvis is addressing party workers in Maharshtra. Amit Shah is scheduled to adress the rally later.
2.02 pm: Watch: Amit Shah will address party workers soon. Currently, Gadkari, senior leader from Maharashtra is adressing party workers.
2.00 pm: Nitin Gadkari currently is speaking on the occasion of BJP Foundation Day in Mumbai.
1.15 pm: BJP president AmitShah reaches to the venue of public meeting on the occasion of BJP Foundation Day in Mumbai.
11.50 am: Check out PM Narendra Modi's tweet earlier in the day: I thank my sisters and brothers of India for their unwavering faith in @BJP4India. It is our commitment that we will continue to devote ourselves towards India's transformation.
11.25 pm: PM Narendra Modi tweets: At 4:30 this evening, I look forward to a very special interaction. I will interact with thousands of @BJP4India Karyakartas through a live video interaction, via the Narendra Modi Mobile App. It is always special to interact with hardworking Karyakartas!
11.04 am: Watch: BJP releases a BJP – a mission video on its anniversary