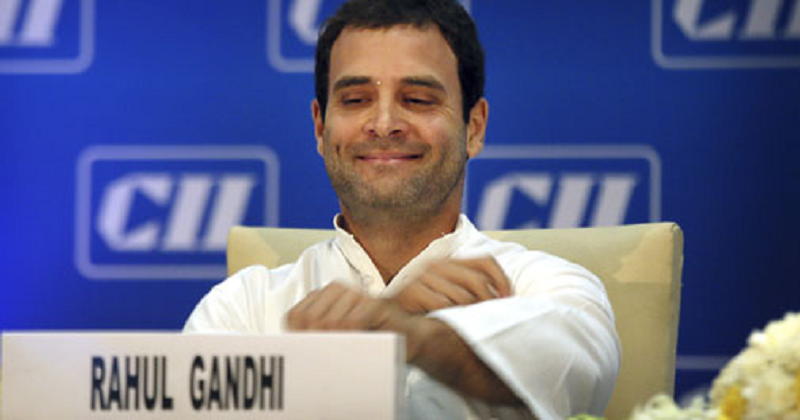 Due to these reasons Modi Govt collapsed completely , says Rahul Gandhi
Congress President Rahul Gandhi on Saturday said there is a collapse in the Prime Minister Narendra Modi led government.
Talking to reporters, the Congress President said the collapse is taking place for two-three reasons.
"One, there is complete financial mismanagement, demonetisation, and the implosion of the financial system. We don't understand, and even the government, that what is the extent of the hole in the financial system," Gandhi said.
He added," Second is the complete mismanagement of foreign policy. We have Chinasitting in Doklam and the Prime Minister sits with the Chinese president on a jhoola (swing) and China enters Dolam and nothing to be said, but silence and shock."
Also Read : Congress leader joins BJP in morning, returns in evening for attending Congress Committee
Gandhi said that the basic loss of control was visible in Prime Minister Modi and Bharatiya Janata Party (BJP) president Amit Shah's behaviour.
"There is a basic loss of control and you can see that in Mr. Modi's demeanour, expression, and speeches. You can see it in Mr. Amit Shah's confusion. Amit Shah's anger coming out saying all people are animals except myself. So, it is a demonstration of complete fracture in the system," Gandhi said.
Taking a swipe at Shah for calling entire Opposition animals, the Congress chief said it was the mentality that there were only two or three people in this country "who are worth anything, who understand everything and everybody else is a worthless person".
"Calling the entire opposition animals. see according to Amit Shah and the basic vision of the BJP-RSS – there are only two non-animals in this country. There is Mr. Narendra Modi and there is Mr. Amit Shah," Gandhi said.
He added, "Everybody else as far as they are concerned are animals. That's fine, that is the way they look at the world. It is a disrespectful statement, but we don't take what Mr. Amit Shah says with too much seriousness."