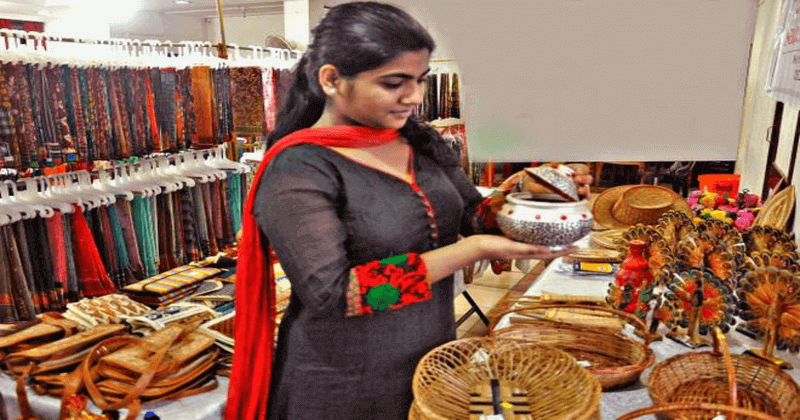 HAPPY VISHU TO ALL THE READERS!
It is Vishu, and the children are looking forward the Vishu kani, Vishu kaizhineetam; and not to forget the various gifts and clothes.
Just a decade ago, purchasing new clothes for Vishu was restricted to the affluent class in Kerala. But it seems the Vishu market is next only to Onam in being the biggest shopping season in the State. And just like Onam, traditional handloom wear is increasingly becoming popular for the festivities.
This Vishu, shoppers in Kozhikode are spoilt for choices with government, semi-government as well as private agencies coming up with handloom festivals.
As in the previous years, Khadi societies are the first to come up with Vishu related expos in the city, offering a wide range of cotton and silk handloom materials. The Khadi Gramodyog Emporium on S.M. Street and the Khadi Grama Soubhagya on Cherootty Road are also offering government rebates to attract shoppers.
The District Industries Centre and Directorate of Handlooms are organizing Vishu Handloom Expo on the Regional Public Health Laboratory premises on Pavamani Road featuring stalls by various weavers' cooperative societies in the district. Here, shoppers get to purchase directly from weavers without the interference of middlemen. The All India Handloom Festival that begins at Police Club on Monday offers a variety of handloom products from other States as well.
Imported products
Besides clothes, firecrackers are the next major attraction for Vishu. Shops are offering a wide range of products, including products imported from foreign countries. The vegetable market at Palayam is not yet ready for the Vishu Sadhya, but 'Kani Vellari' (golden cucumber), an integral part of the 'Vishukkani', is already available in the market. Other paraphernalia for the 'Vishukkani' such as the Lord Krishna idol and mirrors are on sale at various handicraft shops in the city.