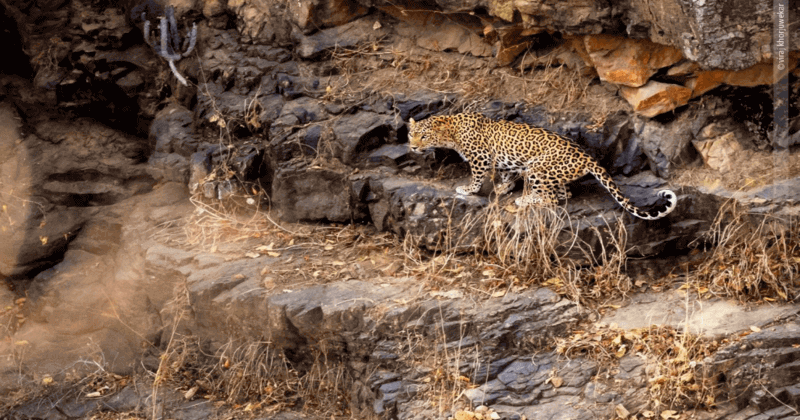 Between the mountain ranges of Aravalli and Vindhya, in the Sawai Madhopur district of Rajasthan lies Ranthambore National park.
It is well known for its Bengal tigers and is one of the best places in India to see animals in their natural habitat.
It is not just about tigers though, you can also see wild boar, Sambar, sloth bear, mugger crocodile and much more. Ranthambore is spread over an area of 392 sq km and is your perfect spot for a getaway and wildlife photography.
Getting there via train seems the easiest route to the Sawai Madhopur railway station is just 10 kilometers away from the national park. The nearest airport is Jaipur which is 176 kilometers away.
The park remains closed in the rainy season (July to September) and the best time to visit this park is from November to April where the weather gods mostly stay calm and the wild animals can be more easily spotted. The fact that park is in proximity to the Thar means there is less amount of rainfall and most of the trees you can see here are therefore dry deciduous plants. Dhok dominates the Flora and is the main diet of animals like deer and nilgai.
Home to a variety of animals, Ranthambore gives you a chance to see wildlife from close. The park has even reptiles like desert monitor lizards, Indian pythons, banded Kraits along with some 300 species of birds that comes visit this place. If you are an avid birdwatcher, get your binoculars and cameras. This place is among the best for wildlife photography.
The Tigers are most active just before dawn and just after dusk. This is the best time to see them. You can see them all in the 'canter' or the vehicle offered at the facility. It moves just at the right place for you to enjoy the wild. If you can spot a tiger in it's activity here, think you got your money's worth. It is the best sighting you can have there