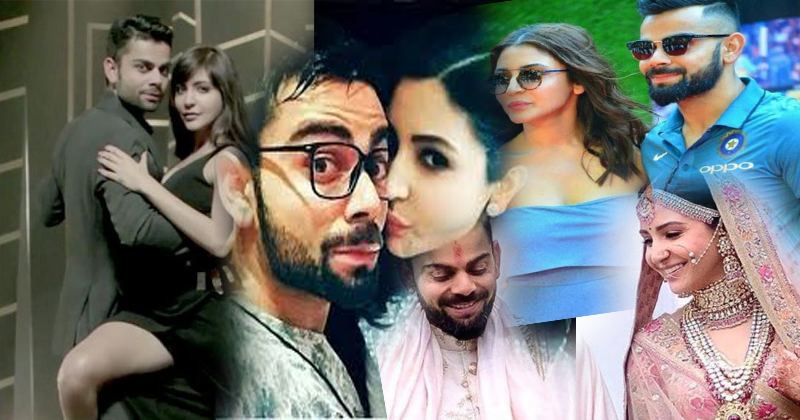 Happy Birthday..!
Anushka Sharma and Virat Kohli- one of the most beautiful and adorable couples of the country.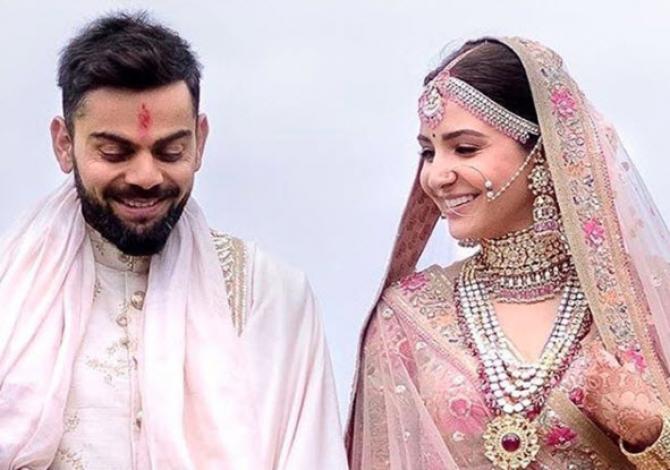 Third party image reference 
Their relationship came out in the public eye with Virat's tweet appreciating his 'love', Anushka's performance in her movie, NH10, and the two clearly confirmed everything. Virat fondly calls his ladylove 'Nushki'. Seeing this couple together brings a smile on the faces of their fans.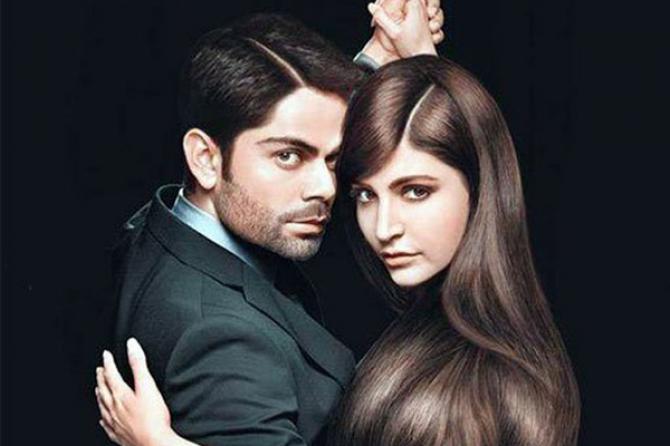 Third party image reference 
Virat and Anushka met each other in 2013, as they worked together for a TV commercial. After this, the two became very 'good friends', and were even spotted together at various places. Of course, in no time, the rumours about these two dating each other started doing the rounds.
What further caught attention of all was when team India arrived at the Mumbai airport from its South Africa tour in January 2014. Instead of going with rest of the team to the designated hotel, Virat went to Anushka's apartment. In fact, the actress herself had sent her car to receive him at the airport.
While these two lovebirds did not accept being in a relationship with each other initially, this did not stop them from missing out on any opportunity to spend time together. Anushka went to New Zealand in February 2014, and the Indian cricket team was also there for a tournament. They both were seen strolling around the city hand in hand, and very much in love.
Later in the year, Virat gave a surprise visit to Anushka in Sri Lanka, where she was busy shooting for Bombay Velvet. He also visited her on her 26th birthday in Udaipur, where she was shooting for the movie, PK.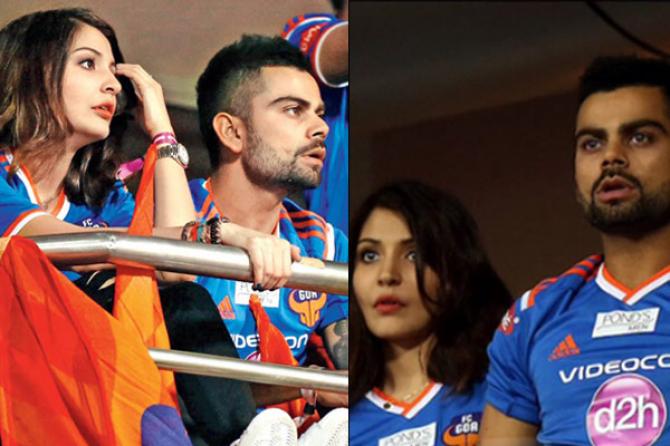 Third party image reference 
They made their first public appearance in October 2014, where the two went to watch an Indian Super League game together.
Although so many appearances together had left no one in doubt, the final acceptance from the couple came quite interestingly. After achieving a milestone in a match against Sri Lanka in November 2014, Virat blew a flying kiss towards Anushka, who was among the spectators.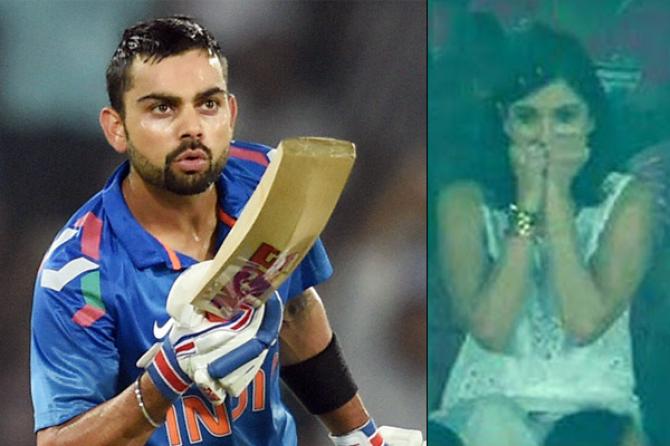 Third party image reference 
In the same month, Virat even admitted to his relationship with Anushka at an event and said:
"Whatever is there is out in the open, I have nothing to hide."
Anushka also accepted their relationship and gave a similar statement at another event. The actress said:
"We are not hiding anything. We are being two normal young people in a relationship."
Virat and Anushka made their first official red carpet appearance together at the Vogue Beauty Awards, on July 21, 2015, in Mumbai. While the lovely lady looked stunning in a light yellow gown by Gauri and Nainika, Virat complemented her well in a black suit. The couple looked amazing as they posed for the shutterbugs. And, the best moment of the evening was when Anushka spoke to NDTV about her 'handsome companion' and said:
"He's my very, very good looking arm candy."
Well, that's not all about the sweet moments from this lovely evening. While accepting the 'Beauty of the Year' award, Anushka shared the candid compliment that she received from Virat, who said she looked like a nimbu (referring to her gorgeous light yellow gown).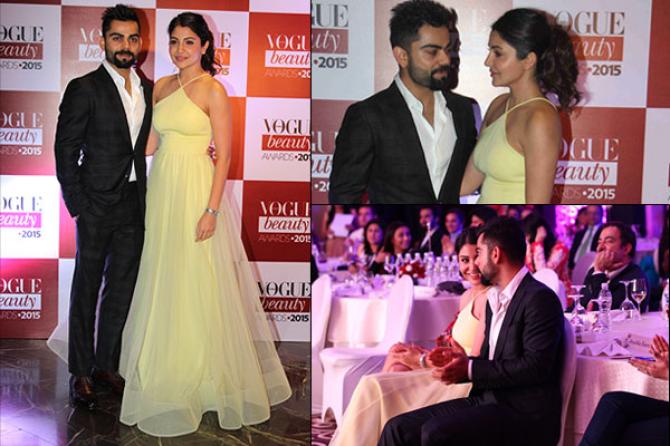 Third party image reference 
While these were some of the times when they fought with the world for each other, there also happened to be a time when they fought with each other.
As per various reports, Anushka's sexy photo shoot for a men's magazine cover did not go well with Virat and he showed his displeasure towards it to his lady. Reportedly, they had a major fight on this over the phone, but soon cleared things up.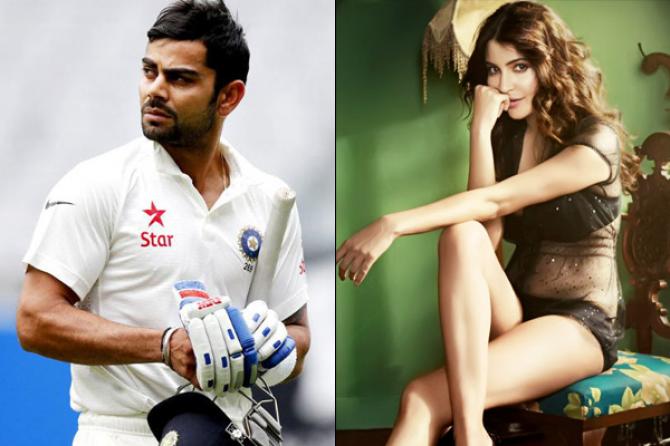 Third party image reference 
In February 2016, there were reports that Virat and Anushka have taken a short break from their relationship to sort out the differences and focus on their work. Their fans were heartbroken as they thought it was an end to a beautiful relationship. But, the couple surprised everyone when they came together to attend the success bash of Sultan at Salman's residence. Maybe they had sorted out their differences!
They kind of confirmed their breakup when the two unfollowed each other on Instagram. But, the following year, in December 2016, the couple was back together. They walked hand-in-hand for Yuvraj and Hazel's wedding.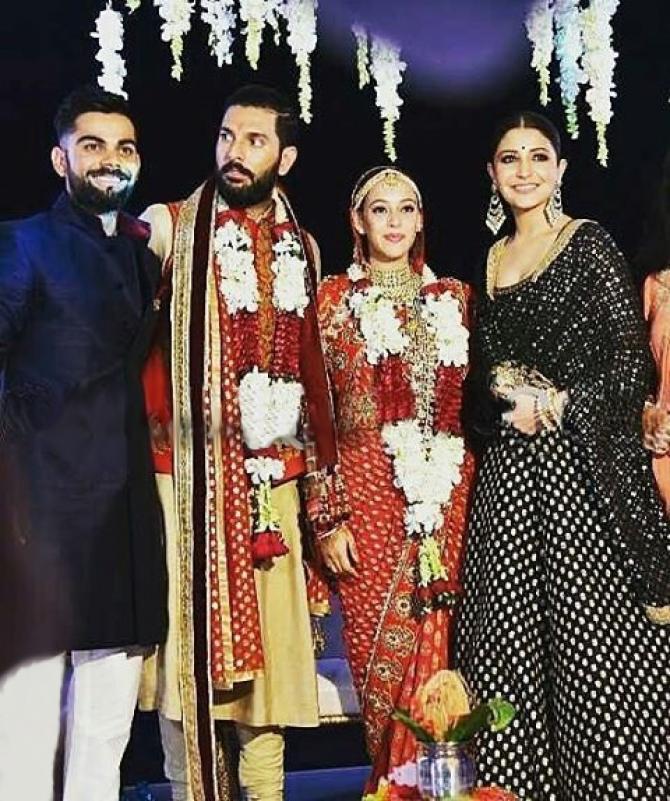 Third party image reference 
After dating for almost 4 long years and all the ups and downs in their relationship, they have come out as a strong couple who entered the new phase of their life by getting hitched in an intimate wedding on December 11, 2017, in Italy.It was an intimate Hindu Wedding attended by the close family and friends of Virat and Anushka. Both Anushka and Virat wore Sabyasachi outfits on their D-day and looked flawless.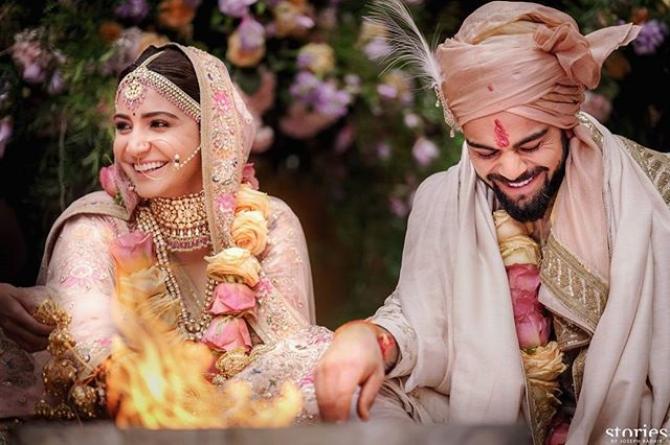 Third party image reference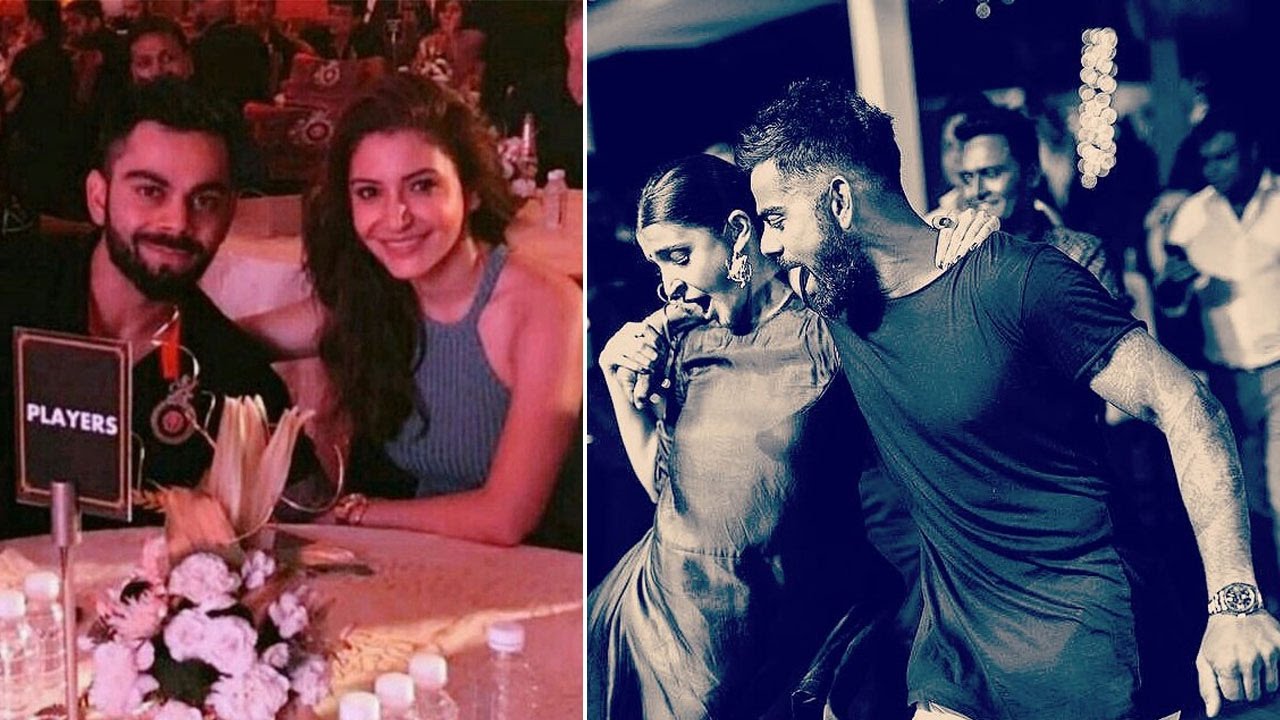 Third party image reference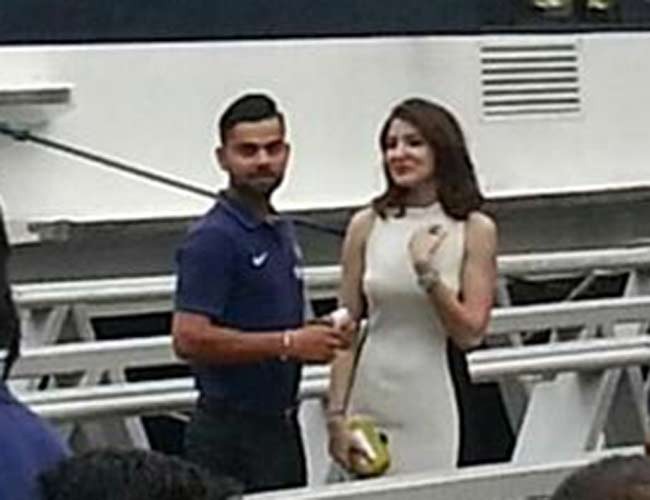 Third party image reference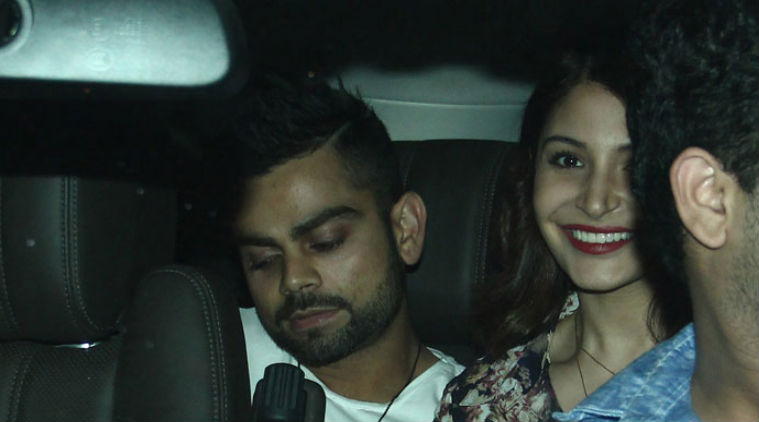 Third party image reference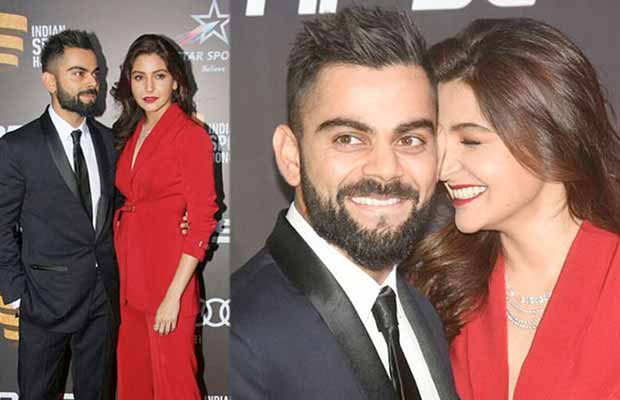 Third party image reference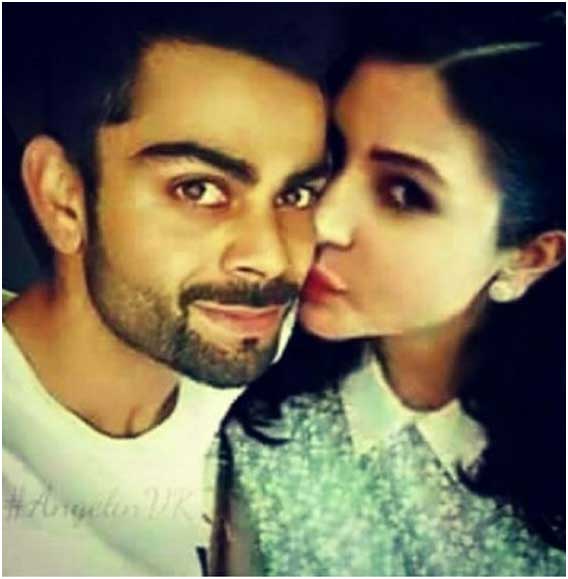 Third party image reference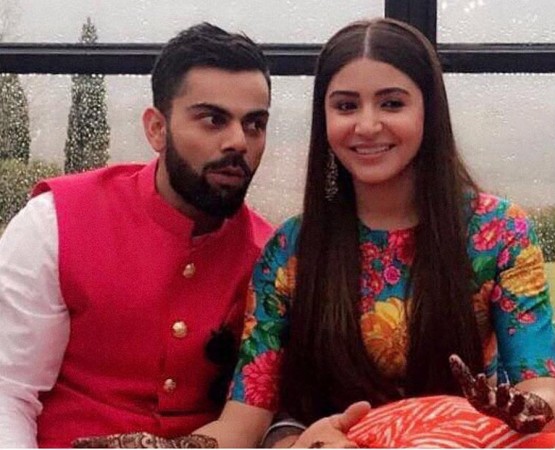 Third party image reference 
Also Read : Happy Wedding Anniversary, Mohanlal and Suchitra: See Rare Pics Of Them