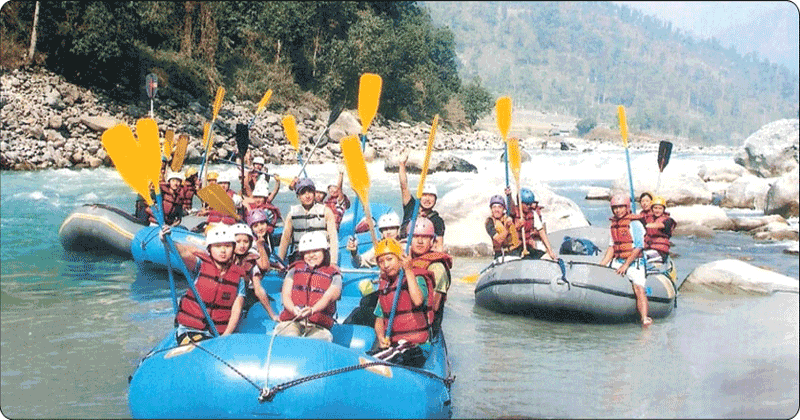 Teesta, the mesmerizing view of the dense forests along the slope of the mountains, the vegetation, the many different birds, fishes on the water, combined with the excitement of rafting through the torrents and foaming waters create an unforgettable experience. There are small villages on both sides of the river. You can, therefore, see many cultivated lands. Overall an awesome feeling.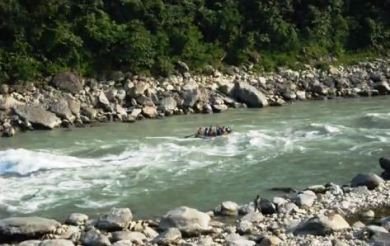 Third party image reference 
White Water Rafting in Teesta has been introduced by DGHC (Darjeeling Gorkha Hill Council, now GTA) in 1991 and has been consistently gaining popularity since then. It's fun and exciting. In rafting, there are 6 grades or levels of difficulty depending on the rapids or the current in the river. Grade-1 (with flat calm water) is the easiest.
Third party image reference 
Due to series of rapids and varying intensity of flow, most part of Teesta where rafting is done has been graded on a scale of 2 to 4. Grade-2 would have small roller coaster rapids but easy to negotiate, Grade-3 requires a trained guide & some technical ability, while Grade-4 would have some serious and large rapids, and should be attempted only by seasoned rafters.
The Rangeet river, on the other hand, has more turbulence compared to Teesta. Its multidimensional rapids can be very challenging at times. Both these rivers are fed by melting snow in the summer months and rainwater in the monsoon. They are perennial rivers.

Third party image reference 
While many tourists and beginners go down to Teesta Bazaar, take instructions from the guides and set out for fun white water rafting, it helps if one has some prior experience of river rafting, kayaking or boating. However, at Teesta, there are provisions and courses earmarked for both swimmers and non-swimmers.
The Popular Rafting Courses in Teesta
Most popular place in Darjeeling where most tourists go for white water rafting is Teesta Bazaar. Rafting starts at Tarkhola and the popular rafting course goes up to Kalijhora.
It takes about 1.5 hours by taxi or shared jeep to reach Teesta Bazaar from Darjeeling town. Here are the most popular courses for rafting:
For non-swimmers:
1) Melli to 29th Mile (1.5 hours)
2) Melli to Kalijhora (3 hours)
For swimmers only:
1) Tarkhola to Melli (2 hours)
2) Tarkhola to 29 Mile (3 hours)
There are longer sections also. For example Boarding to 29th Mile takes about 4.5 hours and involves grade 2-4 rapids.
Best time for rafting in Teesta
You should avoid the monsoon (July to September). All other months are good for rafting. The best time for rafting in Teesta (Darjeeling) is from December to June. But note that during winter, water can be ice cold.