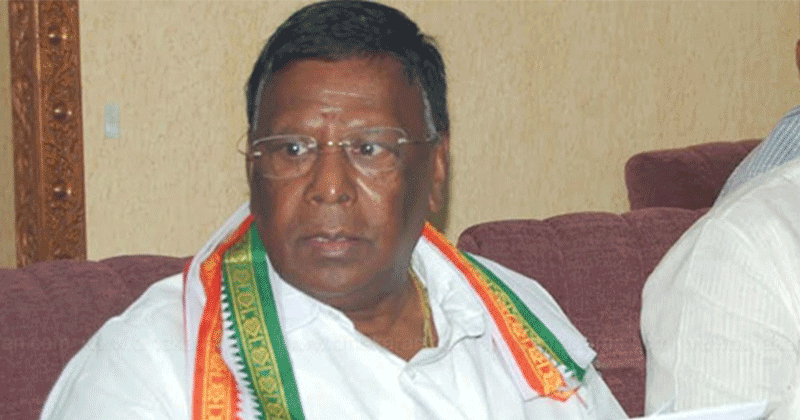 With just days left for the Karnataka elections to take place, the leaders are wooing the voters with rallies, speeches and promises.
Not just within the state, but also the neighbouring union territory 's CM too compels the voters to cast their precious vote carefully.
Puducherry Chief Minister V Narayanasamy said Telugu people in Karnataka are ready to teach a lesson to the BJP in the ensuing Assembly elections by defeating the saffron party for betraying the people of Andhra Pradesh.
He said people of AP have been facing many hardships as the BJP had betrayed them on Special Category Status (SCS) during the last four years. Addressing a media conference at the party State office here on Sunday, Narayanasamy said Telugu people in Karnataka would vote for the Congress party and defeat the BJP.
READ ALSO: KARNATAKA CM CHALLENGES PM MODI; BREAKING NEWS
He said the BJP had not fulfilled the promise of SCS to the State and reminded that the former Prime Minister Manmohan Singh had announced SCS for five years to the State but the BJP had ignored it after coming to power. He said Special Category Status to AP will be accorded by Congress party president Rahul Gandhi after the 2019 elections.
He said Prime Minister Narendra Modi was wasting time with foreign tours and grossly failed to fulfill the pre-poll promises. He recalled that Narendra Modi had assured the people that he would bring back the black money stashed in foreign banks after coming to power and later ignored it.
He said the NDA government had failed to reveal how much black money was brought back to India during the last four years of its rule. Narayanasamy said people across India were suffering due to drastic fall in money circulation and decline of business activity due to demonetisation and GST.
The Congress leader said Prime Minister Narendra Modi had announced that 2 crore jobs would be created in a year but failed to fulfil the promise. He said crores of educated youth were suffering due to lack of job opportunities