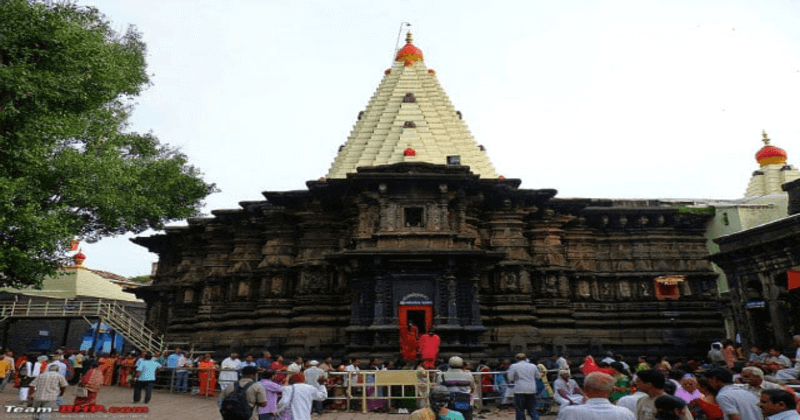 Mahalakshmi temple of Kolhapur is located on the banks of Panchganga River, about 250 kilometres to the south of Pune. The idol here is  four armed,with each hand holding a Mhalunga( a citrus fruit), a large mace(kaummodaki) a shield and a bowl. It is believed that Lakshmi and Vishnu reside in the area.
see also: Nasik-For a spiritual getaway
Kolhapur airport is connected to all major cities via flights and Rukadi and Shahu Maharaj Terminus are the nearest railway stations. There are also ample bus services to this place, so getting to the temple is a breezy affair.
Because of the belief that both Vishnu an Lakshmi are residing here, the area is known as "avimuktakshetra". The region is also believed to be protected from all destruction as it is held by Mother Jagdambe in her right hand.
The legend of this place is that Lord Mahalakshmi left Vaikuntha and arrived at Kolhapur upon hearing the news that her husband(Lord Venkatesh, an incarnation of Vishnu) failed to act against a sage Bhrigu for his bad behaviour . The Goddess observed strict penance in this place till she heard the news of her husband being married to Tirumala Padmavati, another incarnation of Mahalakshmi.
The temple is believed to have been constructed somewhere in 6 – 7 centruy AD. It has a distinctive Chalukyan style of construction which is evident from other Chalukyan temples located in Karnataka. the temple walls are ornated with figures of Gods and Godesses. This is also a temple that is mentioned in one of the 108 shakthipeedhas. The temple offers a rich and calm atmosphere that transports you to a spiritual phase.