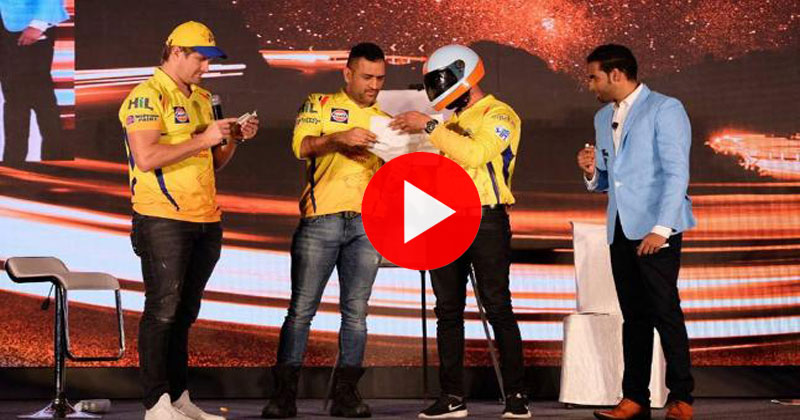 Mahendra Singh Dhoni is someone does not like to reveal much about himself in public. He loves to keep a low profile and shies away from talking much about his personal life. However, one of his most personal secrets was revealed when the public learned the name of his first ever crush.
Dhoni, who is currently leading Chennai Super Kings (CSK) in the ongoing edition of the Indian Premier League (IPL) was present at a promotional event with sponsors Gulf Oil on Tuesday. Other CSK players like Shane Watson, Suresh Raina, Ravindra Jadeja were also present on the occasion.
Dhoni saw a rather unexpected question put in front of him after the presenter asked him the name of his first ever crush.
There was a performer who was doing mind and mental tricks and he started to guess the name of Dhoni's first crush. He asked Dhoni some questions about the name and then guessed the name- Swati.
Also Read: Yet again fan touches MS Dhoni's feet on the ground: See video
The wicketkeeper-batsman after some reluctance at first admitted that the name was right.  Dhoni also revealed that he last saw Swati back when he was studying in the 12th standard in 1999.
Dhoni jokingly asked everybody not to reveal the same to his wife Sakshi. The mentalist played a prank by suggesting that he had the same girl available amongst the crowd and asked for her to be sent on the stage. However much to Dhoni's relief, he later clarified that he was only joking.
Here's the video of the programme (incident starts after 24:30):
Dhoni did his class 12th from the DAV JVM, Shayamali in Ranchi. MS Dhoni is now married to wife Sakshi, with the couple having a daughter named Ziva.