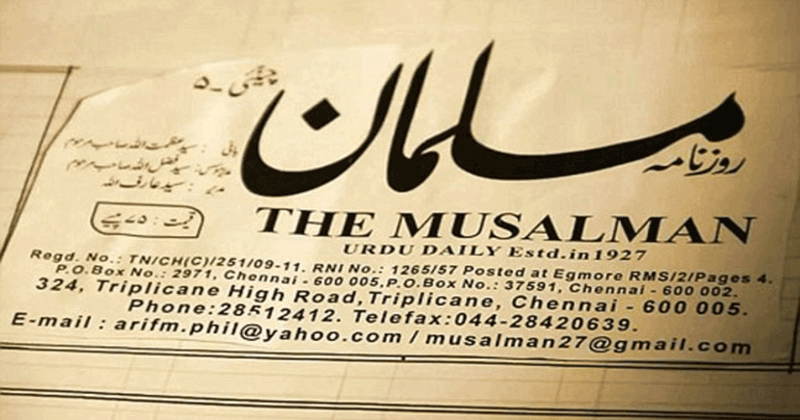 Established in 1927 by Syed Azathulla, The Musalman newspaper published from Chennai is possibly the world's only handwritten daily. While starting the newspaper Azathulla considered it "as the voice of Muslims".The reins of this newspaper passed down from Azathulla to his son Syed Fazlullah and then to his son Arifulla. The Press is situated in a small lane next to Chennai's Wallajah Mosque.
In this digital era, the four-page Musalman newspaper is not printed but painstakingly crafted by the calligraphers. Calligraphers employ the Nastaliq script to offer news in Urdu. A single mistake means starting from the scratch.
See also:  Digital Bhagavad Gita in vogue thanks to IIT Kanpur
Arifulla, the current editor, selects all the articles in the broadcast sheet.No bye lines are used though Arifulla says he has reporters across the country. Every morning at 10, two translators come in and set out the news in Urdu. In the next two hours, the paper's three calligraphers called 'Katibs' painstakingly write out each news item on the broadcast sheet using calligraphy pens. The news consists of Islamic cultural values, politics, sports and current affairs. The readership base is about 21,000 and the paper costs only 1 rupee. The additional revenue generation is done through giving ads on jewellery, furniture, tour operators and also by a few government tenders.
Though Urdu newspapers were favourite during the pre-independence era, read regardless of religion, after partition it fell out of favour. But in the last decade, the Urdu newspapers showed a reversal with the papers like Roznama Sahara and Inquilab. The Musalman has been publishing for 91 years, uninterrupted even during the times of partition. Arifulla is sure that this inherited legacy will be carried forward by his children.