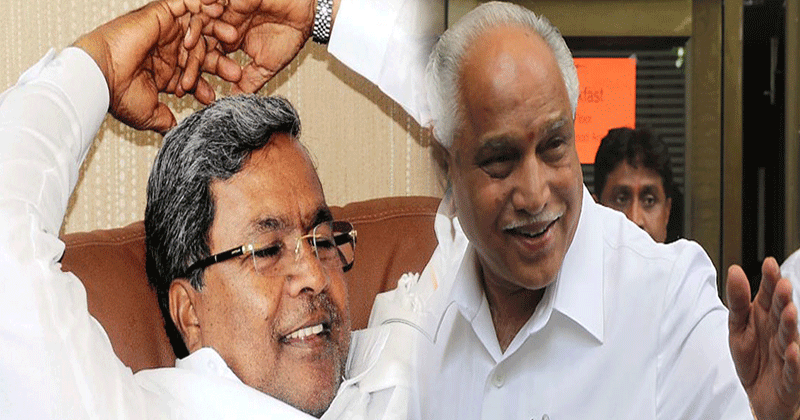 The Karnataka voting is over, and the exit polls have come out without a decisive winner. But the major parties- BJP and Congress are confident of their victory.
While the 9 different exit polls hint at a hung assembly, Chief Minister Siddaramaih is confident of Congress' victory and asked his party members to relax.
READ ALSO: KARNATAKA ELECTIONS: which party will win? Or will it be a hung assembly?
While the CM is confident on one side, so is his opponent B.S.Yeddyurapa.
 The former CM is confident that the BJP will more than 125 to 130 Assembly seats and will form the government on May 17.
"BJP will win more than 125-130 seats, Congress will not be able to cross 70 seats and JDS will not cross 24-25 seats. There is a silent and strong wave in favour of BJP and public anger against Siddaramaiah and Congress," Yeddyurappa told the reporters.
He added, "He (PM Modi) is in touch with me and Amit Shah. Everybody is confident of winning with an absolute majority. We are 100% sure of forming the government on May 17."
READ ALSO: KARNATAKA ELECTIONS: voter takes a picture of casting vote
The state BJP chief also took to Twitter on Saturday to thank the voters for a "landslide victory".
Thank you Karnataka!

Gratitude to the people of Karnataka for voting in large numbers today. @BJP4Karnataka is headed towards a landslide victory with all your blessings and support!#KarnatakaVotes4BJP#KarnatakaElections2018

— B.S. Yeddyurappa (@BSYBJP) May 12, 2018
Karnataka voted for 222 out of 224 Assembly constituencies on Saturday. Counting and announcement of results will be done on Tuesday, May 15.
Most exit polls have predicted a tight race between the two main rivals — BJP and Congress — in the Karnataka Assembly elections with JD(S) emerging as a likely kingmaker.