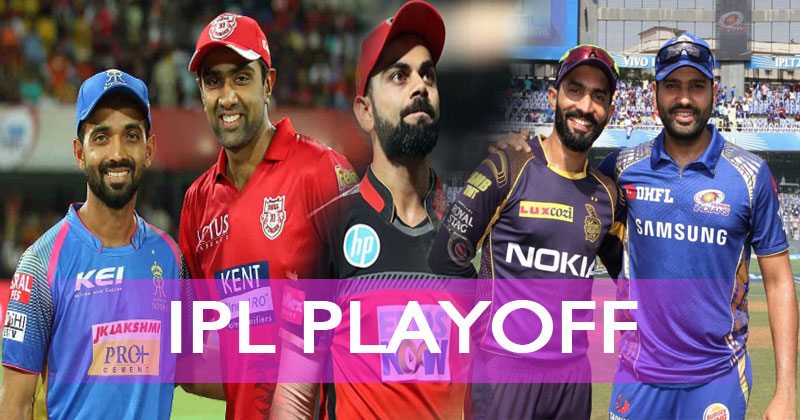 The 11th edition of Indian Premier League (IPL) has lived up to the expectation of being a very exciting edition. With Rajasthan Royals (RR) and Chennai Super Kings (CSK) coming back in the cash-rich league after an absence of two years, the season was expected to be an exciting one.
With Sunrisers Hyderabad (SRH) and CSK already making it through to the play-off round and Delhi Daredevils (DD) eliminated from this years edition, five teams are looking to seal the deal in a playoff race.
POINT TABLE IPL 2018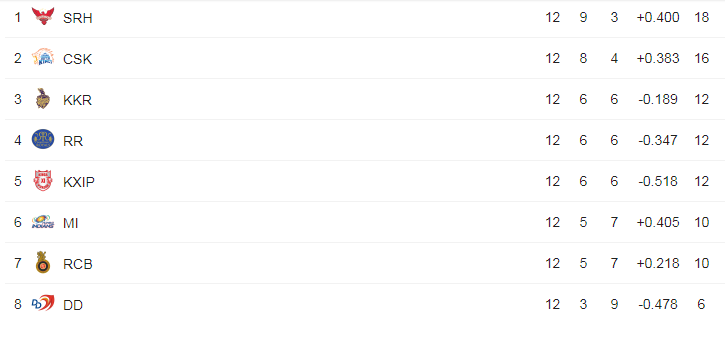 After Royal Challengers Bangalore (RCB) registered an emphatic 10-wicket win over Kings XI Punjab (KXIP) in Indore last night, the race for the third and fourth spot is turning out to an exciting contest.
Chances of RCB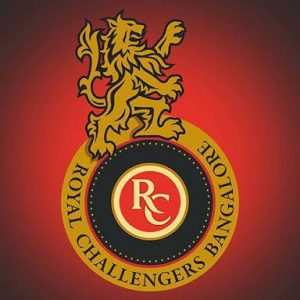 After last night's crushing win over KXIP, RCB still needs to win the remaining two games handsomely to increase their net run-rate and stand a chance to qualify for the knockout stage.
One loss in the final two games will bring down curtains on RCB campaign. Even after winning their last two games in the league stage, RCB will finish on 14 points and their fate will also depend on results of other teams.
Chances of KXIP 
The recent slump in form resulted in them fighting for their survival. Victory in next two games will take them to 16 points and assure them a spot in the play-off stage, but in case of a loss, they will have to win the final game by a huge margin and depend on results of other matches.
Also Read: IPL 2018: Mumbai Indians owner Nita Ambani spotted chanting and praying during match-Video
Chances of Rajasthan Royals
Currently, on 12 points, victory in last two games will assure them play-off spot with 16 points. The path becomes tougher as RR has poor Net Run Rate among the five teams.
If they lose to KKR, they will hope that Mumbai Indians, Royal Challengers Bangalore, and Kings XI Punjab lose one match each to make the qualification easier.
If RR does beat Kolkata, they need to win their last league game against RCB by a huge margin to boost their NRR, to stand any chance of qualification.
Chances of Mumbai Indians (MI)
The equation for the defending champions is very simple, just win and only win. A loss or washout will bring down curtains to their campaign.
Chances of Kolkata Knight Riders (KKR)
The two-time IPL champions have had a poor season and in spite of losing 6 games and winning the same amount of matches, they have still managed to keep themselves in the hunt for a spot in the playoff.
A win in their next two games against Rajasthan Royals and Sunrisers Hyderabad will see them qualify to playoffs. In case of one win, their fate will depend on the results of other teams while two losses will mean that the season will be over for Dinesh Karthik-led side.