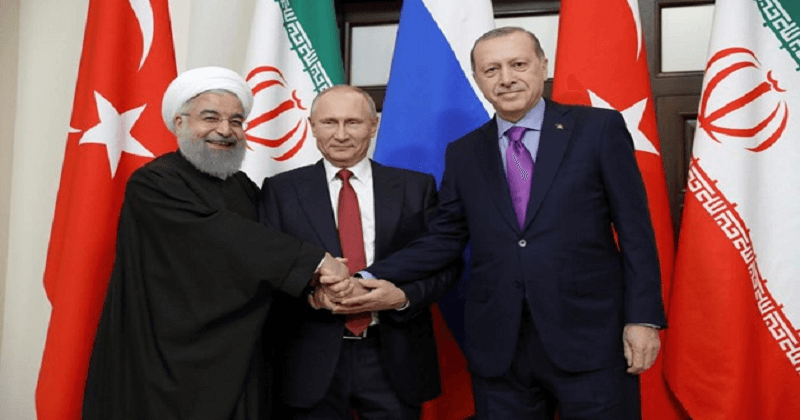 Russia, Turkey and Iran will hold the next chance of Syrian peace talks in July in the Russian city of Sochi, not in the Kazakh capital Astana like their previous meetings, the three countries said on Tuesday.
The Syrian rebels will boycott the talks because of the role of  Russia's as host. Since they began last year, the trilateral meetings have taken place in Kazakhstan, which is not involved in the Syrian war – unlike Russia which backs President Bashar Assad and has helped him turn the tide of war by deploying its own troops.
The July meeting announcement came from the latest round of Astana talks. The reason for the change in location for the next talks was unclear.
"We understand that this looks rather strange, but … taking into account the situation on the ground, the new realities, we would like to give new momentum to further work, shifting the focus more towards the political and humanitarian components," Russia's chief negotiator Alexander Lavrentyev told reporters in Astana.
Rebel negotiator Yasser Abdul Rahim said the move was unacceptable.
"If they invite us, we will not go to Sochi, the armed rebels will not go to Sochi because we must respect our people," he told a briefing in Astana. "Russian forces have not stopped killing Syrian people."
Russia, Iran and Turkey began holding regular talks on the Syrian conflict in Astana at the start of 2017.
Also in attendance were representatives of the Syrian government, who, like the rebels, participate in the meetings but do not sign joint statements.
Read More: One killed and six others injured after strong winds and rain struck in Delhi
Damascus envoy Bashar al-Ja'afari, who also serves as Syria's ambassador to the United Nations, said his delegations was content with the results of the latest talks, but took a jab at Turkey and the United States who back the rebels.
"We confirm that the Syrian Arab Republic will continue its struggle to liberate every inch of our land, be it from terrorism or from states that are aggressors against our national sovereignty," he said.